Chicago lawmakers unanimously vote to beef up assault weapons ban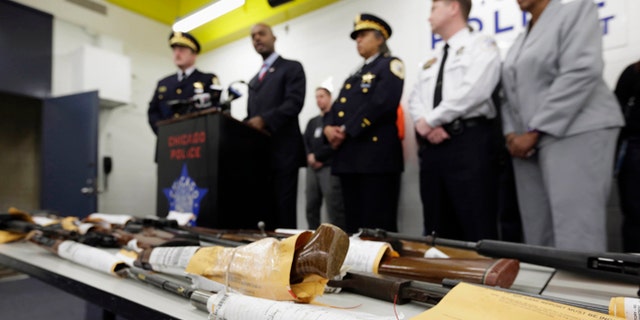 CHICAGO – Chicago's City Council unanimously voted Wednesday to beef up its assault weapons ban with new measures that add strict penalties, prohibit more weapons and define "student safety zones," changes that come in the wake of Illinois' new concealed carry law.
Illinois lawmakers approved a state law last week outlining who can carry concealed weapons in public after a federal appeals court ruled Illinois' last-in-the-nation concealed carry ban unconstitutional. The new state law gave local entities 10 days to come up with new or updated gun laws of their own.
Mayor Rahm Emanuel called a rare special session Wednesday to deal with guns, the same day Cook County commissioners voted to strengthen the county assault weapons ban with tougher penalties.
Chicago already prohibits the sale and possession of the weapons and of high-capacity magazines. City council members approved measures Wednesday that outline more than 150 specific weapons that are prohibited, including any shotgun with a revolving cylinder and any semi-automatic rifle with a fixed magazine that can hold more than 10 rounds.
"There is absolutely no need for assault weapons; none," said Alderman Latasha Thomas, according to Chicago's WBBM Radio (http://cbsloc.al/12VGxiX). "The only thing it does is kill people. There's absolutely no need for it. Banning assault weapons is the smart move for every city to do."
The changes also deal with school safety, which has been a hot issue in Chicago since Emanuel began pushing for the closure of 50 schools and programs. Parents have raised concerns about children crossing gang lines, among other things.
The measures define "student safety zones," and outlines stiffer penalties for gun crimes committed there. The zones are 1,000 feet from school grounds between 6 a.m. and 7 p.m. when school is in session and what are being called safe passage routes. Those routes, which will be patrolled by safety advocates, have been outlined for children to get to school safely if there are closures.
"Safe passage to schools is a key component of ensuring each and every one of our children has access to a quality public education. This ordinance helps ensure our children can focus on their studies and not their safety while fulfilling their educational dreams," Emanuel said in a statement.