Challenge to Pelosi: Top Dem lashes out at party leaders, says 'pass the torch'
NEWYou can now listen to Fox News articles!
A top House Democrat declared Thursday that it's time to "pass the torch" to a new generation of party leaders, in a very public swipe at Nancy Pelosi and her lieutenants that revived simmering tensions inside the caucus.
Eight-term Rep. Linda Sanchez of California, in an interview with C-SPAN, said it's "time to pass the torch to a new generation of leaders, and I want to be a part of that transition. I want to see that happen."
The comments from the vice Democratic caucus chairwoman, the fifth-highest ranking House Democrat, were the strongest challenge yet by a Democratic leader to Pelosi's leadership.
Her comments were an implicit swipe not only at Pelosi but House Minority Whip Steny Hoyer, D-Md., and Assistant Minority Leader Jim Clyburn, D-S.C. All three are in their late 70's.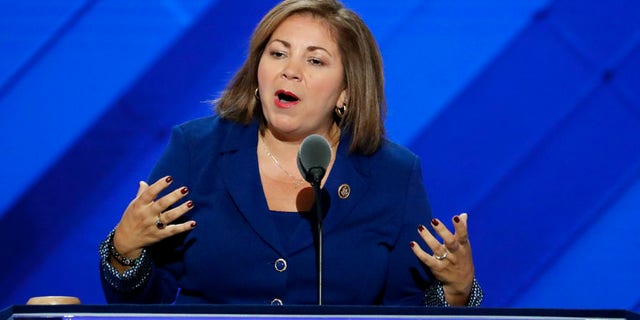 Sanchez, 48, told C-SPAN that the leaders do a "tremendous job," but too many younger lawmakers "don't always get the opportunities that they should, and I would like to see that change."
DEMS FINALLY READY TO TOSS PELOSI?
Pelosi spokesman Drew Hammill pushed back Thursday, saying "Leader Pelosi enjoys wide support in the caucus and has always said she's not in Congress on a shift, but on a mission."
Fox News is told some Democratic members are incensed at the remarks. Fox News also is told that Sanchez regrets what she said and how it came out.
This is hardly the first internal criticism of the House Democratic brass.
Rep. Tim Ryan, D-Ohio, unsuccessfully challenged Pelosi last year, and Democrats grumbled about Pelosi in June, when the party lost a special election in a wildly expensive Georgia House race. The loss in Georgia followed similar disappointments in special House elections in Kansas and Montana, amid frustration at the party's continued minority status in the House since 2011.
But such criticism from a member of the leadership team is rare.
Fox News is told that House Democratic Caucus Chairman Joe Crowley, D-N.Y., doesn't see the remark as helpful.
He said in a statement that the caucus "stands united" behind the leadership team:
"Leader Pelosi, Whip Hoyer, and Assistant Leader Clyburn work harder and smarter each and every day for our members and our party. The truth is we have pressing needs in this country – ones President Trump and the Republican-led Congress have been unable to address over the last 258 days."
The C-SPAN "Newsmakers" interview is scheduled to air in full on Sunday.
Fox News' Chad Pergram and The Associated Press contributed to this report.