Carter Says Sorry to Jews, Apology Not Linked to Grandson's Political Ambitions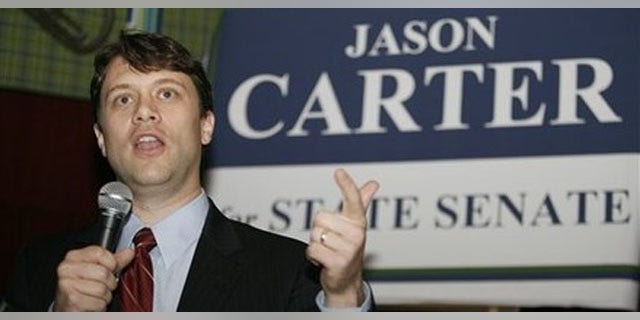 Jimmy Carter's recent apology to Jews for actions he acknowledged have stigmatized Israel is not timed to a decision by his grandson on whether to enter Georgia politics, the former president told an online Jewish news agency this week.
Atlanta attorney Jason Carter, 34, is debating whether to run for Georgia's state Senate from the district representing suburban DeKalb County, which has a significant Jewish population in the area around Emory University. Jason Carter, whose father is Jimmy Carter's eldest son, Jack, would aim to succeed David Adelman, President Obama's nominee to be ambassador to Singapore.
Carter told the Jewish Telegraphic Agency that electoral considerations had nothing to do with his recent outreach to the Jewish community, although he did not outright deny it.
"Jason has a district, the number of Jewish voters in it is only 2 percent," Carter is quoted saying in a report published Tuesday.
The number of Jewish voters nationwide is also around 2 percent, but Jewish voters go to the polls in disproportionately high numbers for the demographic group.
Earlier this month, Carter told JTA that he wanted to issue a plea for forgiveness during Hanukkah for any stigma he may have caused the Jewish nation.
"We must recognize Israel's achievements under difficult circumstances, even as we strive in a positive way to help Israel continue to improve its relations with its Arab populations, but we must not permit criticisms for improvement to stigmatize Israel," Carter reportedly said in a statement.
"I offer an Al Het for any words or deeds of mine that may have done so," he reportedly said, referring to the Yom Kippur prayer for atonement for sins against God.
Carter told the news agency that he shouldn't have named his book, "Palestine: Peace not Apartheid," saying Palestinians in the disputed West Bank are not suffering under apartheid, though they could if a two-state solution with Israel is not achieved.
"I never intended or wanted to stigmatize the nation of Israel, even though I have disagreed with the settlement policy all the way back to the White House," he reportedly said, while repeating his criticism of Israel's recent decision to allow existing settlements to continue their "natural growth."
Asked about the former president's seeming mea culpa, Abraham Foxman, national director of the the Anti-Defamation League, reportedly said he'd welcome Carter's change of heart.
"If it turns out that President Carter's love for his grandson brought about an epiphany in his relationship with the Jewish people, that's fine," said Foxman, according to the report.
Jason Carter told JTA that he did not think his grandfather's recent remarks were related to his political ambitions, but more the result of pleas by Jewish friends not to appear so one-sided.
"I, like many others, see this as a great step towards reconciliation," Jason Carter said in the statement given to the agency. "As for my campaign, I intend to reach out to all people in District 42 and work hard to earn their trust and their votes."