Carlos Curbelo to deliver Spanish-language GOP response to State of the Union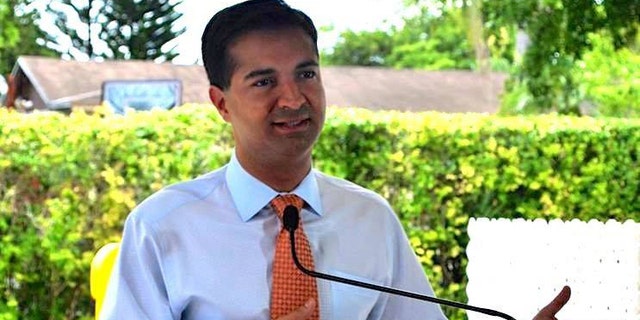 NEWYou can now listen to Fox News articles!
U.S. Rep. Carlos Curbelo, a rookie Republican congressman, bucked his party this week when he was one of a handful of representatives who voted against the GOP-led bill undoing President Barack Obama's controversial executive actions on immigration.
Television hosts noted that despite his freshman status, the Cuban-American from Florida didn't hesitate to swim against the tide and vote against the measure.
But clearly that has not hurt his standing in the party.
Curbelo, 34, has been tapped by the GOP to give the Spanish-language rebuttal to Obama's State of the Union address on Tuesday night.
"Carlos Curbelo is a fresh voice with a positive vision for a future of opportunity and prosperity," House Speaker John Boehner said in a statement. "He is exactly what Washington needs, and the person Americans should hear from in this time of challenge and opportunity for our country."
Curbelo called the selection an honor.
"As part of America's new Congress, I am excited to work with my colleagues to advance good solutions that will empower American families to achieve a better quality of life," a statement from Curbelo said, according to the Miami Herald.
"We must work together towards policies that will lead to a healthy economy that offers greater opportunity for all Americans – especially those who feel left behind," he said. "And we should insist on a strong foreign policy that recognizes the need for American leadership in an increasingly dangerous world."
Curbelo was one of a minority of Republicans who rejected measures pushed by House Republicans to undo executive actions that could shield up to five million undocumented immigrants from deportation, as well as enable them to obtain work permits and driver's licenses, among other things.
In a bill to fund the Department of Homeland Security through September, Republicans included amendments to defund Obama's efforts to provide relief to undocumented immigrants and suspended a 2012 initiative by the president to defer deportations for immigrants who were brought to the U.S. illegally as children.
In an interview with Greta Van Susteren on Fox News, Curbelo said he was voting in the spirit of what his constituents want, and that he did not come to Congress to follow the voting preferences of a political party.
Curbelo, who was born in Miami to Cuban exiles Carlos and Teresita Curbelo, is one of the youngest members of Congress.
He earned a bachelor's degree in business administration and a master's in public administration, both at the University of Miami.
Before entering politics, Curbelo founded a public- and media-relations firm in South Florida, according to his congressional biography.
He and his wife, Cecilia Lowell, have two daughters.
Follow us on twitter.com/foxnewslatino
Like us at facebook.com/foxnewslatino