'Calm before the storm': Trump remark sparks foreign policy speculation
NEWYou can now listen to Fox News articles!
President Donald Trump said Thursday it was "the calm before the storm" as he met with senior military leaders amid increasing tensions around the globe and speculation of changes in foreign policy.
The president's use of the ominous phrase prompted others to question what he meant by it – to which the president replied even more ominously: "You'll find out."
Trump said he expected the Pentagon brass in the room to offer him "a broad range of military options, when needed, at a much faster pace."
Multiple reports, however, have suggested the White House next week will effectively scrap the Iran nuclear deal signed by the Obama administration in 2015, kick-starting a new standoff between Iran and the U.S.
Trump, who earlier said Iran had "not lived up to the spirit" of the nuclear deal, was expected to "decertify" and denounce the controversial accord as not being in the U.S. national interest, passing the issue to Congress, the Washington Post reported.
Such a move would trigger a 60-day period which it would be up to Congress to decide whether to impose sanctions on Iran.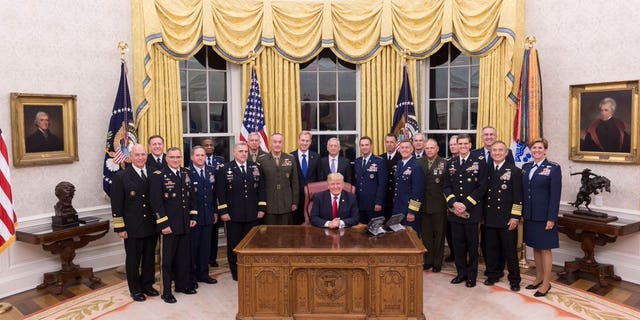 "The Iranian regime supports terrorism and exports violence and chaos across the Middle East," Trump said during the Thursday meeting, adding that Iran should never get hold of nuclear weapons, the Guardian reported.
"That is why we must put an end to Iran's continued aggression and nuclear ambitions. You will be hearing about Iran very shortly," he added.
At the same time, North Korea continues to develop its nuclear program, posing a threat to its immediate neighbors -- and to the U.S., which it has tormented with defiant rhetoric. Trump recently threatened to "totally destroy" the rogue country if it attacks the U.S. or its allies.
At the Thursday meeting, Trump reiterated his administration's opposition to North Korean leader Kim Jong Un, saying the U.S. would not "allow this dictatorship to threaten our nation or allies with unimaginable loss of life."
He also pledged to "do what we must do to prevent that from happening and it will be done, if necessary. Believe me."
The U.S. also scrapped some military exercises with its Persian Gulf region allies in a bid to mitigate a diplomatic crisis targeting Qatar, in a bid to end the dispute.
The Associated Press contributed to this report.