California Lt. Gov. Newsom, lawmakers on collision course over gun control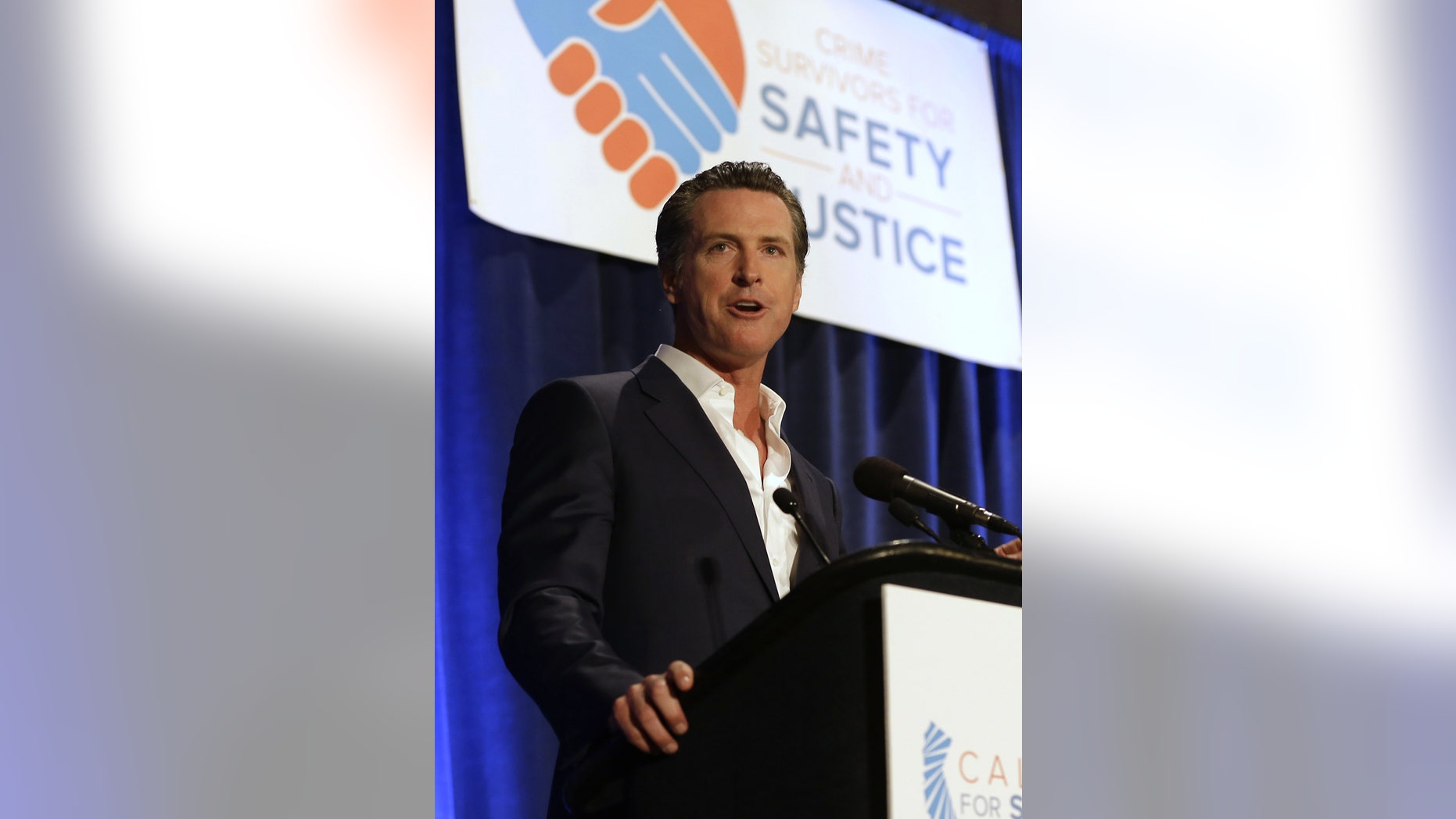 California's Lt. Gov. Gavin Newsom and state Democratic lawmakers appear to be on a collision course over a new round of gun control measures.
Newsom, claiming lawmakers are dragging their feet, is collecting thousands of signatures in pursuit of a gun initiative ballot measure in November. But lawmakers say they're planning to address these issues via legislation, and the initiative could hurt what they're doing.
Critics also say the proposed California ballot initiative contains a wide variety of restrictive, costly and unreasonable gun and ammunition control measures.
The proposed "Safety for All As of 2016" initiative has 600,000 signatures from California residents, nearly double the number required to be included on the November ballot, Newsom told the Los Angeles Times. He added that what the initiative proposals have in common is "that over the past number of years they have suffered the fate of either being watered down or rejected by the Legislature."
The signatures still must be validated.
But leading lawmakers, including Democratic Senate President Pro Tem Kevin De Leon, say they are working to address these issues legislatively. In addition, the mandate is extremely difficult to change and will be the subject of a hearing at the Capitol in Sacramento Tuesday.
"California's legislative leaders are busy considering crime bills, while Newsom is circumventing them," said Michele Hanisee, president of the Association of Los Angeles Deputy District Attorneys, in a written statement and interview with FoxNews.com. "The only way we're going to make progress against violence is through a cooperative effort of law enforcement, legislators, the private sector, and individual citizens who can take some responsibility for their own safety. Self-serving political schemes like Newsom's initiative will only set us back."
The initiative "carries multiple proposals that were either killed by the Legislature as not workable or vetoed by the governor," Sam Paredes, executive director of Gun Owners of California, told the LA Times.
"Newsom has collected failed policy issues from the Legislature and put them up as an initiative. It's going to be a massive effort to defeat him," Paredes said.
Local law enforcement, including Hanisee and the California Sheriffs Association, claim law-abiding gun owners and law enforcement will suffer if the initiative passes, while criminals will be empowered.
"California's law enforcement officers and prosecutors responsible for fighting criminals and terrorists need more tools to fight crime. Lt. Gov. Gavin Newsom's new ballot initiative gives us less," Hanisee said, adding the proposal is a "rehashed patchwork of impractical, tried and failed ideas that will not help law enforcement to combat crime or terrorists."
Last year, crime in Los Angeles rose by more than 12 percent, and while law-abiding citizens are limited in protecting their families, the lieutenant governor travels with armed bodyguards, Hanisee noted.
California already has some of the strictest gun laws in the nation, but Alan Gottlieb, founder of the Second Amendment Foundation, told FoxNews.com that California lawmakers appear to be in a contest to determine "who can be the most anti-gun rights."
"California Democrats will not be happy until there is total firearm prohibition," Gottlieb said.
The ballot initiative, according to its website, would make five major changes in California's gun laws if approved by voters. These include prohibiting possession of large-capacity military style magazines. But Hanisee said the only way to enforce this law is by "pulling police from the streets and putting them into the homes of people who pose no threat."
The initiative would also require ammunition sales to be treated like gun sales, requiring the seller to conduct background checks for all ammunition purchases.
"The centerpiece of Newsom's proposal would require a license to sell, and a background check just to buy, a box of ammunition," Hanisee said. "This would require the creation of another complicated, expensive and inevitably flawed database, which California officials will be unable to effectively maintain. New York already tried this approach, abandoning it after wasting millions of public dollars."
Dr. John R. Lott, Jr., an economist and world recognized expert on guns and crime who founded and heads the Crime Prevention Research Center, a research and education organization dedicated to conducting academic quality research on the relationship between laws regulating the ownership or use of guns, crime, and public safety, called the initiative "racist."
"The question is who are you stopping from owning a firearm or getting hold of ammunition – in this case it is law-abiding, poor blacks and Hispanics who won't be able to afford the cost of ammunition, which will rise with the cost associated with required background checks for ammunition purchases."
Another provision would require law enforcement to collect firearms from those who were convicted of felonies or violent misdemeanors, and to share data with the federal systems related to anyone prohibited from owning a firearm. And yet another provision requires lawful gun owners to report their lost or stolen guns.
Evan Westrup, spokesman for Gov. Jerry Brown, maintained the governor has not taken a position on this initiative and generally doesn't comment on pending ballot measures.
But in 2013 the governor vetoed a proposed reporting of stolen or lost firearms, saying he was "not convinced that criminalizing the failure to report a lost or stolen firearm would improve identification of gun traffickers or help law enforcement disarm people prohibited from possessing guns."
Brown added, "I continue to believe that responsible people report the loss or theft of a firearm and irresponsible people do not."
Lott said many of the claims by Newsom and the Safety for All ballot initiative website are inaccurate, something that also drew the attention of Politifact, the independent fact-checking organization that won a Pulitzer Prize for calling out politicians' false claims.
"Politifact called Newsom's rhetoric "mostly false" and said he used "pseudo data" that is "out of context and is done in a way which is calculated to cause confusion," Hanisee said.
Many campaign organizers claim Newsom is heading up the effort because of political ambition.
"Newsom has resurrected failed policy initiatives in a too-obvious resume-builder for his governor's campaign," said Willes Lee, president of the National Federation of Republican Assemblies.
But Newsom maintains on the initiative's website that changes are needed to keep Californians safe.
"With 150 school shootings since Newtown and many more mass shootings devastating communities across our state and nation, it is time to say enough is enough," Newsom wrote. "The Safety for All initiative will save lives by making it much harder for dangerous people to get guns and ammunition in California."