California congressional candidate ties opponent to Nancy Pelosi by depicting him in red heels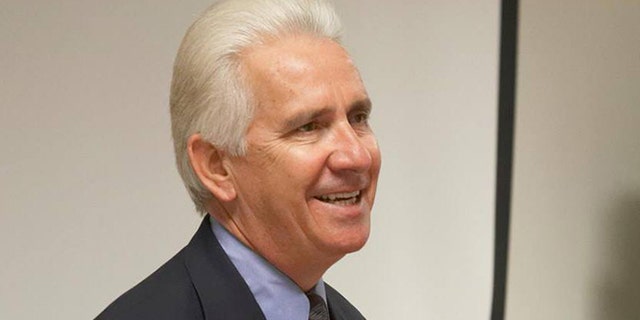 A Republican congressional candidate is comparing her Democratic opponent to Minority Leader Nancy Pelosi – by depicting him in red heels struggling to walk down a sidewalk.
The ad for Elizabeth Heng hits incumbent Rep. Jim Costa for supporting so-called sanctuary cities, gun control and the controversial California bullet train.
"Nancy Pelosi?" a man asks in the ad as the camera focuses on red heels.
"Yep, but also surprisingly Jim Costa," the voiceover says as the video reveals an older man in a white shirt, jean shorts and black briefcase wobbling down a sidewalk in the heels.
"After a lifetime in politics, Jim's no longer one of us. Costa's walking in Nancy Pelosi's shoes," the ad said.
FOX NEWS MIDTERM ELECTION HEADQUARTERS
Costa and Heng are locked in a fierce race for California's 16th congressional district. She earned more than 47 percent of the vote in the state's open primary in June, compared to Costa's 53 percent.
Of the ad, Heng said: "We cannot allow leadership that operates based on what's best for San Francisco and Nancy Pelosi when we have people right here in the Valley struggling to pay bills and fighting for access to water."
Pelosi has been a point of contention for many Democrats running in this year's midterm elections. So far, at least 46 Democratic candidates have said they would not vote for her for House speaker if the party gains the majority.
GOP CONGRESSIONAL CANDIDATE SAYS FACEBOOK 'REJECTED' AD DEPICTING PARENTS' SURVIVAL OF CAMBODIA GENOCIDE
She has also become a tool for Republicans in key Senate races this year, particularly in a series of ads released by the Senate Leadership Fund.
Costa's campaign did not immediately return a request for comment from Fox News on Friday. In an ad last month, Costa accused Heng of being "missing in action" for not voting in 10 out of the past 19 elections for which she was eligible.
Fox News' Leland Vittert contributed to this report.