Calif. GOP Rep. McKeon to retire from Congress after 11 terms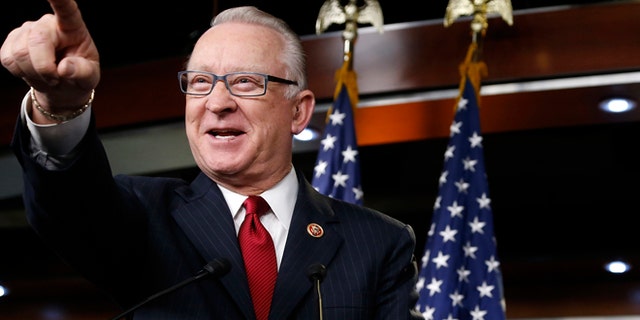 California Republican Rep. Howard "Buck" McKeon, chairman of the House Armed Services Committee, is retiring from Congress, Fox News confirmed Wednesday.
McKeon was elected to Congress in 1992 and was previously chairman of the House Education and the Workforce Committee.
He is scheduled to announce his retirement Thursday.
The 75-year-old McKeon has been critical of sequestration and its impacts on the military. He has led the Armed Services committee since 2011, and the term limit on his chairmanship would have been at the end of this congressional session.
McKeon's decision to retire after 11 terms was expected, and Republican candidates had already taken steps to seek the seat.
Fifteen House members -- nine Republicans and six Democrats -- have announced plans to leave Congress after their terms end.
McKeon attended Brigham Young University after serving a two-and-a-half-year mission for the Church of Jesus Christ of Latter-Day Saints.
He dropped out after several semesters, married his wife, Patricia, started a family, and began his career as a businessman in the Santa Clarita Valley.
Three decades later, McKeon returned to college and earned his bachelor's degree in 1985, together with his eldest daughter.
Before coming to Congress, McKeon served on the William S. Hart Union High School District Board of Trustees, from 1978 to 1987. During that time, the city of Santa Clarita was incorporated and its residents selected him as a member of the city council, according to his House website biography.
The Associated Press contributed to this report.