Buttigieg's DOT spending $662M to fix America's ports, but only if the projects advance ESG, equity goals
Climate change, equity are among goals these projects must address
The Department of Transportation announced Thursday that it will award $662 million in grant funding to fix up the nation's port infrastructure, but only if those ports advance ESG-style goals such as "equity," "environmental justice" and serving underserved communities.
Transportation Secretary Pete Buttigieg said America's ports "play a central role in our supply chains" and that the grant funding will help ensure that battered U.S. supply chains are strengthened and the U.S. is positioned for "economic success." Most of the funding announced was made available through the $1 trillion infrastructure law that President Joe Biden signed in 2021.
But decisions to release these grants, which will be distributed under the department's Maritime Administration (MARAD), will also depend on other factors that have nothing to do with unclogging supply chains and moving goods efficiently to customers.
BUTTIGIEG, FAA PRESSED FOR DETAILS ON AIRLINE SAFETY AFTER CHINESE SPY MISSION DELAYS FLIGHTS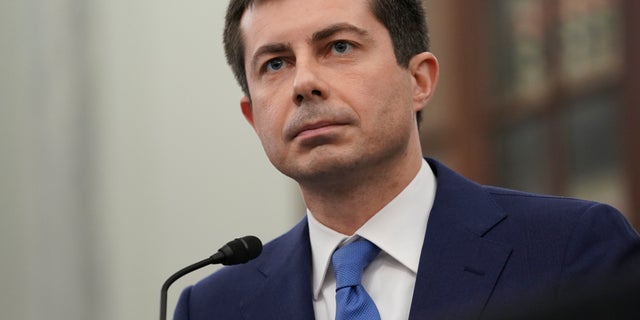 "MARAD will also consider how projects address climate change and sustainability, equity, and workforce development objectives," the department said. Those are the same broad goals that the Biden administration has been supporting as it tries to impose environment, social and governance (ESG) goals on private investors.
According to MARAD's announcement of the grants, officials will "seek to award projects" consistent with Biden's 2021 executive order on "Advancing Racial Equity and Support for Underserved Communities Through the Federal Government."
"The Department also seeks to award projects that address equity and environmental justice, particularly for communities that have experienced decades of underinvestment and are most impacted by climate change, pollution, and environmental hazards," consistent with another Biden order on "Tackling the Climate Crisis at Home and Abroad."
BUTTIGIEG BATTERED BY CRISES IN FIRST TWO YEARS AS TRANSPORTATION SECRETARY: 'PRIME EXAMPLE OF FAILING UP'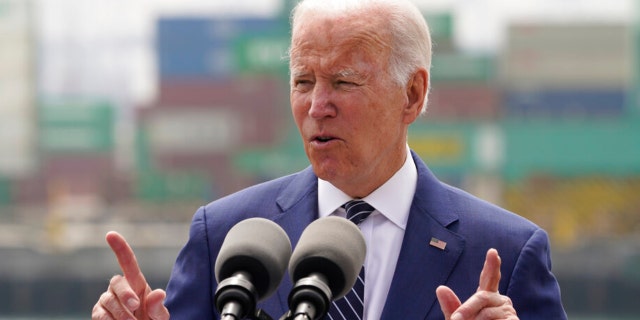 The notice added that the department "intends to use" the funding to support "the free and fair choice to join a union and the incorporation of strong labor standards."
It instructs applicants to explain "how their project will include an equity assessment that evaluates whether a project will create proportional impacts and remove transportation-related disparities to all populations in a project area."
The notice said the administration's "Justice40" initiative must also be satisfied by port projects, a reference to the administration's goal of making sure that 40% of certain federal programs flow to "underserved communities."
"MARAD will consider the extent to which projects advance equity and Justice40 to promote fairness and opportunity and may prioritize those projects that receive higher ratings under this selection consideration," it said.
PETE BUTTIGIEG OFTEN FLIES ON TAXPAYER-FUNDED PRIVATE JETS, FLIGHT DATA SHOW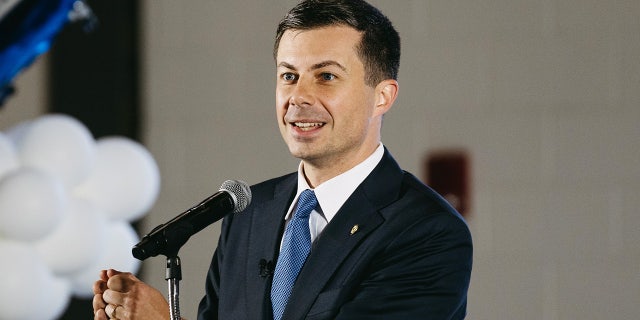 The notice defines "equity" as "The consistent and systematic fair, just, and impartial treatment of all individuals, including individuals who belong to underserved communities that have been denied such treatment."
It defines "climate change" as changes in average weather conditions that are due to "natural or anthropogenic activities, especially from greenhouse gas emissions."
CLICK HERE TO GET THE FOX NEWS APP
"Climate change encompasses both increases and decreases in temperature, as well as shifts in precipitation, changing risk of certain types of severe weather events, and changes to other features of the climate system," the notice states.