The parents of the woman who is accusing Brett Kavanaugh of sexual misconduct have a connection to the Supreme Court nominee through his mother, a Maryland state judge, online court records show.
Martha Kavanaugh granted a motion dismissing a 1996 foreclosure action against Ralph and Paula Blasey, according to the records.
Christine Blasey Ford publicly came forward Sunday to accuse Brett Kavanaugh of sexual assault decades ago when they were both teenagers in prep school.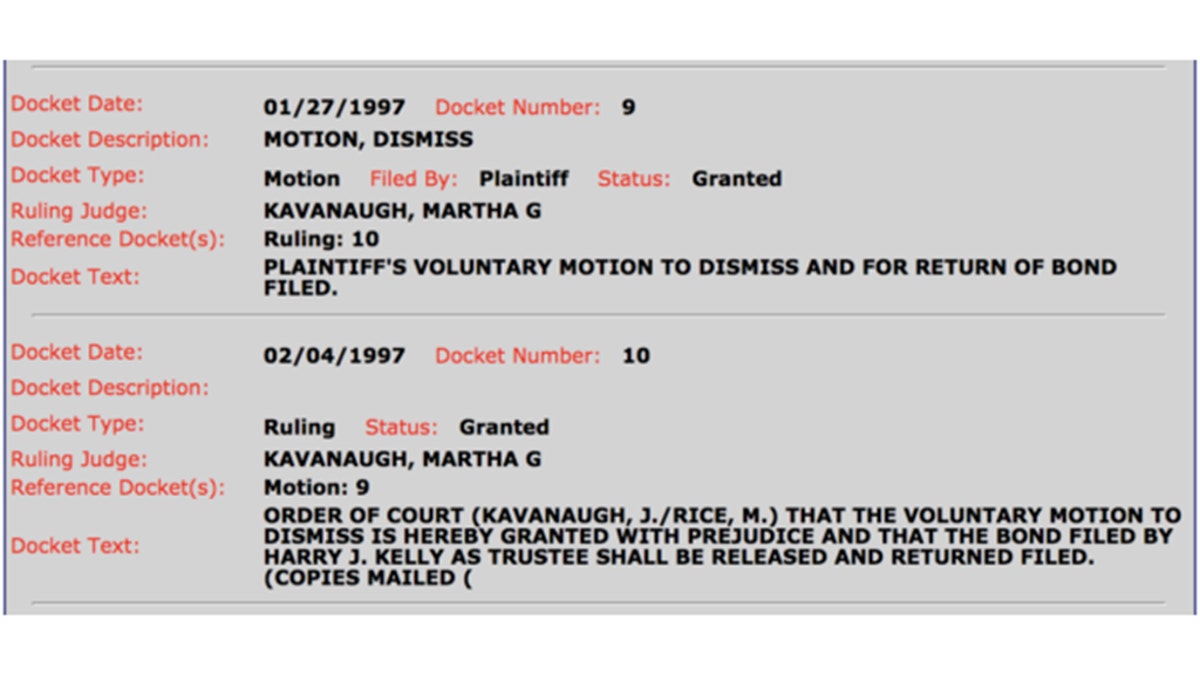 KAVANAUGH ACCUSER HAS NOT YET ACCEPTED INVITATION TO TESTIFY BEFORE CONGRESS
A North Carolina bank brought the foreclouse action and five months later moved to dismiss the case.
"That was 22 years ago. I don't remember anything about the case," the trustee in the foreclosure, Harry Kelly, told Fox News before hanging up the phone.
The lawyer for the bank did not return calls seeking comment.
It is unclear from the online records if the property being foreclosed on was the Blasey home in Potomac, a well-to-do neighborhood outside Washington, D.C.
CAL THOMAS: DEMOCRATS' KAVANAUGH SMEARS YE TANOTHER EFFORT TO REVERSE 2016 ELECTION RESULTS
The records suggest that the dismissal was granted after the Blaseys and the bank cut a deal that avoided a sale of the property at a foreclosure auction.
Martha Kavanaugh signed off on the motion after the case had initally been assigned to another judge. That other judge appointed Kelly the trustee.
Ford revealed this week that she is the author of the previously anonymous letter given to Sen. Dianne Feinstein, D-Calif., that detailed the allegations against Kavanaugh.
Ford told The Washington Post that she told no one at the time of the alleged incident what had happened to her, including her parents. She said she was terrified that she would be in trouble if her parents realized she was at a party where teenagers were drinking.