Boston probe sheds light on 'astonishing' problems in student visa system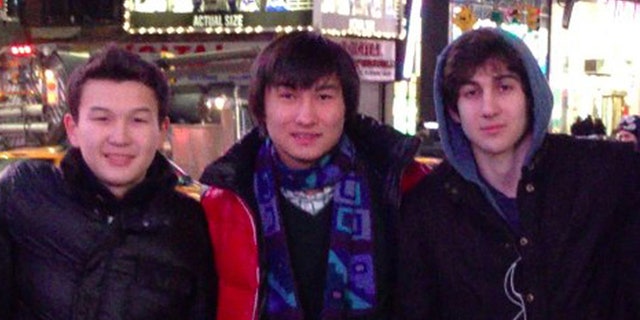 WASHINGTON – Confirmation that the students from Kazakhstan linked to the Boston bombers and arrested last week are living in the U.S. on expired or invalid student visas has exposed an immigration problem that's festered for years.
Students flock to the U.S. from around the world. But when their visas expire, many simply stay.
The problem is fueled by loose laws and lax enforcement practices by the government and the schools attached to student visas. Responsibility for keeping track of the students is spread thin, leaving many free to overstay at will and leaving the country exposed to security threats. While the Department of Homeland Security is now taking steps to tighten the system, it's unclear whether the immigration overhaul being considered in Congress will make any significant changes.
"I find it astonishing," Jessica Vaughan, director of policy studies at the Center for Immigration Studies, told FoxNews.com.
Luis Guerra, a Florida attorney who specializes in visas, said it is common for officials and schools to ignore the problem and said authorities only go after overstays if there's a known national security threat or public safety concern.
He also said universities benefit financially by having more international students attend. A university typically charges thousands of dollars more in tuition and fees for out-of-country students.
"Usually, schools have only one person monitoring the student visas. It's too much (work) for one person," he told FoxNews.com. "There's also a conflict of interest. Schools are in the business of making money and by rounding up students and sending them back, they don't make any."
Guerra, who came to America when he was 14 on a tourist visa and ended up staying illegally for years before going through the proper channels to become legal, believes the responsibility of cracking down on students should be taken away from schools and left to authorities.
[pullquote]
Vaughan agrees and says officials only go after overstays when high-profile problems arise.
"Correcting or addressing the overstay problem has not been a priority for the Obama administration nor had it been one for the Bush administration before him because it requires the implementation of new procedures," she told FoxNews.com.
Vaughan also believes the higher education industry puts pressure on Congress and the DHS to make it as easy as possible for international students to stay.
"DHS is often hesitant to pursue anything that would be perceived as a roadblock," she said.
FoxNews.com spoke to two former students who are currently living in Massachusetts on expired student visas.
The women, both in their late 20s, one from Pakistan and the other from Lithuania, say they've never been contacted by authorities regarding their visa status. They live near their former university, have jobs in the area and say they have a shot at making a better living in the U.S. than in their own countries.
"It was easier to stay," one of the women said. "Why go back? Our lives are here now. We contribute to the community."
According to the Migration Policy Institute, about 40 percent of the estimated 11 million illegal immigrants living in the country came here with valid visas -- of all kinds -- but ended up staying after their passes expired.
Under the broad umbrella of these 4.5 million visa overstays, it is not known exactly how many are students.
However, there are currently around 10,000 accredited U.S. schools, colleges and universities that accept foreign students, according to the Government Accountability Office.
Typically, student visas fall into three categories: academic study (F-type), non-academic/vocational studies (M-type) and cultural/visitor exchange (J-type) – which include au pairs, interns and camp counselors.
Last year, the U.S. issued 486,900 new F1 visas -- the most common type of temporary entryway available to international students. F1s are full-time passes that allow students to stay in the country for the duration of their studies. According to the State Department, the number of F1 visas issued in 2012 more than doubled from the amount issued a decade earlier.
The monitoring of students and exchange visitors is conducted through the Student and Exchange Visitor Information System -- SEVIS -- an Internet based system operated by the Department of Homeland Security. The certification of schools in the Student and Exchange Visa Program – or SEVP-- also falls under the purview of the Homeland Security.
But being in the country on an expired student visa isn't necessarily a crime -- it's a civil violation. Entering the country without permission is a misdemeanor criminal offense. Re-entering the country with an invalid visa or in any other illegal way after being removed may result in a felony charge and prison time.
The Obama administration is moving to make some changes, as the concern over student visas has increased amid the Boston bombing investigation. Last Thursday, the government ordered its customs agents to verify that every international student traveling to the U.S. to study has a valid visa. While that may seem like standard protocol, it's not.
According to an April 2011 report from the Government Accountability Office, between 2006 and 2010, the DHS had allocated only 3 percent of its investigative work hours to overstay investigations and its Counterterrorism and Criminal Exploitation Unit (CTCEU), which prioritizes and investigates possible overstays, had arrested approximately 8,100 overstays.
Last year the GAO also raised concerns that U.S. officials were not working effectively enough with criminal investigators and others to detect fraud or monitor schools in the program.
In 2011, New York and California topped the list of states that had the largest number of students and exchange visitors; Massachusetts ranked No. 5 with 117,395 students, according to the DHS.
Last week's directive from the Obama administration was among the first pro-active procedural changes the government has made following the April 15 Boston Marathon bombings that killed three and injured more than 260 people.
The new rules came a day after the White House acknowledged that Azamat Tazhayakov, a student from Kazakhstan accused of hiding evidence for one of the bombing suspects, was allowed to return to the U.S. in January without a valid student visa. According to government sources, Tazhayakov's expired student visa status was in the SEVIS system. It's not known why, then, the 19-year-old was allowed to reenter the country on Jan. 20 even though he was no longer attending the University of Massachusetts Dartmouth, where bombing suspect Dzhokhar Tsarnaev also studied.
The elder brother, Tamerlan Tsarnaev, took classes at Bunker Hill Community College in the spring semester of 2007.
Officials say Dias Kdyrbayev, another Kazakh national accused of obstruction of justice, was also living in the U.S. under an expired student visa.
Tamerlan Tsaernev was in my College Writing I class at Bunker Hill Community College in the spring of 2007.
Following the Boston bombings, authorities arrested both men and accused them of hiding evidence to help their friend Tsarnaev.
Tazhayakov's and Kadyrbayev's expired student visa statuses should have triggered an automatic notice to federal officials and served as a warning to them they had 30 days to fix their student status or leave the country. That didn't happen.
In a three-page letter to Homeland Security Secretary Janet Napolitano, Iowa Sen. Charles Grassley pressed for answers about the apparent loopholes in the student visa system.
"It's surprising that the administration isn't already verifying that any student coming into the country has a valid visa," Grassley wrote in his May 3 letter. "What's more concerning is that nearly 12 years after the 9/11 terrorist attacks, we haven't fixed the problems with identifying visa overstays."
Grassley, the top Republican member on Judiciary Committee, also wants answers on why the
U.S. Immigration and Customs Enforcement website contains a section that tells students who have expired visas how they can still gain entry into the country.
"This language seems to advertise the fact that in some cases, non-immigrants may be readmitted to the United States even if they are traveling on a terminated SEVIS record," Grassley wrote in his letter.
Grassley also says he's concerned that the immigration bill the committee will consider this week "does nothing to close these types of loopholes and other problems with the Student and Exchange Visitor Information System."
But others have accused Grassley of exploiting the Boston bombings and say he's using them as leverage in the broader immigration legislation debate.
Two months before the Boston attack, Florida Rep. Gus Bilirakis filed legislation that called for strengthening the country's student visa background checks and better monitoring student status once they are on U.S. soil. He had filed similar legislation in the past four congressional sessions.