Booker fuels 2020 talk with South Carolina Democratic fundraiser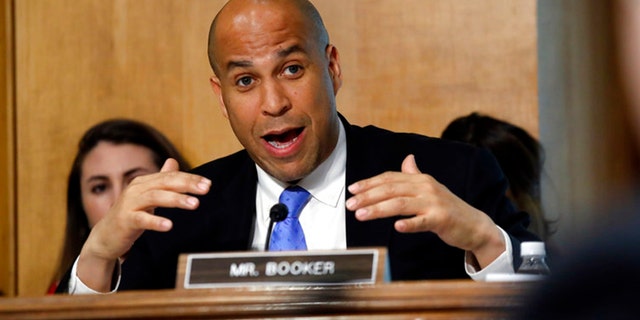 Sen. Cory Booker, continuing to fuel speculation about a 2020 White House run, is set to headline a Democratic fundraiser next month in a state that plays host to the South's first presidential primary.

The Orangeburg County Democratic Party announced that Booker, D-N.J., will attend its annual fundraising gala on Oct. 18 in South Carolina, according to The Associated Press.
The organization's chairman, Kenny Glover, said that Booker was invited because he wanted "a national figure" to speak to the more than 1,000 South Carolina Democrats expected to attend but he stopped just short of calling Booker a potential presidential hopeful.
"Oh, we do not endorse," he said.
This will be the second major party event Booker is poised to attend. He will also headline the Iowa Democratic Party's fall gala next month.
Booker told The Des Moines Register he knows that a prominent speaking engagement might suggest presidential ambitions, but he insisted that his visit is geared toward Democratic gains in the midterm elections.
"I think it's irresponsible for anybody really to be focusing needed energy on an election two years and two months from now, as opposed to an election just two months from now," he said.
Booker faced a significant amount of backlash after releasing confidential documents during the confirmation hearings for Supreme Court nominee Brett Kavanaugh earlier this month.
Republicans slammed Booker, saying that his White House aspirations had outweighed concern for committee rules.
The Associated Press contributed to this report.