Bolivian, Russian Politicians Call for Nobel Committee to Revoke Obama Peace Prize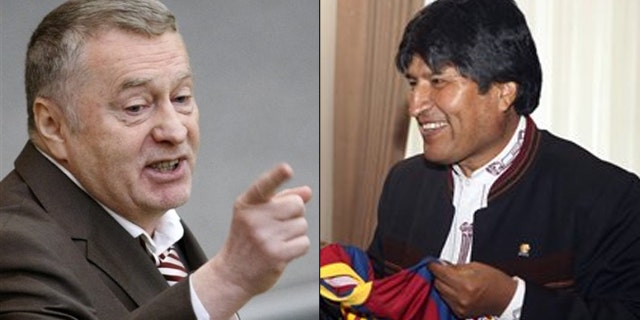 NEWYou can now listen to Fox News articles!
Bolivia's president, along with a controversial Russian political leader, are calling on the Nobel Committee to take back President Obama's Peace Prize in light of the missile strikes on Libya.
Bolivia's Evo Morales made the request to the Norwegian committee Monday, accusing Obama of leading a gang to "attack and invade" another country, according to El Universal newspaper in Venezuela.
Vladimir Zhirinovsky, the head of the Liberal Democratic Party of Russia, also issued a statement accusing Obama of intervening in the internal affairs of a sovereign country.
He called the attacks an "outrageous act of aggression."
Zhirinovsky accused the United States and other allied countries of pursuing a "colonial" policy -- though Zhirinovsky has in the past called for Russia to exert control over former outposts of the Soviet empire.
The Obama administration maintains that the mission in Libya is strictly humanitarian. Though U.S. policy states that Libyan leader Muammar al-Qaddafi should go, Obama said the purpose of the missile strikes and no-fly zone is to prevent civilian deaths in Libya.
Obama won the Nobel Peace Prize in 2009. Though he accepted the award, the president said at the time he was "surprised" to receive it.