Boehner Meets With Iraqi PM in Baghdad, Cites 'Progress'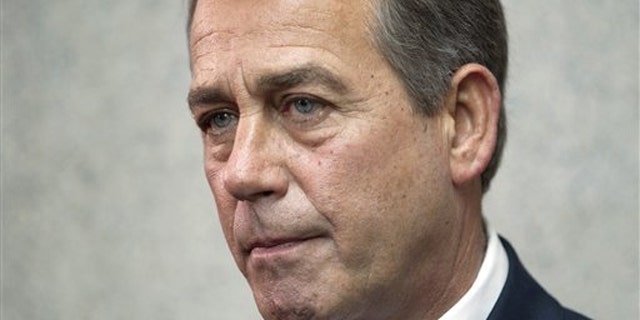 NEWYou can now listen to Fox News articles!
House Speaker John Boehner, leading a congressional delegation to Baghdad, met over the weekend with Iraqi Prime Minister Nouri al-Maliki to discuss the looming transition deadline and expressed confidence in the "progress" made toward that goal.
In a written statement released Sunday, Boehner said it is "critically important" to engage with the Iraqi government so that "the hard-fought gains in a post-combat Iraq translate into long-term success." He said the "first priority" is to support the nearly 50,000 U.S. troops who continue to assist Iraqi security forces. U.S. forces are scheduled to leave at the end of the year.
"Just four years ago, a terrorist insurgency was killing innocent civilians and wreaking havoc across the country. Today Iraq is a different country. ... Our members were able to see this progress firsthand," Boehner said. "As a result of the significant progress that has been made, the drawdown of U.S. troops that began under the previous administration has been able to continue."
The visit was Boehner's first since assuming the speakership. The speaker said the delegation focused on how Baghdad and Washington would "proceed during the transition this year and how we will continue to work to maintain a mutually beneficial relationship moving forward which fully respects Iraq's sovereignty and reflects core U.S. interests and values."
AFP earlier reported that Maliki issued a statement stressing that Iraq's military is ready to take responsibility for the country's security.
"The Iraqi security forces and the armed forces have become able to take responsibility, to maintain security and to work efficiently," Maliki said, according to AFP.
Defense Secretary Robert Gates suggested earlier this month that U.S. forces could stay longer if the Iraqis want their help, but that time was running out for Baghdad to make that request.
Maliki's statement said the country looks forward to cooperating with the United States on "arming and training."
Members of Congress who accompanied Boehner were: Reps. Mac Thornberry, R-Texas; Mike Conaway, R-Texas; Tom Rooney, R-Fla.; Joe Heck, R-Nev.; and Dan Boren, D-Okla.