'Blizzard of Lies': Email flap stirs memories of Clinton scandals past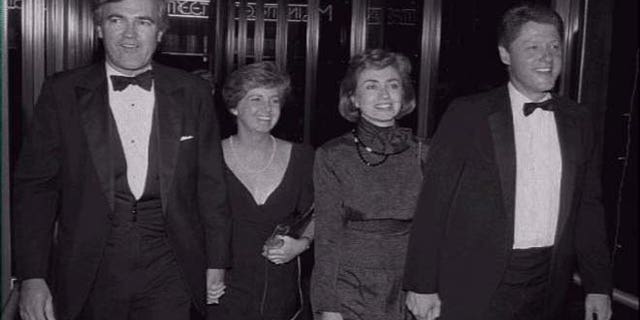 NEWYou can now listen to Fox News articles!
The figure of Uriah Milton Rose stands in the corner of National Statuary Hall in the U.S. Capitol. Rose was quite an orator in his day as an attorney. In 1865, Rose moved to Little Rock, Ark., and joined a law firm there which soon acquired his name -- simply the Rose Law Firm.
Hillary Clinton became the initial female partner of the firm while she was first lady of Arkansas. It also boasted prominent Clinton administration officials such as William Kennedy III, Webster Hubbell and Vince Foster. Kennedy was an associate White House counsel and emerged relatively unscathed from his Washington years. Hubbell served as assistant U.S. attorney general before pleading guilty to overbilling clients at the firm. A judge sentenced Hubbell to 21 months in prison. Foster became deputy White House counsel. But his mysterious 1993 death rocked the nascent Clinton administration. Subsequent probes by Independent Counsels Robert Fiske and Ken Starr in addition to congressional investigators ruled Foster's death a suicide. But chatter of a cover-up still resonates with conspiracy theorists.
The recent furor in Washington over Hillary Clinton's personal email use as secretary of state is just the latest flare-up to sidetrack the family's political trajectory. For them, this kind of controversy is old hat; and for the media covering them, it is likewise all too familiar.
It was Foster's staggering demise and issues surrounding the Rose Law Firm and Whitewater which presented the public with the first major congressional inquiries into Bill and Hillary Clinton.
The Whitewater maelstrom churned through the early years of the Clinton administration. The late and legendary New York Times columnist William Safire punctuated the entire state of affairs in an epic January 8, 1996 screed entitled "Blizzard of Lies."
A meteorological blizzard paralyzed Washington, D.C., for days in early 1996. But there was so much convection in the squall of words from Safire's column, it nearly melted the two feet of snow crippling the capital region.
"Americans of all political persuasions are coming to the sad realization that our first lady -- a woman of undoubted talents who was a role model for many in her generation -- is a congenital liar," wrote Safire.
The Timesman blasted what he said was an effort by Clinton to block a Justice Department investigation of her former law partner Foster. He took issue with Rose Law Firm billing records.
"The lying was not irrational. Investigators believe the damning records from the Rose Law Firm, wrongfully kept in Vincent Foster's White House office, were spirited out in the dead of night and hidden from the law for two years -- in Hillary's closet, in Web Hubbell's basement before his felony conviction ..." screamed Safire.
Safire was just warming up.
"She had good reasons to lie; she's in the longtime habit of lying; and she has never been called to account for lying herself or in suborning lying in her aides and friends," Safire charged.
The Safire column embodied some of the most acrimonious invective of the time. What Safire argued that snowy January morning was that you just couldn't trust Hillary Clinton.
Suspicion, deserved or not, about the first lady began not long after the Clintons came to Washington. Outer bands of the Whitewater storm had long licked the Beltway coastline. But things morphed into a monster Cat 5 when Vince Foster's body was discovered in Fort Marcy Park overlooking the Potomac River on July 20, 1993. He was reported dead from an apparent, self-inflicted gunshot wound. A day later, investigators unearthed what looked to be a suicide note in Foster's briefcase.
"The public will never believe the innocence of the Clintons and their loyal staff," read the cryptic missive. "I was not meant for the job or the spotlight of public life in Washington. Here ruining people is considered sport."
Republican lawmakers were curious about decisions made by Hillary Clinton and her confidantes involving Foster's office and documents after his death. The flashpoint for this skepticism centered on whether someone improperly rifled through Foster's papers and removed them, suggesting the possibility of a cover-up.
In 1995, the Republican-led Senate empaneled a special committee to investigate Whitewater as well as periphery issues like Foster's death. Of special interest to the committee was more than a dozen telephone calls high-level Clinton friend and Whitewater attorney Susan Thomases made to the White House immediately following Foster's death.
"Call! Call! Call! Call! Call! Call! Call!," sputtered then-Sen. Lauch Faircloth, R-N.C., in rapid-fire fashion at an August, 1995 hearing with Thomases at the witness table. Faircloth wanted to know if Thomases, an unofficial Clinton adviser, gave counsel to White House officials about what to do with a prospective law enforcement search of Foster's office.
Faircloth had trouble believing the calls from Thomases to a host of White House officials following the discovery of Foster's body were about quotidian affairs.
"And you were discussing the weather?" asked an incredulous Faircloth of Thomases.
Thomases told the Whitewater panel she never had any reservation about how police should conduct a search of Foster's office -- nor did she give advice to the first lady about the issue.
In a deposition to the committee, White House Counsel Bernie Nussbaum reported a different story. He told Senate investigators that Thomases said "people are concerned" about a search of Foster's office and that the first lady didn't want police to have "unfettered access" to Foster's documents.
A year later, the Senate Whitewater Committee produced its final report. It said that Thomases "provided inaccurate testimony to the committee in order to conceal Mrs. Clinton's pivotal role in the decisions surrounding the handling of Mr. Foster's documents following his death." The committee asked Independent Counsel Ken Starr to try to nail Thomases for perjury. Starr declined.
-----------------------------------------------
Issues about possible cover-ups involving Whitewater and Vince Foster are more than 20 years old. Then, the contretemps centered on trust and credibility. Today, Clinton faces questions about truthfulness and possible attempts to obfuscate by using a private email server. The former secretary of state denies such assertions. This comes as House Benghazi Committee Chairman Trey Gowdy, R-S.C., says he now needs to hear from Clinton not once but "at least" twice. Once about the email issues and also about the Benghazi particulars.
"Secretary Clinton has created more questions than answers," said Gowdy in a statement.
House Oversight Committee Chairman Jason Chaffetz, R-Utah, wants to probe the email preservation issue as well.
Back in the mid-1990s, Republicans controlling Congress pursued the Clintons with a maximum vigor. The exercise was good fodder for the right. But Bill Clinton survived impeachment. The GOP overplayed its hand, costing then-House Speaker Newt Gingrich, R-Ga., his job.
As she prepares to announce a possible presidential bid, Republicans are expected to go after Hillary Clinton again. It's yet to be seen if it will reflect the aerobic intensity of two decades ago. There might not be talk of the Rose Law Firm and partners like Webster Hubbell and Vince Foster this round. But one former Rose Law Firm partner remains front and center. And congressional Republicans may bank that the same apprehensions people had about Hillary Clinton in the mid-1990s will bear fruit in another altercation now.
Capitol Attitude is a weekly column written by members of the Fox News Capitol Hill team. Their articles take you inside the halls of Congress, and cover the spectrum of policy issues being introduced, debated and voted on there.