'Big ugly mess': South Sudan, nation created with help of US aid, spirals into violence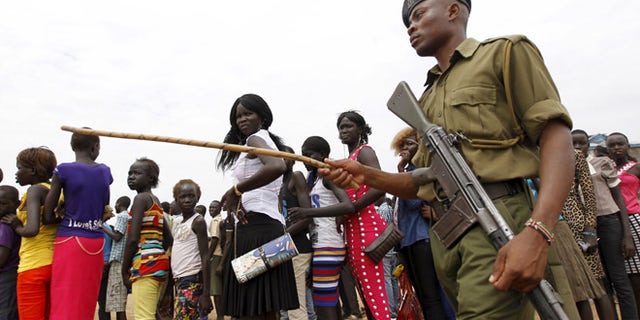 NEWYou can now listen to Fox News articles!
American money and diplomats helped forge the world's newest nation, South Sudan, in 2011 – giving more than $2 billion to the fledging country. Now, just four years later, the country whose creation was supposed to end the tragic cycle of Sudanese slaughter is falling apart as locals say a new wave of violence is only just beginning.
According to international security agents on the ground, the threat of all-out civil war has grown significantly in the last month, and the U.S. and United Nations may not be prepared to deal with the violence -- and the refugees it creates.
In one case, more than 50,000 refugees from one tribe have been rounded up and kept in a camp on the outskirts of the capital city of Juba. Widespread atrocities are being reported by numerous international aid groups including the United Nations, which states more than 100,000 people have fled their homes. Human Rights Watch reports killings of women and children, brutal gang rapes and repeated attacks on civilians.
The developments have fueled criticism of the Obama administration's handling of South Sudan aid and negotiations with its government.
"All that money given by the U.S. to the South Sudanese government should have had checks and balances and accountability. It wasn't and the money was just distributed amongst the two leading tribes. It's a big mess … and another genocide situation may be in the works," according to one international security contractor on the ground in the country.
South Sudanese Regional Governor Joseph Bakosoro has been mostly supportive of U.S. efforts but echoes the criticism of international security personnel.
"We are losing the rule of law. The U.S. should have done things differently. Money was given, but not any direction," he said. "Giving money is not enough. Where is the money going to and who is benefitting from it? The money wasn't used for what it was intended for. The U.S. needs to find another approach to right what is wrong."
There are 64 tribes all told in South Sudan, but the State Department and the Intergovernmental Authority on Development (IGAD) have been negotiating an agreement that is dividing power between just two tribes, the Dinka and Nuer.
"It is going to be one big ugly mess and there is no intention of holding a national election ... a dictatorship is coming," said one operator on the ground in Juba. "[South Sudanese leaders] don't know what right is … they don't know what right looks like and we just gave them money without showing them the way … very similar to what we did with the nation building in Afghanistan and Iraq."
Bakosoro adds, "I am worried about our security, we thought the forces were to protect our people … but they have turned against us."
The fighting rages on as President Obama lands in Africa for a two-nation tour that does not include South Sudan.
At Wednesday's White House briefing, National Security Advisor Susan Rice was asked about the deteriorating situation. "We have worked long and hard in partnership with the countries in the region to try to broker a lasting peace agreement in South Sudan," she said. "Thus far, the sides have put their own personal power and wealth ahead of the interests of their people and have refused to accept numerous rational proposals for a peaceful resolution of the conflict."
To make matters more delicate, the United States currently has special forces training locals near an airfield in the western part of the country -- an area that would become entangled in a South Sudanese civil war. One international security officer told Fox News that U.S. special forces trainers could be in danger of being choked off. He says they are "mostly young guys" who are watching the situation very closely.
Before South Sudan's split from Sudan in 2011, the region had been racked by civil war and tribal violence, which ultimately helped fuel the genocide in the western region of Darfur in 2003. The conflict continues to draw significant international attention, aid and pressure on leaders to end the violence.
The country also is strategically located in the heart of Africa, which has led to some criticism in years past about American and European intentions in the region. The country has oil reserves, land for crop cultivation, strong water sources, and gold and mercury mines.
While the administration heralded the creation of South Sudan, the tone has changed. Obama recently said, "the situation in and in relation to South Sudan, which has been marked by activities that threaten the peace, security, or stability of South Sudan and the surrounding region, including widespread violence and atrocities, human rights abuses, recruitment and use of child soldiers, attacks on peacekeepers, and obstruction of humanitarian operations, continues to pose an unusual and extraordinary threat to the national security and foreign policy of the United States."