Big Hollywood backed, staged student-inspired gun safety march
The March for Our Lives events on Saturday began as a student-inspired campaign to bring attention to gun violence is classrooms.
But the movement quickly caught the attention of Hollywood types like George Clooney and others famous and wealthy supporters who helped amass more than $3.5 million to produce and stage the roughly 800 separate events in Washington and elsewhere around the world.
Clooney and wife Amal Clooney, a human rights lawyer whose clients have included WikiLeaks founder Julian Assange, were among the first to make a large donation.
The couple pledged $500,000 just days after the March 14 mass-shooting at the Marjory Stoneman Douglas High School in Parkland, Fla., that inspired the students to stage the rallies. Seventeen people were killed in the shooting.
"George and Amal, I couldn't agree with you more," media mogul Oprah Winfrey tweeted just hours after the Clooneys' pledge. "I am joining forces with you and will match your $500,000 donation."
Clooney has in recent election cycles given tens-of-thousands of dollars to Democratic candidates and groups associated with the party, including roughly $65,000 in 2016 with $2,700 going to Democratic presidential nominee Hillary Clinton.
"George and Amal, I couldn't agree with you more. I am joining forces with you and will match your $500,000 donation."
Winfrey has given tens-of-thousands to similar Democratic interests but not since the 2013 election cycle. She gave $2,300 and $2,500, respectively, to Barack Obama's 2008 and 2012 presidential campaigns, according to the Center for Responsive Politics.
Other big-name stars who publically pledged to the march include movie producers Jeffrey Katzenberg, Steven Spielberg and wife Kate Capshaw, and singer John Legend with model wife Chrissy Teigen.
To be sure, the nationally-televised Washington rally looked like a Hollywood event, with stars like Miley Cyrus and "Hamilton" creator Lin Manuel Miranda singing on stage in a fast-paced and polished three-hour show at which even veteran TV and film producers marveled.
Clooney reportedly assisted the students in the early stages of production, helping them get lawyers and A-list entertainment PR firm 42 West, which eventually led them to getting Deena Katz as lead event organizer.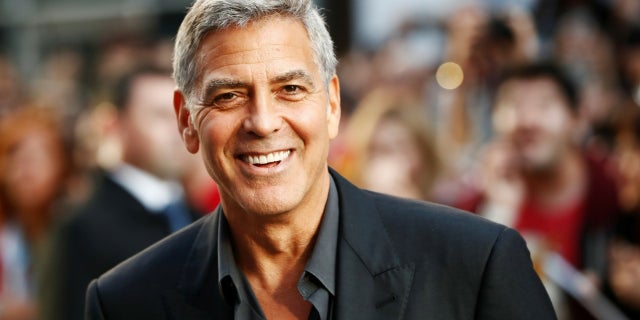 Katz is a veteran producer who has worked on shows like HBO's "Real Time with Bill Maher" and ABC's "Dancing with the Stars." She is also an executive director of the Los Angeles Women's March Foundation, which assuredly helped her secure permits and carry out other chores associated with such a large-scale event.
But all of the big money and Hollywood support that help draw attention to and stage the events -- including one of the largest in Washington history -- also sparked backlash from Second Amendment and gun lobbyist groups.
"Today's protests aren't spontaneous," the National Rifle Association said Saturday on Facebook. "Gun-hating billionaires and Hollywood elites are manipulating and exploiting children as part of their plan to DESTROY the Second Amendment and strip us of our right to defend ourselves and our loved ones."
Beyond the entertainment money, the worlds of fashion and social media also gave: Dating app Bumble pledged $100,000 and Italian fashion brand reportedly pledged $500,000.
The money is in addition to the $3.48 million March for Our Life organizers raised on the free fundraising website gofundme.com and money the group has made selling "merch" on its homepage.
The group also is also working with and receiving donations through Everytown for Gun Safety, the influential nonprofit group that advocates for gun safety and more gun control and that was founded and is financed by former New York City Mayor Michael Bloomberg.
Exactly how much money the group has raised or what it intends to do with the remainder is unclear. Others have likely given without making an announcement. And the group is registered as a 501(c)(4), allowing it to keep private the names of donors.
42 West did not return a call asking whether it did the promotional work pro bono. And attempts to contact march group officials Monday were unsuccessful. 
However, the group recently told the Miami Herald newspaper: "Donations will be used to pay the expenses associated with the March For Our Lives gathering in Washington, D.C., and to provide resources for young people organizing similar marches across the country. … Any leftover funds will go towards supporting a continuing, long-term effort by and for young people to end the epidemic of mass shootings that has turned our classrooms into crime scenes."