Biden sidesteps question about 2016 plans on NBC's 'Late Night'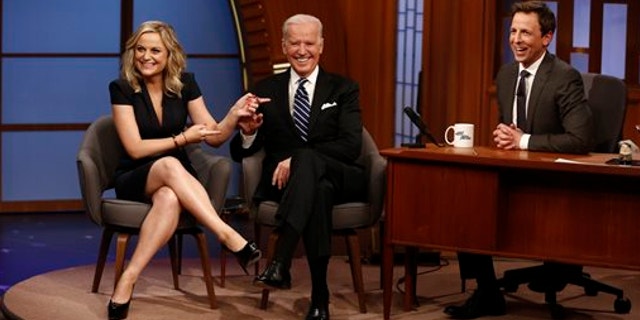 Vice President Joe Biden sidestepped a question about his political plans for the 2016 presidential election on the inaugural edition NBC's "Late Night with Seth Meyers."
When Meyers asked Biden what his 2016 plans might be, he laughed off the question. He said he had meant to make a major announcement on the show, but changed his mind. As he explained to Meyers, "Tonight's YOUR night. So I hope you'll invite me back."
Biden was joined on Monday's show by Amy Poehler, Meyers' longtime pal and former "Weekend Update" deskmate on "Saturday Night Live." Biden and Poehler have a history of their own, reaching back to his cameo appearance last season on her NBC sitcom "Parks and Recreation."
"Amy really helped me with the Secret Service," said Biden, who reported that when he had finished shooting his "Parks and Recreation" scene and was making his departure, the smitten Poehler grabbed a Secret Service agent by the lapels and demanded, "You take care of him!"
Poehler joked that she and Biden now plan to make a film together called "Snakes on a Train." Then she declared that she was running for president in two years.
The premiere of "Late Night with Seth Meyers" (which taped Monday evening for airing at 12:35 a.m. EST/11:35 p.m. CST), represented the final step in NBC's talk-show turnover.
Meyers, who until early this month was an "SNL" veteran and co-anchor of its "Weekend Update" newscast, is filling the vacancy left by Jimmy Fallon after five years as "Late Night" host.
Fallon, of course, moved up last week to be host of "The Tonight Show," replacing Jay Leno.
The Associated Press contributed to this report.