Biden Likens GOP Economic Strategy to Blaming Rape Victims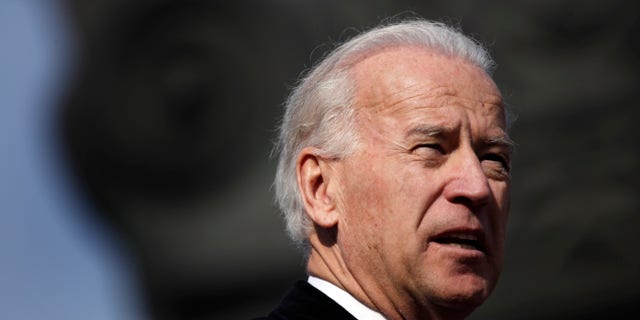 Ratcheting up the rhetoric in the Washington budget battle, Vice President Biden on Friday likened the Republican strategy of seeking to slash federal spending while championing tax breaks for the wealthy to rape victims being blamed for the rape.
At a lavish Philadelphia fundraising luncheon that raised $400,000 for Democratic congressional campaigns, Biden began his attack on Republicans by crediting the 1994 Violence Against Women Act that he and former Pennsylvania Sen. Arlen Specter (who was in attendance) authored for changing society's attitude about blaming rape victims.
"When a woman got raped, blame her because she was wearing a skirt too short, she looked the wrong way or she wasn't home in time to make dinner," he said. "We've gotten by that."
Then Biden turned his focus to the current spending debate in which Democrats and Republicans are fighting over how much to cut from the federal budget.
"But it's amazing how these Republicans, the right wing of this party – whose philosophy threw us into this godawful hole we're in, gave us the tremendous deficit we've inherited – that they're now using the very economic condition they have created to blame the victim – whether it's organized labor or ordinary middle-class working men and women," he said.
"It's bizarre," he added.
The Republican National Committee condemned Biden's remarks.
"Using a rape analogy to describe one's political opponents is inexcusable & beneath the office of the Vice President," RNC Chairman Reince Priebus tweeted.
Biden's comments came on the same day that President Obama signed another stopgap measure to keep the government running for another three weeks. The measure cuts $6 billion in spending – on top of the $4 billion in cuts from a two-week extension passed earlier this month -- and buys the White House and congressional leaders more time to negotiate a larger bill to cover the daily operations of the government through the end of September.
Republicans, alarmed over record deficits and debt, want to cut $61.5 billion from current spending levels while Democrats, seeking to protect what they see as critical programs, want to cut far less.
If the two sides aren't able to reach an agreement, a partial government shutdown looms April 8.
A bipartisan group of 64 senators – 32 in each party – sent a letter to the president on Friday calling on him to take the lead in forging a sweeping deficit reduction plan along the lines of what his own deficit commission recommended last year. That plan called for a sweeping overhaul of the tax code that would exchange dozens of costly tax breaks for lower individual and corporate rates, cut Social Security benefits and slash spending across the budget.