Biden in Asia: 'Didn't Come to Explain a Damn Thing' to the Chinese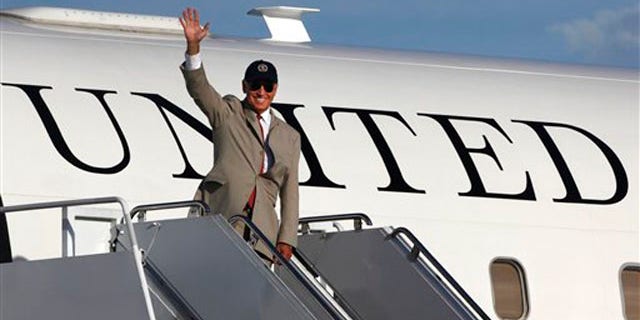 NEWYou can now listen to Fox News articles!
Vice President Joe Biden, at the close of his weeklong tour through Asia Wednesday, assured U.S. troops stationed abroad that he wasn't looking to "explain a damn thing" to the Chinese.
Biden made the comment while speaking to U.S. troops at Yokota Air Base in Japan. The vice president had just wrapped up the China leg of his tour, in the wake of a bruising battle in Washington over the nation's debt ceiling and long-term deficits.
But while he spent time in China talking about the strength of U.S. finances and offering reassurances that the U.S. remains a safe investment, Biden told the troops that is not what he went to China to do.
"I didn't come to explain a damn thing," Biden said, according to a tweet by a Chicago Tribune/Los Angeles Times reporter attending the remarks.
Biden then thanked the troops for their service and spent about an hour shaking hands and taking pictures with them.
At a separate event in Japan, Biden explained that he went to China to increase dialogue with Chinese Vice President Xi Jinping, who may eventually succeed the sitting President Hu Jintao.
Biden said the relationship with Japan is also "something that we value a great deal."
During a meeting with Japanese Prime Minister Naoto Kan, Biden referenced the debt debate.
"While you're struggling to deal with one of the greatest natural disasters any country has faced, we are dealing with getting our budget in order. There are voices in the world who are counting us out. They're making a very bad bet," he said.