Biden to nominate Robert Califf to lead FDA, bringing back Obama-era official
Expected announcement of former FDA Commissioner Robert Califf comes nearly 10 months into Biden's term
NEWYou can now listen to Fox News articles!
President Biden announced his nomination of former Food and Drug Administration (FDA) Commissioner Robert Califf to lead the agency Friday morning.
"I am honored to be nominated by President Biden for this position at a critical time for our country," Califf said in a statement. "There's a lot of work to do, and if confirmed I look forward to rejoining the great team at the FDA to help in their inspiring mission to serve the public."
"As the FDA considers many consequential decisions around vaccine approvals and more, it is mission critical that we have a steady, independent hand to guide the FDA. I am confident Dr. Califf will ensure that the FDA continues its science and data drive decision-making," Biden said in a statement.
The announcement comes nearly 10 months into Biden's term. Because acting commissioners may only serve for a certain amount of time, Biden was nearing the deadline for when he would be forced to name a replacement for acting FDA Commissioner Janet Woodcock. She's held the position since Biden was inaugurated.
"The President is definitely eager to make a decision about an FDA nominee," White House Press Secretary Jen Psaki said last month when asked about the looming deadline.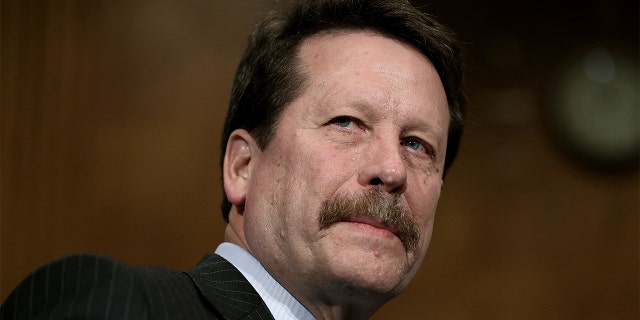 "We'll be talking about that in a little bit," Psaki also said earlier in the month.
FOREVER MASKING? MANY GOVERNMENTS WITH MASK MANDATES DON'T HAVE A PLAN TO LIFT THEIR COVID-19 RULES
But nevertheless it took the president nearly 300 days into his term to make a decision on who he wants to head the FDA, as the White House continues to emphasize the fight against COVID-19.
If confirmed, it would mark Califf's second stint atop the FDA after holding the position for 11 months at the end of former President Barack Obama's administration.
Sen. Joe Manchin, D-W.Va., notably immediately announced his opposition to Califf on Friday morning.
"Dr. Califf's nomination and his significant ties to the pharmaceutical industry take us backwards not forward," Manchin said. "His nomination is an insult to the many families and individuals who have had their lives changed forever as a result of addiction. I could not support Dr. Califf's nomination in 2016 and I cannot support it now."
CLICK HERE TO GET THE FOX NEWS APP
But Califf was confirmed 89-4 in 2016, meaning that unless Senate Republicans radically change their stance on the bureaucrat he has a significant path to confirmation despite Manchin's opposition.
Before Woodcock, former FDA Commissioner Stephen Hahn led the agency for the final 13 months of former President Donald Trump's time in office, including all the coronavirus pandemic.
Fox News' Peter Doocy and Kelly Phares contributed to this report.