President Biden on Tuesday said the United Nations General Assembly meets "at an inflection point in history," and called for strengthened alliances while stressing that "no nation can meet the challenges of today alone."
Biden, delivering his annual speech to leaders of the UN in New York City on Tuesday, addressed the United States' continued support for Ukraine against Russia's "naked aggression," the importance of denuclearization of the Korean peninsula and efforts to block Iran from nuclear proliferation; the competition between the United States and China; the climate crisis and more.
Biden, upon taking the podium, stressed the importance of strengthened alliances and "standing together."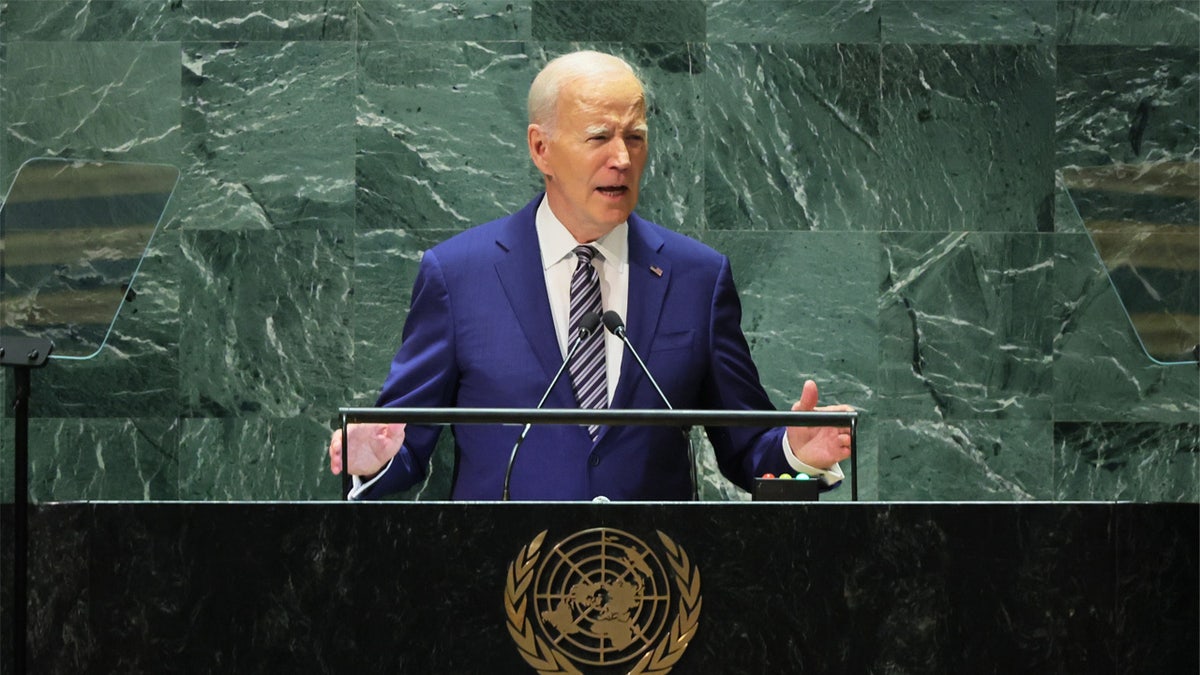 "My fellow leaders, we gather once more at an inflection point in history," Biden said, calling for "new approaches to our shared challenges."
OUTRAGE AS IRAN PRESIDENT PREPARES TO ADDRESS UN: 'WANTS TO KILL AMERICAN CITIZENS'
"The United States seeks a more secure, more prosperous, more equitable world for all people," Biden said. "We know our future is bound to yours."
He added: "No nation can meet the challenges of today alone."
Early in his address, the president discussed the United States' continued support for expanding the United Nations Security Council; the importance of developing a joint strategy to ensure artificial intelligence technologies are safe; and ways to strengthen security in the Indo-Pacific.
But the president issued a warning about emerging technologies, like artificial intelligence, saying they "hold enormous potential and peril."
"We need to be sure they are used as tools of opportunity, not as weapons of oppression," the president said. "Together with leaders around the world, the United States is working to strengthen rules and policies so AI technologies are safe before they're released to the public. To make sure we govern this technology, not the other way around, having it govern us."
Biden said he is "committed to working through this institution and other international bodies and directly with leaders around the world, including our competitors, to ensure harness the power of artificial intelligence for good, while protecting our citizens from its most profound risk."
"It's going to take all of us. I've been working on this for a while," he said.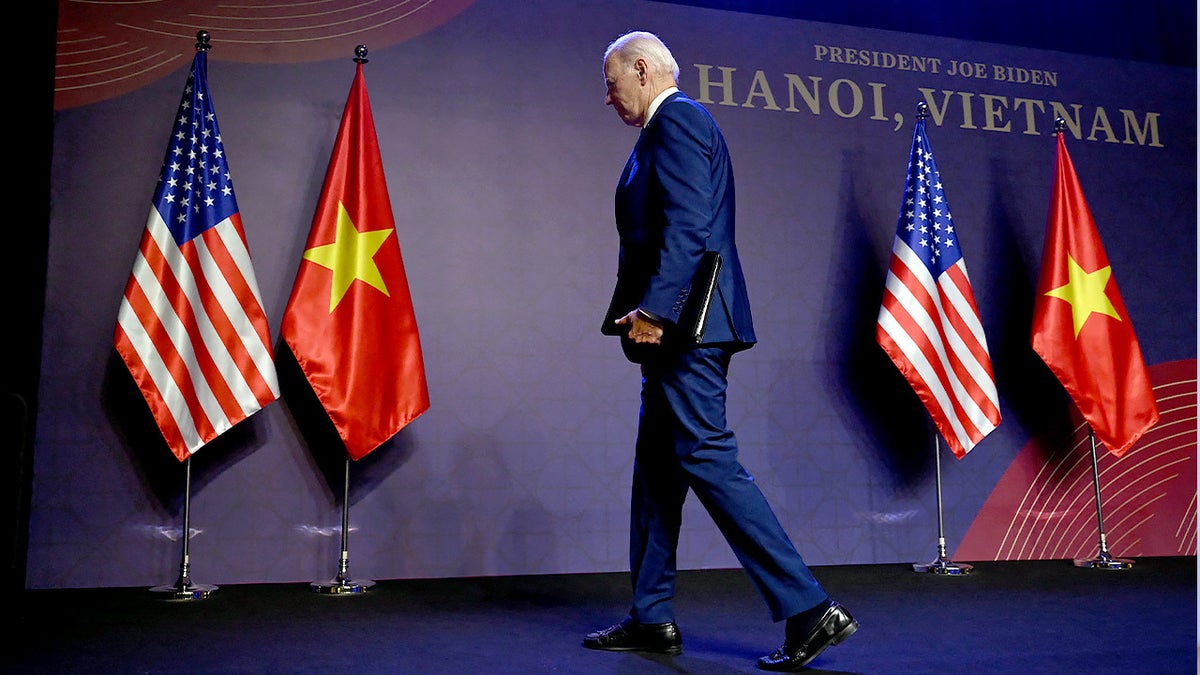 Shifting to China, a global leader in emerging technologies, Biden said the United States seeks to "responsibly manage the competition between our countries, so that it does not tip into conflict."
"I want to be clear and consistent," Biden said. "I've said we are de-risking, not decoupling, with China."
"We will push back on aggression and intimidation and defend the rules of the road from freedom of navigation to overflight to a level economic playing field and help safeguard security and prosperity for decades," Biden said, while maintaining the United States' position to "stand ready to work together with China on issues where progress hinges on our common efforts."
BIDEN ON VIETNAM TRIP: 'I DON'T WANT TO CONTAIN CHINA'
Biden was referring to the climate crisis, which he said his administration has treated as an "existential threat from the moment we took office."
"Not only for us, but for the world," Biden said.
The president pointed to "record-breaking heatwaves in the United States and China; wildfires ravaging North America and Southern Europe; a fifth year of drought in the Horn of Africa; tragic flooding in Libya that has killed thousands of people."
"Taken together these snapshots tell an urgent story of what awaits us if we fail to reduce our dependence on fossil fuels and begin to climate-proof our world," Biden said.
The president then shifted to the issue of nuclear proliferation, stressing the United States' continued efforts to work to denuclearize the Korean Peninsula, as North Korea further develops its own nuclear weapons program.
The president also stressed that his administration is "steadfast in our commitment that Iran must never acquire a nuclear weapon."
The Biden administration had engaged in negotiations to revive the Joint Comprehensive Plan of Action (JCPOA), also known as the Iran nuclear deal. Former President Donald Trump's administration withdrew from the deal in 2018.
President Biden went on to highlight the core pillars of the United Nations charter, and said the gathering of the United Nations Assembly, for a second year in a row, is "darkened by the shadow of war." Biden was referring to Russia's "illegal war of conquest brought without provocation" against Ukraine.
"Like every nation in the world, the United States wants this war to end," Biden said. "No nation wants this war to end more than Ukraine. And we strongly support Ukraine in its efforts to bring about a diplomatic resolution that delivers just and lasting peace."
But Biden again stressed that "Russia alone bares responsibility for this war," and said the Kremlin "has the power to end this war immediately."
"Russia believes that the world will grow weary and allow it to brutalize Ukraine without consequence," Biden said. "But I ask you this: If we abandon the core principles of the UN Charter to appease an aggressor, can any member state feel confident that they are protected? If we allow Ukraine to be carved up, is the independence of any nation secure?
"The answer is no. We must stand up to this naked aggression today to deter other would-be aggressors tomorrow."
Biden stressed that the United States and its allies and partners will "continue to stand with the brave people of Ukraine as they defend their sovereignty and territorial integrity – and their freedom."
The Biden administration has sent more than $100 billion in military and humanitarian aid to Ukraine since Russia invaded the country in February 2022.
Meanwhile, the president went on to highlight the importance of upholding "equal and unalienable rights of all," and said the U.S. and its allies "cannot turn away from abuses."
The president listed the need to continue to work to ensure young women and girls are "equal in society" and that "LGBTQI+ people are not prosecuted or target with violence because of who they are."
"These rights are part of our shared humanity," he said. "When they are absent anywhere, the loss is felt everywhere."
The president closed his address by reminding world leaders that they stand at "an inflection point in history."
"We're going to be judged by whether we live up to the promises we made to ourselves, to each other, to the most vulnerable, and all those who inherit the world," Biden said. "The road ahead is long and difficult but if we preserve, persevere and prevail, and show what's possible."
CLICK HERE TO GET THE FOX NEWS APP
He added: "Let's do this work together. Let's bend the arc of history for the good of the world because its in our power to do it."
"We will not retreat from the values that make us strong. We will defend democracy. We are working to show how democracy can deliver in ways that matter in people's lives," Biden said.
This is a developing story. Please check back for updates.