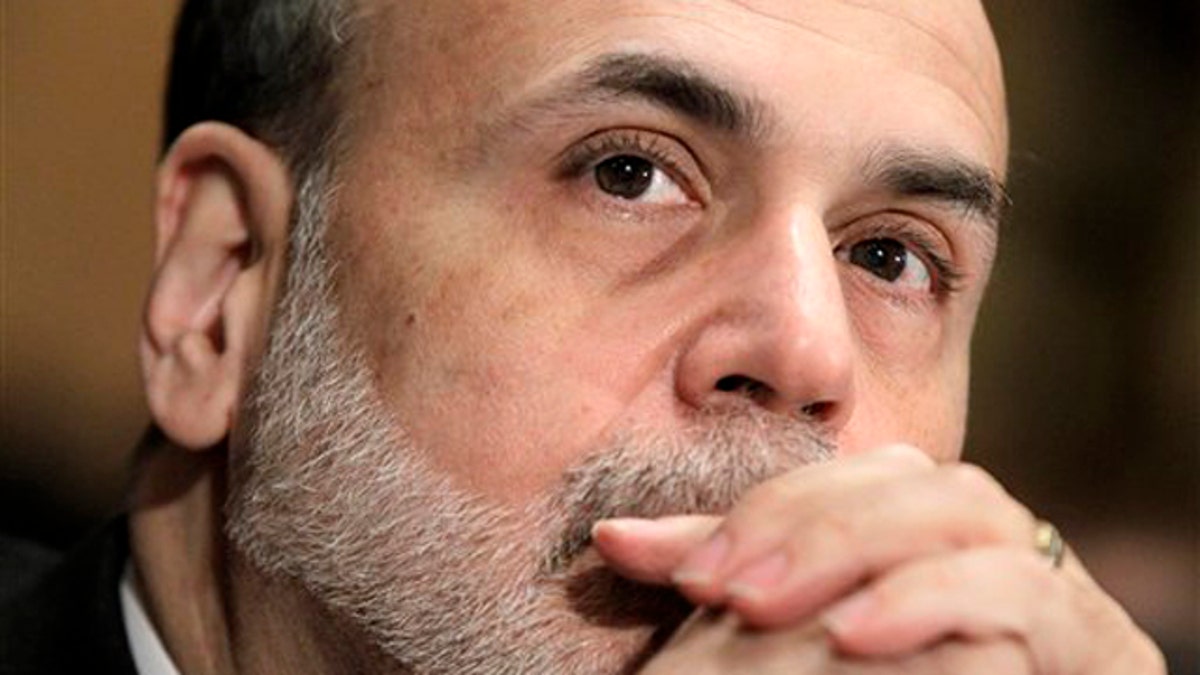 Federal Reserve Chairman Ben Bernanke proposed no new steps on Friday to jumpstart a weakening U.S. economy, but signaled that Congress may need to act to stimulate hiring and growth.
Bernanke's speech followed the release of a Commerce Department report that showed the economy grew at an annual rate of only 1 percent this spring, weaker than the government originally estimated. Only slightly healthier expansion is foreseen for the second half. The revision could raise fears of another recession.
At an annual economic conference in Jackson Hole, Wyoming, Bernanke said that while record-low interest rates will promote growth over time, the weak economy requires further help in the short run.
Bernanke said he's optimistic that the job market and the economy will return to full health in the long run.
"This economic healing will take a while, and there may be setbacks along the way," Bernanke said. "Moreover, we will need to remain alert to risks to the recovery, including financial risks. However...the healing process should not leave major scars."
Stocks fell after the speech was released but then recovered.
Bernanke's speech comes at a critical moment for the economy. Some economists worry that another recession might be near.
A big reason is that consumer spending has slowed. Home prices are depressed. Workers' pay is barely rising. Household debt loads remain high.
All that, compounded by Europe's debt crisis, has spooked the stock markets and unnerved consumers. Congress is focused on shrinking deficits and seems unlikely to back any new spending to try to energize the economy.
That's why many have looked with anticipation to the Fed to do more. The central bank has already kept short-term interest rates near zero for 2 1/2 years. And earlier this month, it said it would keep them there through mid-2013.
In his speech, Bernanke left open the possibility that the Fed will take further steps to strengthen the economy. He said its September meeting will be held over two days instead of just one to allow for a "fuller discussion" and that the Fed "is prepared to employ its tools as appropriate to promote a stronger economic recovery."
The Fed chairman said long-term deficit reduction is necessary. But he emphasized that future economic health could be jeopardized if hiring and growth are not strengthened now.
"Fiscal policymakers should not ... disregard the fragility of the current economic recovery," he said.
Bernanke also was critical of Congress' handling of this summer's battle over raising the debt ceiling. He said it disrupted the economy, and another episode like that could have long-term negative consequences.
Analysts noted the lack of new proposals in Bernanke's speech.
"He essentially hit the ball over to fiscal authorities and said, `There's only so much we can do,"' said Aneta Markowska, senior U.S. economist at Societe Generale.
But she said the extension of the Fed's September meeting to two days might suggest something new could be unveiled.
"Maybe that's a subtle signal they might announce something," Markowska said.
The Congressional Budget Office this week estimated that the unemployment rate will hover around 8.5 percent when President Obama seeks re-election next year. And it predicts that unemployment will stay above 8 percent through 2013.
That continued weakness is why many speculated that the Fed would still embark on some new plan to help the economy. They note that while inflation has risen, it's still within the Fed's target range.
Many economists note, however, that the economy's main problem is not that interest rates are too high. They say the main problem is that consumer spending remains too weak. So businesses feel little incentive to hire, expand and invest.
Until demand for goods and services steps us, the Fed may have limited ability to strengthen the economy.
The Associated Press contributed to this report.