Ben Carson picks up knockout endorsement – from MMA fighter Vitor Belfort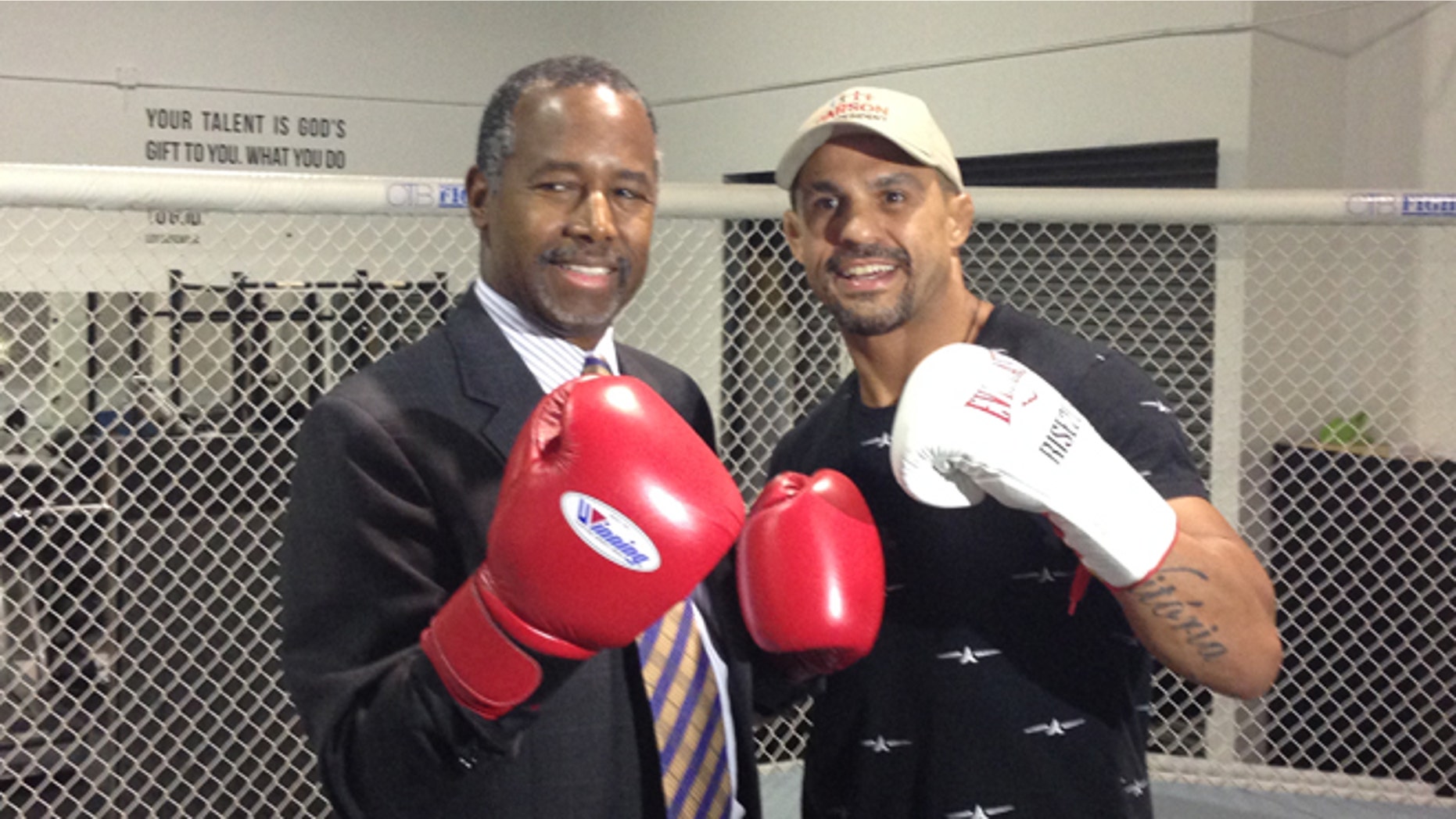 Republican presidential candidate and former neurosurgeon Ben Carson added a little muscle to his team on Tuesday, picking up the support of UFC light heavyweight champion, Vitor Belfort.
Carson dropped by a Tuesday press conference in a Boca Raton, Florida, gym where Belfort was speaking with reporters, and the Brazilian-born fighter endorsed the GOP candidate.
Both men face what promise to be tough challenges in the near future: Carson will participate in the third Republican debate at the University of Colorado in Boulder on Wednesday night, while the 38-year-old Belfort (24-11) headlines the upcoming UFC Fight Night 77, where he'll fight Dan Henderson (31-13) on Nov. 7 in Sao Paulo, Brazil.
Carson said he was pumped to meet the former champ. He took to Twitter, where he posted a picture with Belfort and his trainers.
"A little pre-debate prep with former UFC light heavyweight champion Vitor Belfort and team. Great sparring partner!" Carson tweeted.
Carson has recently taken over the lead in the polls from real estate magnate and television personality, Donald Trump.
Boca Raton is in the political backyard of Carson's other GOP opponents, former Florida Gov. Jeb Bush and Sen. Marco Rubio.
"My team and his team have been talking about having similarities in our morals. We support people like him," Belfort told Fox News Latino. "They are willing to come out and take a stand and support the road that he has in front of him. We believe him. He is the right guy for the job."
During the meeting, Belfort, a devout Christian, handed Carson a copy of his book, "Vitor Belfort: Lessons of Guts, Faith and Success." He told Carson that the biggest challenges he'd faced weren't inside the cage, but outside.
"It's not about motivation. It's about what's driven inside of you," Belfort said. "He is willing to fight for a cause … He doesn't have an agenda about attacking people. He is focused on his mission."
Asked by UFC.com if he had any political aspirations of his own, Belfort laughed.
"Life is politics," he said. "Having three kids at home is sometimes like dealing with Democrats and Republicans when you're choosing a restaurant. You just have to find what is best overall."
Belfort faces Henderson for the third time. They have split their previous two bouts with the most recent taking place two years ago, when Belfort won by technical knockout in the first round.