Battleground map shifting in Clinton's favor – for now
The 2016 battleground map is tilting in Hillary Clinton's favor, according to the latest ratings from the Fox News Decision Team -- as recent polling shows the Democrat widening her lead over Donald Trump in a handful of states likely to decide the White House race.
The latest Fox News "2016 Scorecard" was released Tuesday, and reflects polling conducted after the party conventions in July.
While the Democratic presidential nominee's contest with Trump remains tight in most of the battleground states, surveys show her lead widening in New Hampshire, Pennsylvania and Virginia.
As a result, the Fox News Decision Team has moved the states from the "toss-up" to the "lean Democrat" category.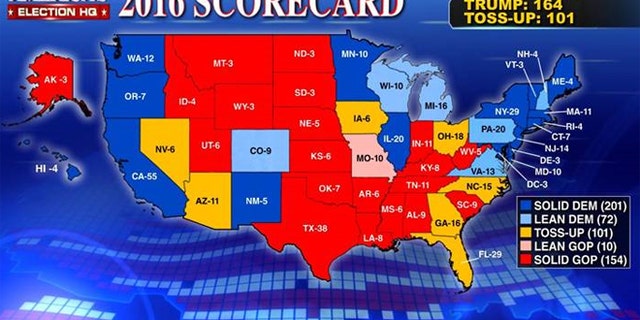 "The race isn't over in the states we've shifted to leaning Democratic, but it's now clear that Clinton is playing from a position of strength in those states," the Decision Team said in a statement Tuesday, as the new scorecard was released.
"Most worrisome for Trump are the current polling trends in Pennsylvania. No Republican has won Pennsylvania since 1988. But it's pretty hard to see a path to victory for Trump that doesn't include a win in the Keystone State."
Trump is fighting hard to win Rust Belt voters, including in Pennsylvania, and has returned on the campaign trail to talking about economic issues -- and, in an appeal to voters in that region, coal jobs.
Despite Clinton's post-convention bounce, several polls released this week reflect a tightening race once again.
However, Clinton has a built-in advantage with the electoral map, considering more Democrats than Republicans live in many of the country's most populated states, like California and New York, which as a result gives them more electoral votes.
Her growing advantage in states like Virginia only increases that edge.
According to the Fox News ratings, if Clinton wins the states considered "solid" or "lean" Democrat, she would get 273 electoral votes to Trump's 164. That would put Clinton above the 270 electoral votes it takes to win the White House.
In another trouble sign for Trump, his drop in the polls in two historically Republican-leaning states -- Arizona and Georgia -- has resulted in the Decision Team moving those states from "lean GOP" into the "toss-up" category.
Meanwhile, other vital battleground states, including Ohio and Florida, remain close.
In Ohio, Trump and Clinton have been essentially deadlocked since May. A Quinnipiac University poll released Tuesday shows Clinton slightly ahead, 49-45 percent. No Republican has won the White House without winning Ohio.
In Florida, which the Fox News scorecard rates as a "toss-up," Trump now trails Clinton just 46-45 percent in Quinnipiac polling, after being behind by nearly 7 points as recently as May.
The RealClearPolitics polls average shows Clinton leading by 2.2 points, essentially tied with Trump in Florida, which voted for President Obama in 2008 and 2012.
The RCP average also has Clinton and Trump tied in battleground North Carolina.
A Bloomberg Politics Poll released Wednesday on the national race shows Clinton leading Trump by 6 percentage points, 50-to-44 percent, with a 3-point margin of error.
Pollsters caution that national surveys so early in the general election, which technically starts after the parties' nominating conventions, remain largely insignificant until after Labor Day and that their numbers will fluctuate until November.
To be sure, both candidates have had up-and-down campaigns and poll numbers -- with Clinton continually plagued by her email scandal and voter concerns about her trustworthiness, while Trump continues to make divisive comments that alienate Republican lawmaker and voters.
The Clinton campaign, in fact, sent a fundraising memo this week citing the likelihood of poll numbers narrowing as the race heads toward Election Day, as they typically do.
"As we've seen over the past month, this race remains incredibly fluid," campaign manager Robby Mook wrote. "We fully expect the polls to tighten again."