Barbara Bush's funeral attended by Melania Trump, Clintons, others
The funeral for former first lady Barbara Bush, who died Tuesday at the age of 92, was attended by many high-profile figures, including first lady Melania Trump and former President Barack Obama.
A funeral service for the Bush matriarch, who once called herself "everybody's grandmother," was planned for Saturday at St. Martin's Episcopal Church in Houston, Texas. She and her husband of more than 70 years, former President George H.W. Bush, regularly attended the church.
The burial was on the grounds of the Bush library at Texas A&M University in College Station, about 100 miles northwest of Houston. The couple's 3-year-old daughter, Robin, who died in 1953 of leukemia, is also buried at the site.
President Trump did not attend the funeral "to avoid disruptions due to added security, and out of respect for the Bush Family and friends attending the service," the White House said.
However, it's not uncommon for sitting presidents to skip the funerals of former first ladies. After all, former President Barack Obama did not attend the funeral of Nancy Reagan in 2016 or Betty Ford in 2011.
Here's a look at some high-profile figures who attended the beloved former first lady's private funeral.
Melania Trump
First lady Melania Trump attended the service on Saturday.
"Throughout her life, she put family and country above all else. Her dedicated service to the American people was matched only by her compassion and love of family," Trump said in a statement after Bush's death. "She was a woman of strength and we will always remember her for her most important roles of wife, mother, and First Lady of the United States."
Barack and Michelle Obama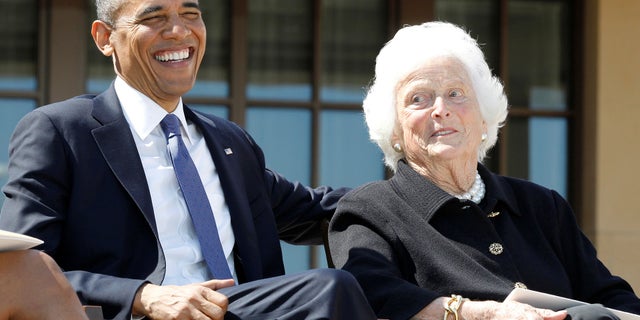 Former President Barack Obama and first lady Michelle Obama also attended the funeral.
After she died, Obama and his wife praised Bush "for the generosity she showed to us throughout our time in the White House."
"But we're even more grateful for the way she lived her life -- as a testament to the fact that public service is an important and noble calling; as an example of the humility and decency that reflects the very best of the American spirit," the Obamas said.
Bill and Hillary Clinton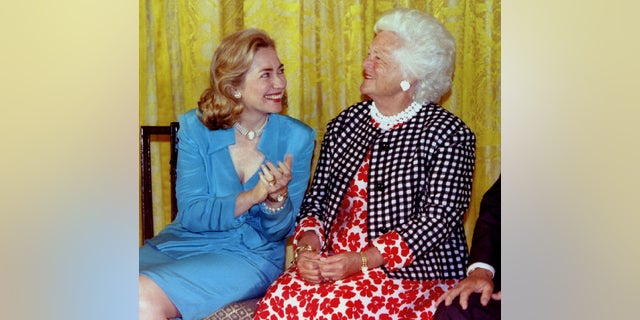 Former President Bill Clinton and his wife, Hillary, the former secretary of state, attended the funeral.
"Barbara Bush was a remarkable woman. She had grit [and] grace, brains [and] beauty," the former president said on social media. "She showed us what an honest, vibrant, full life looks like."
Before Bush died, Hillary Clinton said she was "wishing her the comfort she deserves surrounded by her loved ones." The former 2016 presidential candidate and first lady also thanked Bush for "her many kindnesses to me and my family."
Clinton beat Bush's husband when he ran for re-election in the 1992 election. But he has since grew close to his predecessor and Barbara Bush, visiting them at their summer home in Kennebunkport, Maine. Clinton often joked that he spent so much time with the Bushes that he'd become like a member of the family.
Fox News' Jenny Buchholz, Mike Emanuel and The Associated Press contributed to this report.