Bannon backs candidates in Arizona, Wisconsin, Mississippi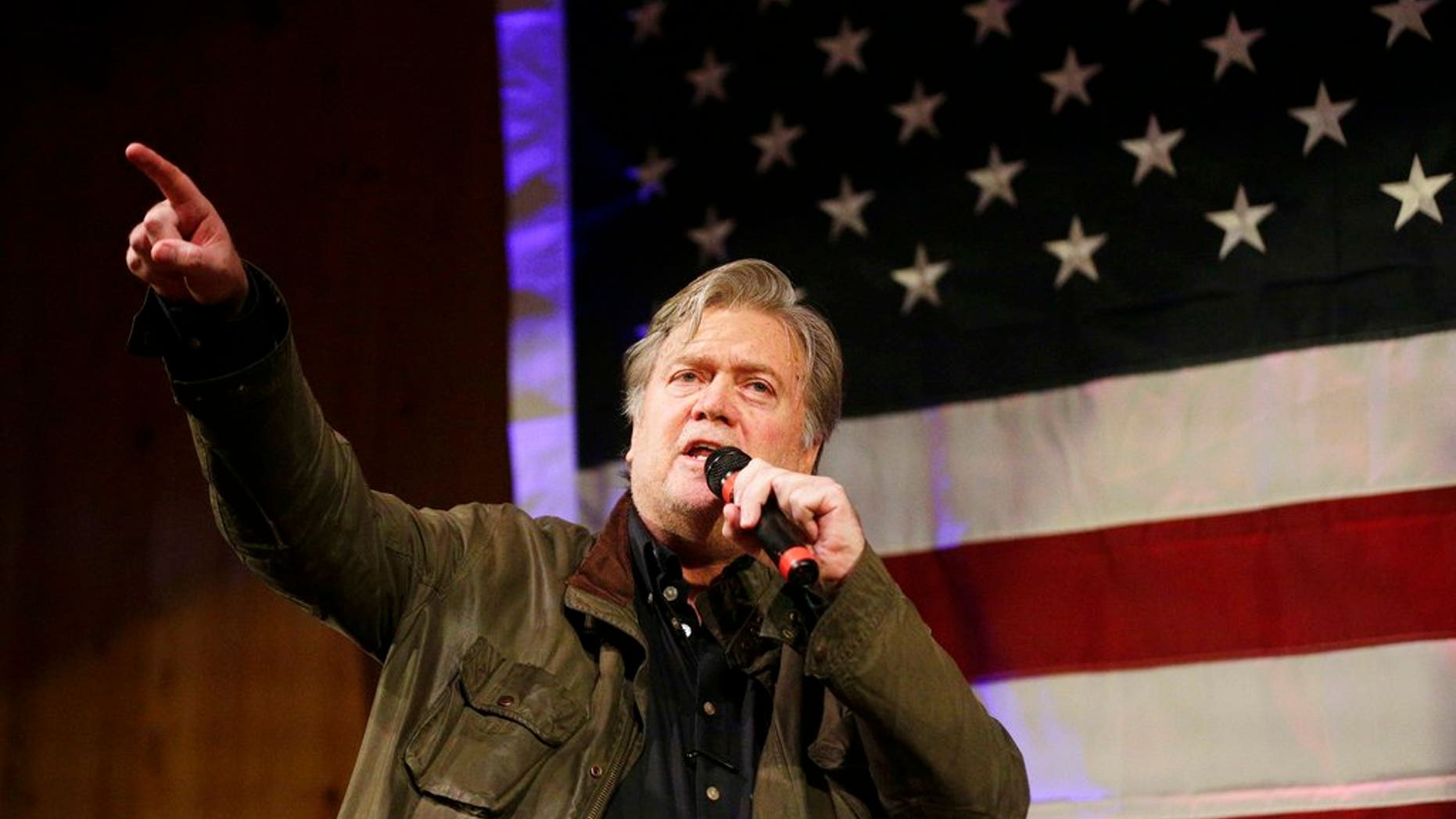 Former White House chief strategist Steve Bannon continued taking aim at the Republican Party establishment Tuesday – this time in Arizona, where he campaigned for U.S. Senate candidate Kelli Ward.
Ward is challenging incumbent Sen. Jeff Flake, who has been among President Donald Trump's most vocal critics within the GOP. The primary will be held in August 2018.
Bannon's support for Ward is part of a previously disclosed plan to promote primary challengers in a bid to defeat incumbent Republicans whom he views as Washington insiders who are unwilling to change the status quo.
"These people hold you in contempt," Bannon said of the targeted incumbents, during the Scottsdale, Ariz., event.
Bannon also heaped disdain on Senate Majority Leader Mitch McConnell and other incumbent Republicans, saying they failed Trump by not backing the president's agenda – and even being openly critical of the president.
"If you saw how they try to rip him apart every day, how they are trying to destroy him every day," Bannon said. "And yes, I'm talking about Mitch McConnell and the Senate Republicans."
When Ward took the stage, she admitted that she had her work cut out for her if she hoped to win the Senate seat.
"Obviously, taking on the establishment on the left and the right is not easy, not cheap and not always fun — although sometimes it is kind of fun, I admit," Ward said, according to the Phoenix New Times.
Deviation from Trump?
Bannon's appearance in Arizona seemed to deviate from a game plan that Trump appeared to advocate Monday, when he said he would try to discourage Bannon from going after Senate Republicans.
"Some of the people that he may be looking at, I'm going to see if we talk him out of that, because frankly, they're great people," Trump said during a joint news conference with McConnell.
But if Flake is worried about his reelection chances, he isn't letting on.
"I've had tough primaries almost every time I've run, mostly because of the position I've taken on immigration," he told the Associated Press last week. "People will say, `Well I can get to the right of Jeff on immigration.' But we came out all right."
Flake has another fundraiser set for Thursday hosted by major Arizona donors, including auto dealership magnate Jim Click and Phoenix Suns basketball team owner Robert Sarver. The event featuring former Secretary of State Condoleezza Rice comes after Sen. Marco Rubio came to back him last week.
Other Bannon favorites
Meanwhile, the Bannon-backed Great America PAC announced Monday that it was supporting retired Marine Kevin Nicholson in Wisconsin over state Sen. Leah Vukmir in the GOP primary to challenge Sen. Tammy Baldwin, a Democrat seeking her second term.
Bannon is also backing Mississippi state Sen. Chris McDaniel, who lost his challenge to Sen. Thad Cochran in 2014.
The group backed Roy Moore in his Alabama runoff with Sen. Luther Strange, the preferred candidate of McConnell. Moore defeated Strange.
Bannon pointed to that race and to Corker's decision not to seek re-election in his speech before about 500 Ward supporters Tuesday.
"The last couple of days Mitch has been saying, 'Hey you gotta win. Winners make policy, losers go home," Bannon said. "Note to self, Mitch: Big Luther Strange and little Bobby Corker are both going home. The people of Alabama and the people of Tennessee have spoken."
A key goal of Bannon's is to see McConnell dumped as Senate GOP leader, while also getting the president's agenda, including the dismantling of the 2010 Affordable Care Act and major tax cuts, enacted.
A spokesman echoed Nicholson's support for Senate term limits "including leadership." But he declined to say whether the candidate had pledged to Bannon that he would oppose McConnell as majority leader, should he win the primary and beat Baldwin.
Michigan appearance Nov. 8
Bannon is scheduled to mark the one-year anniversary of Trump's presidential election victory in one of the key battleground areas of the presidential election: Macomb County outside Detroit.
The county gave Trump victory margin of more than 48,000 votes over Democrat Hillary Clinton -- despite having backed Barack Obama in 2008 and 2012, the Detroit Free Press reported. Trump ended up winning Michigan by nearly 11,000 votes.
"It is fitting that Mr. Bannon would come here, to Macomb County, to mark this occasion," Macomb GOP Chairwoman Cathy Kirk said in a statement, "since our community provided nearly five times the margin President Trump needed to win Michigan."
The Republican Unity Dinner is scheduled for 5:30 p.m. Nov. 8 at the Andiamo Celebrity Showroom in Warren.
The Associated Press contributed to this story.