As Washington trumpets U.S.-Cuba talks, Cubans on island remain skeptical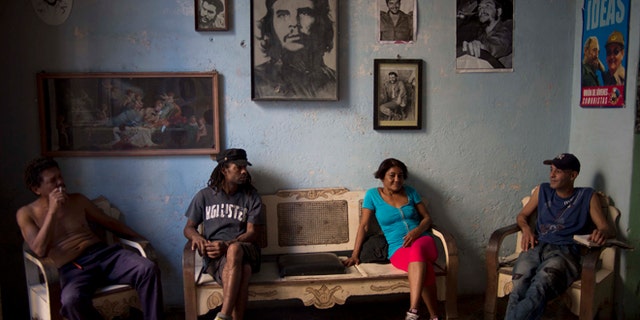 NEWYou can now listen to Fox News articles!
HAVANA (AP) – The jubilation that greeted the announcement of U.S.-Cuban detente two months ago has faded to resignation for many Cubans who are realizing they're at the start of a long process unlikely to ease their daily struggles anytime soon.
Dreams of U.S. products flooding Havana stores and easy visits to family members in Florida have dissipated, in part because of a coordinated campaign by Cuban state media and officials to lower expectations and remind people that the main planks of the half-century-old U.S. trade embargo remain in place.
As Cuban officials head to Washington for a second round of talks on restoring diplomatic relations Friday, many working-class islanders say they no longer expect immediate changes in their lives regardless of what emerges from the negotiations.
"The great expectations that surged with the news that first day have been lowered a lot and now the man in the street barely talks about it anymore," said Magali Delgado, a retired worker in the Ministry of Foreign Commerce who subsists on a pension of $11 a month. "People are so desperate ... they wanted immediate, concrete results."
It's a stark contrast to the giddy moments on Dec. 17 when Cubans cheered in the streets after Presidents Barack Obama and Raúl Castro announced that they were exchanging imprisoned spies, moving to reopen embassies in Havana and Washington, and seeking to normalize their countries' long-dysfunctional relationship.
"Expectations went far beyond what was in the announcements," said Joaquín Borges, a sociologist and widely read cultural critic. "Some people misunderstood things, particularly on the street, as if everything was going to be solved and the shortages that Cuba has had because of the embargo and the economic crisis were going to be resolved from one day to another."
Gustavo Machin, Cuba's deputy head of U.S. relations, said the communist government felt it needed to make clear to its people and the rest of the world that an opening with the U.S. did not mean things would change overnight.
"I think that not just Cubans but Americans and the whole world needed to be made clear about the reality of what was being announced and unfortunately the expectations had to be lowered," Machin said.
But pessimism is far from universal.
Obama's easing of restrictions on U.S. travel to Cuba and the quadrupling of limits on remittances are expected to have a dramatic short-term impact on the privileged class of Cubans with links to the global economy. There are also thousands of motivated, highly educated young people who hope to seize on the opening with the U.S. as a chance to move up into greater prosperity.
"I'm an optimist. I have a vision of a better future," Jose Torres, a nurse, said as he stood on a street corner checking text messages on his smartphone. "Better Internet, better in the sense of travel to other countries, exporting Cuban goods, importing U.S. goods ... having access to Facebook and Google."
The dour mood is strongest among Cubans who lack ties to the tourist-fueled economy, family members abroad to send them money or a sense that they can transition into one of the economic sectors boosted by tighter ties with the United States. Virtually all the proposed new economic links between the countries involve Cuba's private sector, which has grown to as much as 40 percent of total employment, according to a 2013 Brookings Institute study.
"There's a new generation that's mastered the Internet, that's mastered computing, that, yes, has possibilities," bicycle-taxi driver Alberto Rodriguez said as he cleaned dirt from his cab's gears and chain on a street in Old Havana. "I'm older and I don't have what it takes to compete in this market."
Alexis Ramos, a janitor in a medical clinic, said grimly, "I expect the rich to get richer and the poor to get poorer."
A senior State Department official, who insisted on anonymity, said Wednesday that U.S. officials would be delighted to reopen their Havana embassy before April's Summit of the Americas in Panama, which both Obama and Castro are expected to attend.
But the countries still appear far apart on some central issues, particularly Cuba's presence on a U.S. list of state sponsors of international terrorism. While Obama has all but said Cuba will be removed from the list, the State Department official said Washington sees the process as separate from the diplomatic talks with Cuba and any holdup linked to the terror list is "a delay of their own making."
Officials in Havana disagree.
Machin, Cuba's deputy head of U.S. relations, said that while removal from the list isn't a formal condition for the re-establishment of relations, significant progress will be impossible without progress on the issue.
"How can we explain to the Cuban people, to the U.S., to Latin America, to the whole world, that Cuba and the U.S. are re-establishing diplomatic relations and Cuba is still on the list?"