As Twitter purges fake accounts, Trump asks whether NY Times, Washington Post made list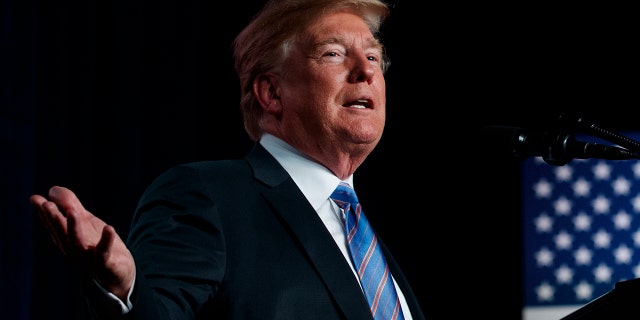 President Donald Trump on Saturday asked whether Twitter will remove the "Failing" New York Times and "propaganda machine" Washington Post as the social media platform escalates efforts to remove fake and suspicious accounts.
Trump's tweet appeared to be a response to a Washington Post report Friday in which Twitter confirmed it has more than doubled the rate of account suspensions since October, suspending more than 70 million in May and June.
"Twitter is getting rid of fake accounts at a record pace," Trump tweeted. "Will that include the Failing New York Times and propaganda machine for Amazon, the Washington Post, who constantly quote anonymous sources that, in my opinion, don't exist.
"They will both be out of business in 7 years!"
Twitter intensified its battle against bots after it said more than 1.4 million of its users interacted with Russian propaganda during the 2016 presidential election. But that number may be just a fraction of users impacted during that time, the San Francisco company said.
"I'm glad that – after months of focus on this issue – Twitter appears to be cracking down on the use of bots and other fake accounts, though there is still much work to do," Sen. Mark Warner, D-Va., told the Post.
The Times and Post have been frequent targets of Trump, who named the papers in his 2017 Fake News Awards in January.
Trump has also slammed the Post's owner, Amazon CEO Jeff Bezos, accusing Amazon of paying little to no taxes and forcing taxpaying retailers across the country to go out of business.
Trump's tweet was refuted by the Times' Deputy Managing Editor Clifford Levy, who said the number of the paper's digital subscribers had increased throughout the election cycle.
Despite his beef with some media, Trump has come out in support of journalists following the shooting at a Maryland newspaper in June.
"Journalists, like all Americans, should be free from the fear of being violently attacked while doing their job," Trump said.