As sequester continues, pressure mounts for Congress to pass a better budget deal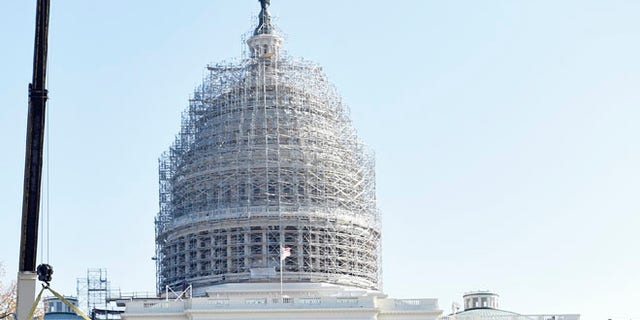 NEWYou can now listen to Fox News articles!
The House of Representatives adopted the final version of the budget Thursday -- only that might not be the one it needs.
The vote was 226-197 with just 13 GOP defectors. All Democrats voted nay. The 13 Republican noes represented a blend of moderate members from swing districts as well as arch-conservatives.
"The new Republican majority in Congress made a commitment to the American people to provide positive solutions to the nation's challenges," trumpeted Budget Committee Chairman Tom Price, R-Ga.
"The budget is a different course," boasted House Majority Leader Kevin McCarthy, R-Calif. "It's the foundation for a strong American future."
But here's the problem: Even as top Republicans heralded the budget accord, House Speaker John Boehner spoke recently of the need for another agreement. He specifically invoked the "Ryan-Murray" budget pact of late 2013 as a potential model.
"If there's a way to reduce mandatory spending in a way that would provide relief to the sequester like we did with the Ryan Murray budget plan, have at it," opined the Ohio Republican.
First some background:
"Ryan-Murray" refers to then-House Budget Committee Chairman Paul Ryan, R-Wis., and then-Senate Budget Committee Chairwoman Patty Murray, D-Wash. Following the calamitous government shutdown in fall 2013, Ryan and Murray authored a bipartisan budget framework to prevent the process from repeating itself over the winter.
Congressional budgets aren't binding. But they do establish a topline spending figure to establish the size of the "pie" with which lawmakers must work when dividing up scarce fiscal resources. And the assets available to run the day-to-day operations of the federal government -- be they at the Pentagon, the Department of Housing and Urban Development or the Department of Veterans Affairs -- are limited due to sequestration.
Sequestration is the set of mandatory, across-the-board austerity measures that chops billions of dollars in spending. While some conservatives embrace the sequester, others realize it makes it very hard to operate the federal government at such stark spending levels.
Nobody will ever describe Ryan-Murray as one of the all-time great congressional legislative compromises. But it was more than serviceable. It was precisely what many lawmakers from both parties called for in late 2013 to stave off an additional shutdown crisis.
At $85 billion, the Murray-Ryan package backfilled $45 billion in scheduled sequestration cuts for fiscal 2014. It eliminated $20 billion in fiscal 2015. Many members deemed that infusion essential because sequestration was especially brutal in those years.
Ryan-Murray has no application quite like that in fiscal 2016, the spending cycle in which Congress currently preps appropriations measures. Sequestration remains in place. However, the total size of the "pie" with which Congress gets to work in fiscal 16 (under what's called discretionary spending not including entitlements such as Medicare, Medicaid and Social Security) grows from $1.013 trillion last year to $1.016 trillion now.
"The needs are bigger now," said one senior congressional aide who asked not to be identified. And sequestration remains.
That's the trouble.
"These numbers don't even meet inflation," groused House Appropriations Committee Chairman Hal Rogers, R-Ky., the man charged with shepherding 12 spending bills to passage by October 1 to avoid a government shutdown.
"There's a realization by people we have to do something," the Kentucky Republican said. "We can't pass bills at these sequestration levels."
New York Rep. Nita Lowey, the top Democrat on the Appropriations panel, shouted: "Let's get real. … We know these bills aren't real and they aren't going to pass at these spending levels."
Rogers and Lowey face a conundrum. Sequestration compels them to write the spending bills at the limited figures. But those numbers are so low that the lawmakers could struggle to find the votes to pass the measures. That's why Boehner intrigued reporters when he invoked Ryan-Murray at a press conference last week.
"I'm interested in this Ryan-Murray idea you're floating," said Andrew Taylor of the Associated Press.
"I didn't. I'm not floating it," replied Boehner, drawing laughter from the press corps.
But the worst-kept secret on Capitol Hill now is that it's likely a new agreement is needed -- one that could conceivably tank the just-agreed to budget plan.
"What's going on the floor is show," conceded one member of the GOP leadership when asked about the spending bills. "This is all to eat up time."
Until? Until lawmakers find some way -- or better yet -- a need to craft a deal that helps maneuver around sequestration.
"We're heading toward getting rid of the sequester," Lowey predicted.
"Such an agreement is basically impossible unless the White House is willing to support additional entitlement reform without tax hikes," said Mike Steel, a Boehner spokesman.
Hal Rogers was doubtful of any possible deal.
"At this point, it's a dream," he said. "It's too murky at the moment. It will be tough to pass these bills."
Perhaps he didn't mean to. But Rogers may have forecasted what it could take to get an agreement and either extinguish or further modify the sequester as the House moves through additional appropriations bills.
"I think the pressure is going to build," he said of the months ahead.
And when the tension rises in the Capitol this summer and the GOP leadership has to yank appropriations bills off the floor because they don't have the votes -- or worse yet, face a government shutdown -- maybe then there could be a deal.
Hence the reason some lawmakers see the upcoming spending bills as "show" and serve as placeholders.
What's interesting is that Boehner spoke openly about the potential for a Ryan-Murray compact while House and Senate negotiators were in the middle of talks to create an overall budget covenant ballyhooed by many Republicans.
In other words, a more "realistic" budget could have cut spending to satisfy some conservatives -- but simultaneously been more "operational" in nature. Conceivably, what Boehner speaks of would address sequestration as well as the biggest drivers of the debt: Medicare, Medicaid and Social Security. And as Boehner flak Mike Steel asserts, they would need significant buy-in from the Obama Administration.
Such an arrangement would again foam the fiscal fires, make the pending appropriations bills more "realistic" (to say nothing of virtually guaranteeing their passage) and eliminate the possibility for a government shutdown this autumn. Some lawmakers think congressional leaders missed their chance with this budget.
"Chad, that would be governing," said one House Republican.
If there is any question the House and Senate are in for a rough patch negotiating spending bills for this year, they need look no further than a hiccup this past week on the first appropriations bill out of the gate: a measure to fund military construction and Veterans Affairs programs (Milcon/VA, in the vernacular of Capitol Hill).
Republican leaders touted the fact this was the earliest a spending bill to hit the floor in decades. The House approved the plan 255-163. But VA/Milcon is typically one of the least-controversial spending bills of the appropriations process. Veterans groups complained about the spending for the Veterans Affairs. Reps. Chris Van Hollen, D-Md., and Mick Mulvaney, R-S.C., ganged up to collectively bleed a total of $532 million from military programs via an amendment trifecta.
Some conservatives balked at the budget itself because of a special arrangement to funnel additional money to the Pentagon in an effort to court the support of defense hawks. Conservatives didn't like it that the plan kept the defense money off the books.
As a result, the GOP leadership postponed votes on the Milcon/VA measure Wednesday night to make sure they could pass the bill Thursday. The Van Hollen/Mulvaney amendments failed and the House O.K.'d Milcon/VA bill as well as the budget itself.
"We'll see my amendments over and over again in appropriations bills," Mulvaney said. "We'll bring those back again and again."
One source familiar with the appropriations process noted that bad things could be ahead for more controversial spending bills if a measure as routine as Milcon/VA hit even a small speed bump.
"The Ryan-Murray effort that we had several years ago worked to provide relief," Boehner said at his news conference last week. "That could happen again."
Of course, it typically takes some sort of a major event to necessitate an agreement. Ryan-Murray followed the government shutdown. As Hal Rogers says, the pressure might build to do something if they hit roadblocks with additional spending measures this summer. Maybe that's why congressional leaders can't force the issue in the current budget just approved by the House and teed-up for Senate passage next week.
Necessity is the mother of invention. And while the necessity writing is on the wall, the pressure to make a budget agreement a necessity just isn't there yet.