As Day of Prayer Nears, Group Picks Fight in Arizona to Eliminate It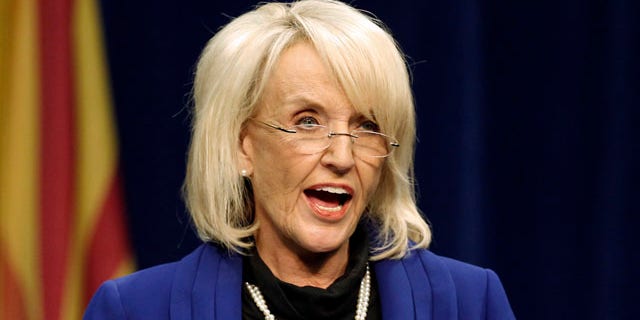 NEWYou can now listen to Fox News articles!
Gov. Jan Brewer is the latest official to try to stamp out a lawsuit filed by an atheist group suing to stop the annual Day of Prayer celebrated nationally and among the states.
The Wisconsin-based Freedom From Religion Foundation, which has made elimination of the Day of Prayer a central cause of its existence, filed the suit last month to prevent Brewer from declaring May 5 this year's "Day of Prayer" in Arizona.
Filing the suit on behalf of four Arizonans identified of nonbelievers in religion, the foundation has also questioned the constitutionality of Brewer's proclamation in 2009 and 2010 as well as her Day of Prayer proclamation for the state budget on Jan. 17, 2010.
On Thursday, the governor told a court in Phoenix that she is in compliance with federal and state constitutional provisions. She also addressed the lawsuit during a prayer breakfast in which she said proclaiming a day of prayer is an American tradition dating back to George Washington's presidency.
"The lawsuit to stop our prayer proclamations is nothing more than an attempt to drive religious expression from the public square," she said. "I intend to fight that lawsuit -- vigorously -- every step of the way."
The group tried a similar tack against President Obama to prevent a national celebration of the day, but a three-judge panel on the 7th U.S. Circuit Court of Appeals tossed the case last week, ruling that the Freedom From Religion Foundation lacked standing. Brewer said she's confident of a similar outcome in the Arizona case.
The group is seeking a rehearing of the case against Obama from the entire 7th Circuit Court.
"Our challenge is so strong, our claim is so correct," Foundation Co-President Annie Laurie Gaylor said in a statement. "The First Amendment says, 'Congress shall make no law respecting an establishment of religion.' No law should mean no law!"
Gaylor called the court's ruling "cowardly," saying the group would have won if the appeals court panel had ruled on the merits of the case as a federal district court judge did last year in a ruling that favored the foundation.
Shirley Dobson, chairwoman of the National Day of Prayer Task Force applauded the appeals court's decision.
"Since the days of our Founding Fathers, the government has protected and encouraged public prayer and other expressions of dependence on the Almighty," she said in a statement. "Prayer is an indispensable part of our heritage, and as citizens, we must remain faithful in our commitment to intercede for our nation during this pivotal and challenging time."
Last fall, the group lost a legal challenge in Colorado that alleged the state violated its constitution by recognizing the National Day of Prayer. But a district court judge in Denver dismissed the case, saying the state proclamation is a lawful expression of an individual's right to practice religion.
Presidents have been annually marking the first Thursday in May as the National Day of Prayer since 1988. The tradition dates back to 1952, when President Harry Truman signed a congressional resolution into law. Before 1988, presidents could choose when to hold the annual day of prayer.
"Congress and the president of the United States have no business telling me or any other citizen to pray ... much less setting aside an entire day for prayer every year and even telling me what to pray about," Gaylor said.
But Gaylor's group is climbing an uphill battle that merely starts with the National Day of Prayer. Governors have been consistently proclaiming prayer days on more than just one day each year.
Texas Gov. Rick Perry this week proclaimed a three day period, from Friday to Sunday, as Days of Prayer for rain in the state, which is in the midst of a terrible drought and battling a massive wildfire covering nearly 2 million acres. Some areas not seeing wet weather for nearly three months, matching rainfall deficit records dating back to the 1930s, the governor said.
"I urge Texans of all faiths and traditions to offer prayers on that day for the healing of our land, the rebuilding of our communities and the restoration of our normal way of life," he said in the proclamation.
Last month, Alabama Gov. Robert Bentley called for a day of prayer for students in his state, following in the footsteps of his predecessor, Gov. Bob Riley, who proclaimed the first statewide day of prayer for students in 2006. Bentley asked residents to pray for students who face challenges from peer pressure to abuse drugs and alcohol to school violence to low self-esteem.
Riley was also among four Gulf Coast state governors last year who held a day of prayer more than two months after the BP oil spill. The other states were Louisiana, Mississippi and Texas.