Arsenal Found in Mexico Contains Guns From U.S. Probe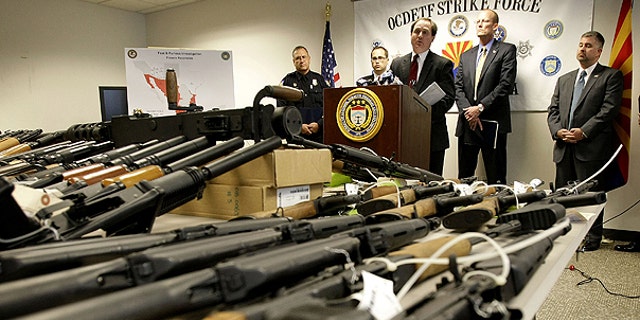 NEWYou can now listen to Fox News articles!
An arsenal found in Mexico included at least five assault rifles that U.S authorities trace to a federal operation gone badly awry, according to government documents.
The discovery appears to confirm for the first time fears cited by Republican lawmakers that a Bureau of Alcohol, Tobacco, Firearms and Explosives operation called Fast and Furious failed to stop guns from ending up with drug gangs in Mexico.
The Fast and Furious program, run by the ATF's Phoenix office, monitored weapons purchases by suspected gun traffickers who were believed to be funneling weapons to Mexican drug cartels. Some lawmakers say ATF didn't have the means to track the guns and shouldn't have used such tactics.
An ATF spokesman declined to comment, citing ongoing investigations, including one ordered by Attorney General Eric Holder that the Justice Department's inspector general is conducting.
Ricardo Alday, spokesman for the Mexican Embassy in Washington, also declined to comment.
Problems with Fast and Furious are emerging as one of the biggest controversies at the ATF since a lethal 1993 raid on the Waco, Texas, compound of a religious sect known as the Branch Davidians. Fast and Furious, which became public after ATF whistle-blowers contacted lawmakers earlier this year, is also now the subject of congressional probes.
Mexican and U.S. officials say weapons trafficked mostly from U.S. border states are fueling the cartel wars that have killed more than 40,000 people in Mexico since 2006.
The lawmakers claim the operation allowed suspected traffickers to buy more than 2,500 weapons in the U.S. and may have helped fuel the trafficking the ATF is supposed to try to prevent.