Army General Picked for Joint Chiefs, Sources Say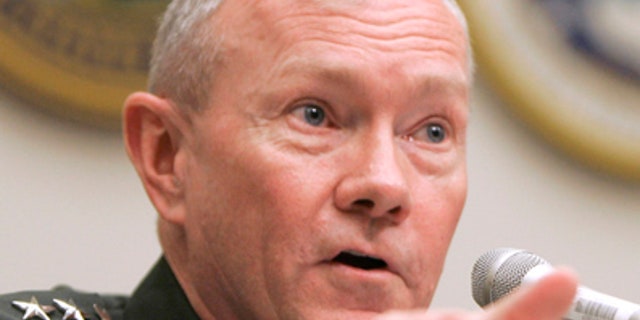 NEWYou can now listen to Fox News articles!
WASHINGTON – A general installed just last month as the Army's top officer is President Barack Obama's surprise choice to become the next chairman of the Joint Chiefs of Staff, two people familiar with the selection process said Wednesday.
Gen. Martin Dempsey, an accomplished veteran of the Iraq war, would succeed Navy Adm. Mike Mullen as the president's top military adviser when Mullen's term as chairman ends Sept. 30. Dempsey would have to be confirmed by the Senate.
As chairman of the Joint Chiefs, Dempsey would become the senior uniformed military officer. The Joint Chiefs of Staff comprise the senior officers of each service.
Two people familiar with Obama's choice, who spoke on condition of anonymity because it has not been announced by the White House, said it is scheduled to be made public next Tuesday.
Dempsey is a surprise choice because he just began a four-year term as Army chief of staff on April 11.
Marine Gen. James Cartwright had long been rumored to be Obama's favorite as the next Joint Chiefs chairman. Obama informed Cartwright during the weekend that he was no longer a candidate, a defense official said on Wednesday. The official spoke on condition of anonymity to discuss internal deliberations.
It is not unusual for a service chief like Dempsey to be promoted to chairman of the Joint Chiefs, but rarely, if ever, has one been elevated so quickly. Mullen was selected after serving as the Navy's chief for a little over two years.
Cartwright, current vice chairman of the Joint Chiefs, has been a close adviser to the president, routinely shuttling between the Pentagon and the White House, often as a stand-in when Mullen was traveling. Mullen's term began in 2007 under President George W. Bush, and Obama nominated him for a second two-year term in 2009.
Army Gen. Ray Odierno is said to be a top candidate to replace Dempsey as Army chief. Odierno is currently commander of U.S. Joint Forces Command, which is being dismantled in a Pentagon reorganization.
Dempsey fits the bill as among the most battle-tested of today's four-star generals, with two tours of duty in Iraq and a stint as acting commander of Central Command, which covers most of Central Asia and the Middle East.
Choosing a successor to Mullen is the latest in a string of changes at the top of Obama's national security team. He recently nominated CIA Director Leon Panetta to succeed Robert Gates as defense secretary this summer, and he picked Army Gen. David Petraeus, the top U.S. commander in Afghanistan, to succeed Panetta at the CIA.
The Petraeus and Panetta moves also are subject to confirmation by the Senate.
By law, the chairman of the Joint Chiefs is the senior military adviser to the president and the defense secretary but does not command troops. As its top officer, the chairman serves as the public face of the military and frequently interacts with foreign military leaders. Most chairmen serve two terms of two years each, although Gates in 2007 decided not to recommend a second term for Gen. Peter Pace, who was the first Marine to be chairman.
The last Army general to hold the chairman's post was Hugh Shelton, from 1997-2001.