Arizona Republicans locked in fierce three-way battle to replace Jeff Flake in the Senate
As early voting gets underway in Arizona, Republicans are finding themselves in a three-way battle with each other over a fight coming this November.
The Midterm race to replace retiring U.S. Senator Jeff Flake has two right wing conservatives, possibly weakening each other, and a more moderate candidate whose own supporters worry she may be courting President Trump too much.
All of them believe his endorsement would help their campaigns.
"That's his decision. I will never ask him," said former Maricopa County Sheriff Joe Arpaio, one of the right wing candidates, of a possible endorsement by Trump.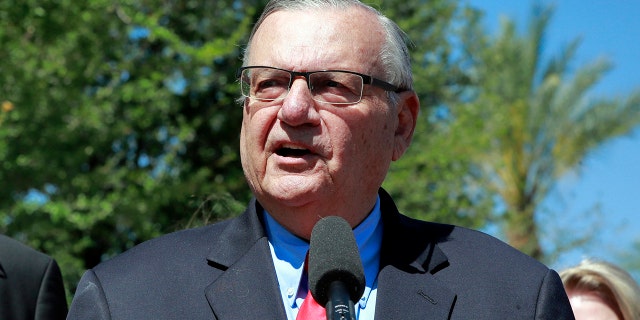 Arpaio, who lost a re-election bid in 2016 after being held in contempt of a court order for refusing to halt racial profiling, is also a friend of the president. Trump pardoned Arpaio last August.
NEW YORK ATTORNEY GENERAL CANDIDATE WANTS TO 'PROSECUTE' ICE
Arpaio and fellow hardliner Republican Kelli Ward are at war, each accusing the other of splitting the vote, and making way for the establishment favorite, Representative Martha McSally.
Recently, Ward's husband, Michael posted a comment under an Arizona Republic article on the race, in which he wrote 'God will weigh in on Joe'.
Arpaio, who at 86, would be the oldest freshman popularly elected to the U.S., took that as a knock on his age.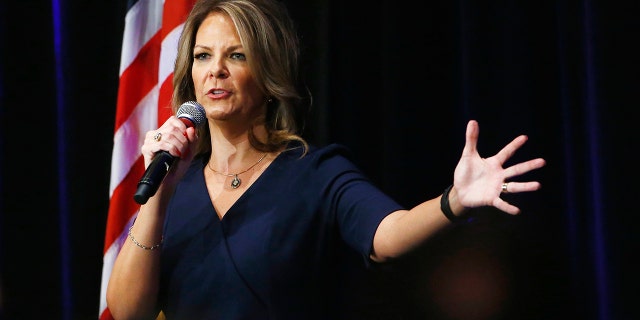 BLACKBURN, BREDESEN LEAD CANDIDATES VYING FOR TENNESSEE SENATE SEAT
"I'm a very religious guy too you know, and my family is," Arpaio said. "By bringing that out, how much lower can you get?"
He also says Ward, a former state senator and family physician threw one of his own campaign stickers at him at a Republican event. Asked about the incident and others, Ward replied: "Joe has been a folk hero. He's been somebody who has been important in Arizona and I hate to see the people that he's surrounded himself with on his campaign really ruining the legacy that he has left."
Ward is currently running second to McSally in recent polling. After her primary loss to John McCain two years ago, Ward says things have changed.
"My knowledge of not only the political game but also policy is immeasurably greater than it was in the past," she said.
OBAMA ENDORSES DOZENS OF DEMS, SNUBS OCASIO-CORTEZ
She's managed to attract more money than the former sheriff, even garnering $800,000 from megadonor Robert Mercer.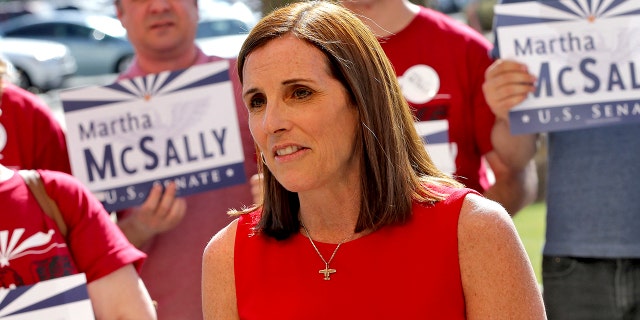 She accuses both McSally and the likely Democratic nominee, Representative Kyrsten Sinema, of leaning to the right of their natural politics to gain favor with Arizona's red state voters.
"I think that it's clear that both McSally and Sinema are trying to recreate themselves as something that they're not," she said.
McSally, who has been critical of the president in the past, is now touting her Trump base street cred.
"I've got the strongest voting record with President Trump long before I was ever running for the senate," she said.
But some of her supporters, including Mesa, Arizona Mayor Republican John Giles worry this courtship could hurt her. Giles recently told the Washington Post: "I think she needs to be careful not to go too far."
The one benefiting the most from the GOP drama, is the likely Democratic nominee U.S. representative Kyrsten Sinema.
Sinema, who is polling well in hypothetical matches against each of the Republican candidates, has been working to distance herself from her more liberal past. A former Green Party activist, who once protested the war in Iraq, she now signals she would be willing to work with the president. "I'll take it as it comes. I'll stand with him for the good. And oppose him when it's wrong."
According to The Citizens Clean Elections Commission, an Arizona government agency, approximately 80% of voters in the state choose to receive their ballot in the mail.
So while the official election day is August 28th, the balloting is now underway in a state that has an ever changing electorate. Latinos now make up more than 30% of the population, and independent voters have more influence.