Arizona Gov. Brewer, local businesses fight to reopen Grand Canyon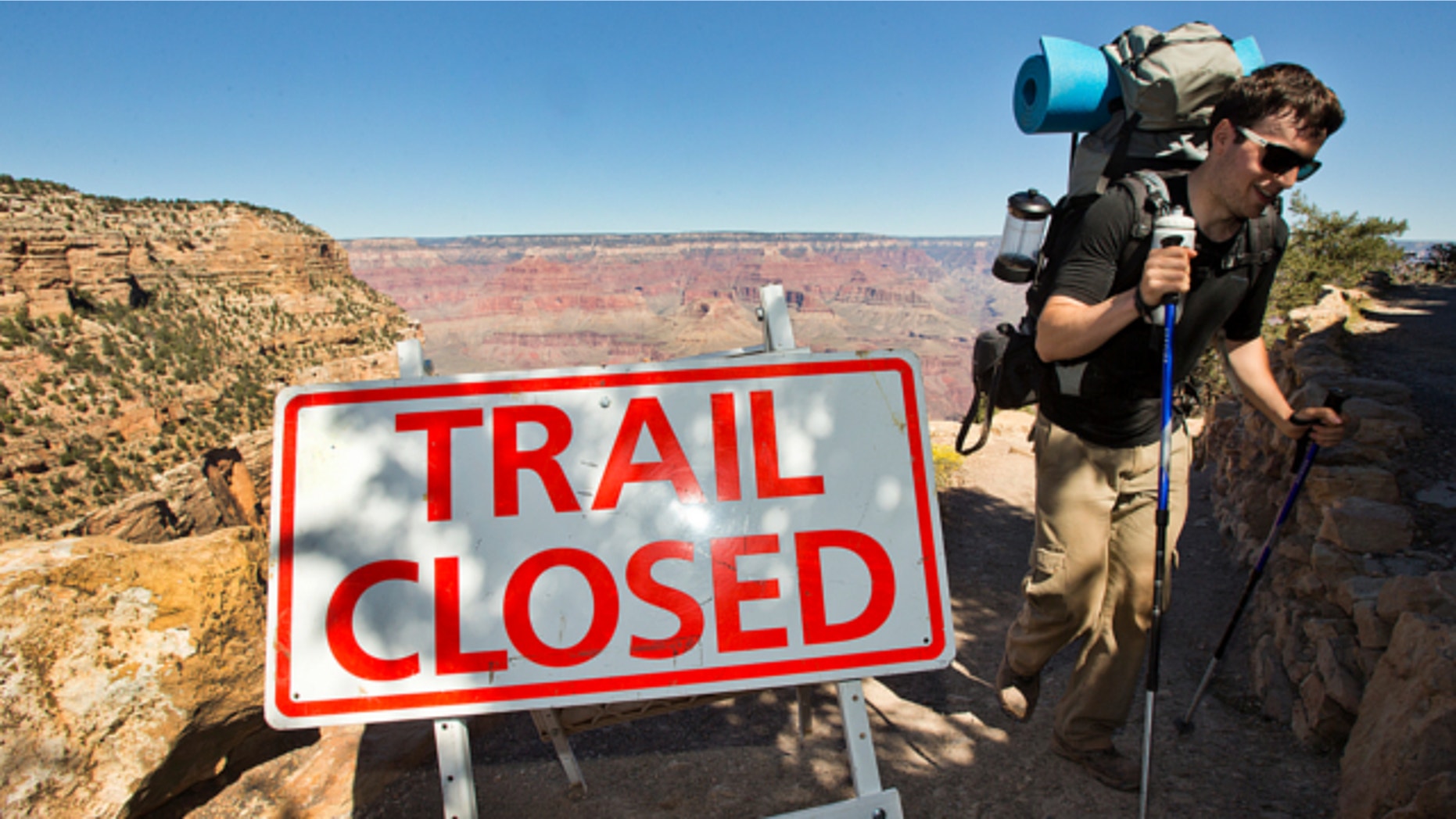 With the partial suspension of U.S. government services showing no signs of ending, tourists will continue to be turned away from the Grand Canyon, despite a push by Arizona Gov. Jan Brewer and local businesses to reopen the state's signature national park.
Brewer wants the iconic park reopened and has offered to pay for it with state money, but her proposal was rejected Thursday by a park official who said that as long as the federal government remains shut down, such a plan isn't an option.
"I appreciate the support and I thanked them for the offer, but it's not an offer we can accept," said park superintendent Dave Uberuaga.
About 2,200 people who work at the Grand Canyon National Park and its hotels have been furloughed as a result of the government slimdown that began Tuesday. "And that's not counting the economic impact in the gateway communities, all of the related businesses, the bus tours, hiking companies, the jeep tours, all of those associated functions are suffering economically as well," Uberuaga said.
Many of those businesses also have offered to chip in to pay to reopen the park.
Red Feather Properties, which operates lodges in the nearby town of Tusayan, has pledged $25,00 to help reopen the park and is encouraging other businesses to follow suit, according to the Grand Canyon News. Other businesses have pledged about $125,000 to keep the park partially open.
Clarinda Vail, the property manager, said she has reached out to the Park Service about the possibility of operating shuttles between Tusayan and the park. On Thursday night, the town council announced it had committed $200,000 to reopen one of the park's viewpoints.
"I just think that if private entitles are able to step up and say that we'll help and fund to keep the Grand Canyon open for a while, I think it should be considered," Vail told the newspaper. "We need our governor, Congress, Senate, everyone to not use our National Park Service as a pawn in this."
The Grand Canyon News reported that Uberuaga rejected the idea at Tusayan's town council meeting, telling council members that all parks in the country will remain closed, even if enough money is offered to open them on a limited basis.
"Bottom line, any third-party funding of the national park opening will not occur. This is a fundamental core operation of the federal government provided for by government appropriations by the U.S. Congress," he said.
Nationally, at least one other governor also has been turned back in a similar effort. South Dakota Gov. Dennis Daugaard had offered to use state employees to keep Mount Rushmore open.
"It's ridiculous," said Arizona House Speaker Andy Tobin. "Why wouldn't the federal government let local communities or states assist in keeping some of these things open?"
Arizona leaders have a history of bumping heads with federal officials, including fights over illegal immigration and control of public lands. Brewer made headlines early last year when she pointed her finger at President Obama. And in 1995, the last time a government shutdown closed the Grand Canyon, the governor called in the National Guard to get the site reopened.
Then-Gov. Fife Symington, a strong states' rights supporter, led a convoy of unarmed troops to the park's gate. They were met there by the superintendent who negotiated for a partial reopening if the budget impasse continued, Symington recalled in an interview Thursday with The Associated Press.
The shutdown was briefly solved, but when the parks were again closed a month later, the state paid more than $17,000 a day to keep the road to Mather Point and the Grand Canyon Village open.
"I think they knew that we were serious: We were going to open the park if they shut it and kept it shut," said Symington, a Republican who battled the federal government on several fronts.
Such action isn't likely this time around. "This is not 1995," said Brewer's spokesman Andrew Wilder.
Still, Wilder said, the governor wants "to see the Grand Canon opened as soon as possible, but its gates are closed because there's a failure in Washington, D.C."
Meanwhile, Tusayan mayor Greg Bryan said Thursday the town plans to probe who decided that the Park Service would not be allowed to use third-party donations to help keep the park open, the Grand Canyon News reported.
"If it is a policy, we need to ask, when did it take place? When was it put into place? It was obviously not in place in 1995 when the funds were provided," Bryan said.
The Associated Press contributed to this report.