Anti-Israel ties causing problems for Democratic candidates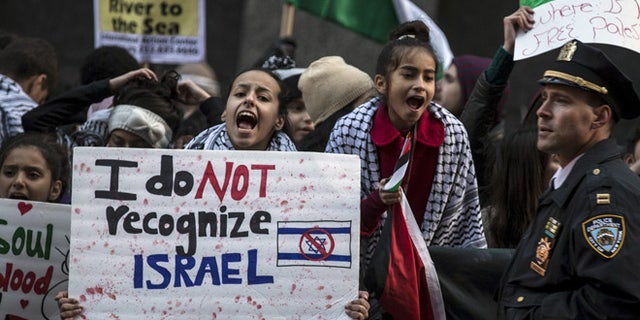 Democratic candidates and allied activists are causing new headaches for the party with their embrace of the anti-Israel movement known as BDS.
The Boycott, Divestment and Sanctions push calls for boycotting certain Israeli companies and products and related events, as part of a pressure campaign to stop Israel from "colonizing Palestinian land" and "discriminating against Palestinian citizens of Israel."
While it has grown in popularity on American campuses and among celebrities, Democratic candidates are finding that BDS is not necessarily good politics.
Just last week, Daniel Biss, who is running for governor as a Democrat in Illinois, was forced to replace his running mate after his candidate for lieutenant governor refused to back down from supporting the pro-Palestinian cause.
By selecting Chicago Alderman Carlos Ramirez-Rosa for lieutenant governor, Biss, who is Jewish, had hoped to woo the Bernie Sanders wing of the party. Ramirez-Rosa, the first openly gay Latino alderman in Chicago, is well-known as a member of the Democratic Socialists of America.
But Ramirez-Rosa's past anti-Israel views stated in the media and support for the BDS movement created problems for the ticket.
He gave an interview last year where he said the U.S. government has "subsidized the oppression of the Palestinian people, and it's time that that's stopped."
After Ramirez-Rosa's selection, Illinois Democratic Rep. Brad Schneider, a moderate Democratic lawmaker, announced he was withdrawing his support for Biss because of his running mate's anti-Israel views.
"I was immediately concerned about some of Alderman Ramirez-Rosa's past comments about the United States support of our ally Israel, and his affiliation with a group that is an outspoken supporter of the Boycott, Divestment and Sanctions movement against Israel," Schneider said.
On Sept. 6, Ramirez-Rosa announced his departure from the ticket. He acknowledged the "difference of opinion we have on the role the BDS movement plays at the federal level would make it impossible to continue moving forward as a ticket."
Critics accuse BDS of anti-Semitism.
"BDS is at its core anti-Semitic," Gary Bauer, the Washington director of Christians United for Israel Action Fund, told Fox News. "Its goal is to demonize and isolate the most free, pluralistic nation in the Middle East. Every elected official in both parties should condemn it."
Referencing the support for BDS among some in the Democratic Party, Bauer said: "Condemning and fighting against the BDS movement should not be a hard call for the party of Roosevelt, Truman and JFK."
Ramirez-Rosa is not the only Democrat to recently find himself in hot water over his affiliation with the movement.
Last year, a Democratic Florida state senator lost his seat for re-election after his opponent drew attention to his ties to BDS.
State Sen. Dwight Bullard, who was chairman of the Miami-Dade Democratic Party, took heat during the campaign for being photographed with someone affiliated with the BDS movement during a trip to the region in 2016.
The trip was used in ads against Bullard, who was defeated by his Republican opponent in November.
Also last year, Democratic presidential candidate Bernie Sanders caused a stir by appointing left-wing academic Cornel West to the party's platform committee. West is a prominent supporter of BDS.