Another ObamaCare website suffers delays, glitches ahead of launch date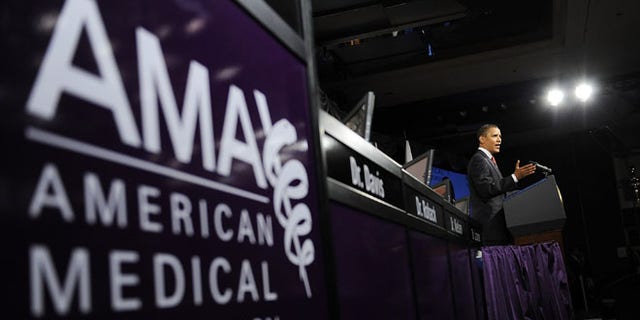 WASHINGTON – Thought HealthCare.gov had problems?
Another federal government-run website created under ObamaCare is suffering the same symptoms as the troubled federal health care exchange -- grappling with delays, data problems and other hiccups as the deadline to take it public nears.
At issue is a database known as the Open Payments website. It was created under the Affordable Care Act to shed light on the financial ties between doctors and pharmaceutical companies as well as device manufacturers.
The transparency initiative is supposed to include detailed information about drug payments made by doctors as well as the value of gifts and services given by drug makers. Such items can include everything from meals to swanky retreats.
The database project, though, is dealing with a minefield of technical problems and confusion over the data. The problems led the Centers for Medicare and Medicaid Services to shut down what is currently a private site for 11 days earlier this month.
The government is hoping to take the site public on Sept. 30. But it's already a year behind schedule, and if some industry heavy hitters have it their way, the schedule will slip by another six months.
The American Medical Association as well as 112 other health organizations are pressing the government to delay the launch until March 31, 2015. They cite an overly complex registration process – made up of more than 20 individual steps that require a doctor to register over a period of several days in order to see their data – as one reason why the government should hold off.
Other complaints include the lack of guidance on the website, concern that industry groups can unilaterally dismiss disputes initiated by doctors, and errors in the information.
"Physicians need enough time to review and correct any inaccurate data that may be reported," AMA president Robert M. Wah, said in a written statement on Monday. "The issues that resulted in the system being taken offline further underscore the need for more time than CMS proposes to ensure the system is actually ready and that physicians have adequate time to register, review and seek correction of inaccurate data."
The online database is part of the Physicians Payments Sunshine Act, which allows patients to have access to federal information disclosing the financial ties between doctors and pharmaceuticals.
The website was taken offline on Aug. 3 following complaints of data inaccuracies.
ProPublica, which brought the issue to CMS, reported that Kentucky-based electrophysiologist David E. Mann logged on the system to verify his payment record but instead was directed to the payments of another David E. Mann – an oncologist from Florida.
"After an assessment of the data resulting from a complaint, we discovered that a limited number of physician payment records submitted by at least one manufacturer incorrectly contained information about other physicians," CMS spokesman Aaron Albright said in a statement. "To protect physician privacy and correct the issue, we have taken the system offline temporarily and will work with the industry to eliminate incorrect payment records."
CMS started collecting 2013 physician-payment data from companies earlier this year. In July, doctors and teaching hospitals were allowed to register online to get a sneak peek at their profile before the information went public. The offer was made to encourage doctors and drug manufacturers to correct any payment errors before the site tentatively is made public Sept. 30.
That rollout was initially set for last year, but then was pushed to July, and then again to the end of September.
Last week, CMS said it would extend the deadline for reviewing data every day the system was offline, which extends the review period itself to Sept. 7.