Andrew McCabe's firing from FBI 'may have been justified,' Schiff says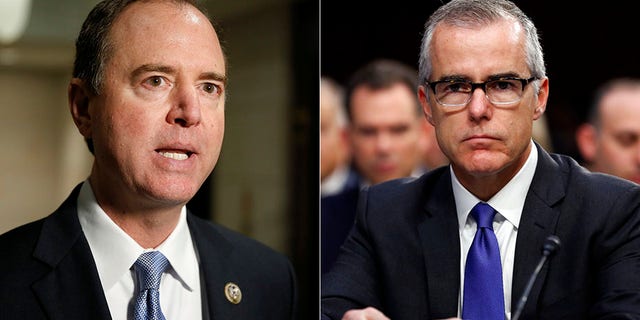 House Intelligence Committee Ranking Member Adam Schiff, D-Calif., who often has fought the Republicans over the actions of President Trump and the FBI, said on Sunday that former FBI Deputy Director Andrew McCabe's firing from the bureau might be "justified."
Attorney General Jeff Sessions fired McCabe late Friday night, just hours before the FBI official was set to retire, jeopardizing McCabe's ability to collect full pension benefits.
"There's no way for us to know at this point, but even though it may have been justified, it can also be tainted," Schiff said on ABC News' "This Week," referencing McCabe's potential role in a probe investigating the Trump campaign's possible ties to Russia.
The ranking Democrat added that he thought it was difficult to know whether the firing was legitimate because it happened before the release of an inspector general report expected to conclude McCabe was not forthcoming about matters related to the FBI investigation of Hillary Clinton's emails.
ANDREW MCCABE CONTROVERSIES, FROM THE TRUMP TEXT SCANDAL TO HIS WIFE'S FAILED CAMPAIGN
Schiff also asked whether President Trump's "badgering" of Sessions to fire McCabe and "every other of the James Comey associates" played a role because of their connection to the former FBI director.
"Every one of them has been targeted by the administration, by the Republicans and Congress. And is this because they corroborate James Comey? That's a question we also have to answer," Schiff said.