American ship heads on mission to destroy Syrian chemical weapons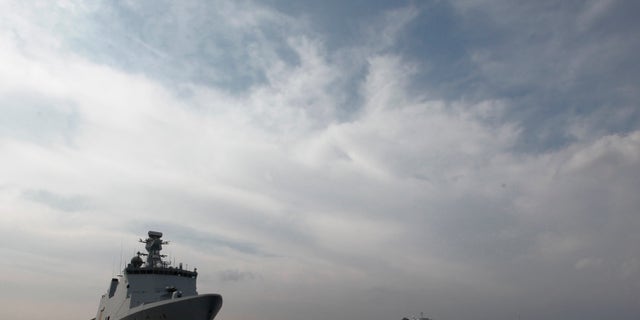 WASHINGTON – A U.S. cargo ship scheduled to set sail Monday on a mission to destroy dozens of containers of deadly chemical weapons being removed from Syria was delayed by engine problems.
But defense officials said they still are hoping the MV Cape Ray, which is loaded with sophisticated equipment, will leave tonight for the roughly two-week trip across the Atlantic and into the Mediterranean Sea. It was delayed when there was an electrical problem with one of the ship's two main engines.
The Cape Ray is headed to the Italian port of Gioia Tauro, where the Syrian chemicals will be transferred to the ship. The chemicals include raw materials for making sarin and mustard gas and they will be destroyed on board the Cape Ray at sea.
On Monday, a second shipment of chemical weapons was loaded onto Danish and Norwegian ships at the port of Latakia in Syria, according to a statement from the U.N. and the Organization for the Prohibition of Chemical Weapons. The ships are expected to stay in international waters off Syria waiting for additional loads.
Security challenges in Syria have slowed the transport of the materials to the port there where they are then loaded onto the ships. The Danish and Norwegian cargo vessels will transfer the chemicals onto the Cape Ray at the Gioia Tauro port.
Officials have said that about 700 tons of chemical weapons will be destroyed.
The 648-foot Cape Ray is carrying two massive machines, called field deployable hydrolysis systems, which will mix the chemicals with heated water and other chemicals to break down the toxic weapons in a titanium reactor, making them inert.
The Cape Ray belongs to the Department of Transportation's Maritime Administration, but control of the ship transferred to the U.S. Navy's sealift command Monday morning. Col. Steve Warren, a Pentagon spokesman, said Monday that there is a crew of about 35 civilian mariners on the ship and some technical experts. More than 60 experts needed to operate the hydrolysis machines as well as other security and support staff are expected to be on the ship for the eventual chemical transfer. Most of those will board the Cape Ray at a later date.
The confirmed use of chemical weapons in the Damascus suburb of Ghouta on Aug. 21, in which the U.S. government said 1,400 people died, prompted a U.S.-Russian agreement to eliminate Syria's chemical weapons by mid-2014.
In a message to the crew Monday, Defense Secretary Chuck Hagel called the mission historic and noted that, "Your task will not be easy. Your days will be long and rigorous. But your hard work, preparation, and dedication will make the difference."