All Eyes on Boehner from Across the Hill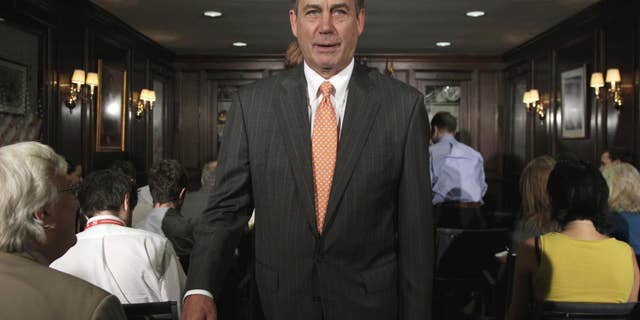 NEWYou can now listen to Fox News articles!
The congressional trinity - Reid, McConnell, Boehner - continue to talk behind closed doors, working to get a debt deal onto both floors for a vote. But the real pressure is on Speaker John Boehner and what he might be able to get through the conservative House.
While there is still no deal less than a week out from the Aug. 2 deadline, there's a genuine desire to reach one.
Republicans admit Boehner's substitute plan for a six-month extension will have to be tweaked beyond the cuts his staff is now making to wring more savings from the plan.
At this point, determining the cuts seems to be the easy part. Who would have ever thought? Treasury Sec. Tim Geithner basically agreed Sunday that a two-step, cut-and-raise process was best.
But, it's the length of the first extension of the debt ceiling that is the major sticking point. At this point, it seems likely that the White House is going to have to give on one of its biggest demands and let the extension expire before the 2012 election. But crazier things have changed during this long negotiating process.
In addition, Republican leadership tells Fox News they pretty much agree that the mutually-onerous "trigger" to force the newly-created Congressional Deficit Reduction Committee to act, a key stumbling block, cannot be a failure to raise the debt ceiling. They want that taken out of the Boehner plan. It's no surprise that GOP senators are also standing firm and insisting that the trigger not include revenue-raising measures.
It's unclear what else that trigger could be, although some Republicans, like Sen. John Thune, are still mentioning a repeal of the health care mandate.
For now, Washington and the entire country appear to be in waiting mode. There are no official meetings scheduled. The Senate leadership will continue to watch the House, which is preparing to vote on the speaker's plan Thursday.
Keep this in mind, though, the Senate really needs a bill by sometime Thursday in order to have enough time to jump through all the necessary procedural hoops and give the House time to consider any possible Senate changes.
It gets nearly impossible to do if Friday rolls around and Reid has not been able to file cloture on whatever the final product will be that the president is to sign by deadline day --Tuesday.
There's no doubt the Senate and House could craft an extremely short debt ceiling increase to buy some time if they see a better deal coming down the pike.