Alaska to Consider Lowering Drinking Age for U.S. Troops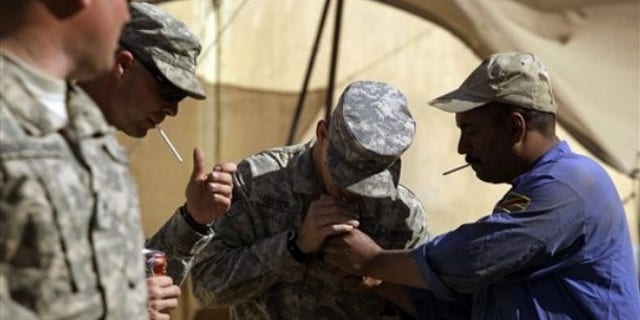 NEWYou can now listen to Fox News articles!
Defense Secretary Robert Gates doesn't support lowering the drinking age for U.S. troops, but that hasn't deterred one Alaska lawmaker from renewing the debate over whether military members old enough to fight and die for their country are responsible enough to drink and smoke.
The argument dates back decades to the Vietnam War, and now Alaska state Republican Rep. Bob Lynn is proposing a bill that would allow military members in his state under 21 to legally drink and smoke there. Alaska residents can't legally drinking until they're 21 and legally smoke until they're 19.
Lynn has been careful to note that neither he nor his bill promotes drinking or smoking as a habit. But, he says, the bill would "enable all active duty warriors in our U.S. Armed Forces to be treated as adults, regardless of age."
"It's outrageous that a member of our military can be subjected to the horrors of war but can't legally have a beer or smoke a cigarette," Lynn wrote in his blog Monday. "Any soldier who braves military combat and risks their life for our country should be treated like an adult -- in every sense of the word."
In other countries, the minimum drinking age for U.S. troops is 18 unless an international treaty, agreement or a local situation determined by a commander sets it higher, according to a Pentagon directive issued in 2009.
Two state House committees are considering Lynn's bill now. Mothers Against Drunk Driving, or MADD, opposes it.
"MADD fully supports the courageous work of our men and women in uniform," a MADD spokeswoman said in an email to FoxNews.com. "However, we believe that all Americans -- including members of the military -- should adhere to the federal 21 minimum drinking age law, which saves lives and protects still-developing young minds."
The Feds haven't always had a say in setting the drinking age. During and after the Vietnam war, 29 states lowered their drinking ages below 21 in the face of baby boomers protesting that they should be allowed to drink if they can be forced to risk their lives abroad.
But after the debate shifted to drunken driving, the federal government intervened. In 1984, Congress passed the National Minimum Drinking Age Act that required all states to raise their legal drinking age to 21 by 1988 or face a 10 percent reduction in federal highway funding.
For Alaska, that means the state would risk losing nearly $50 million of the state's $495.3 million in 2010 federal highway funds if Lynn's bill passes, the National Highway Traffic Safety Administration told FoxNews.com, noting that it doesn't make a difference whether the law is applied to military members only or the general public.
"NHTSA estimates that the 21-year-old minimum-drinking-age laws have reduced alcohol traffic fatalities by 13 percent and have saved an estimated 27,677 lives since 1975," the agency said in email. "In 2009, an estimated 623 lives were saved by minimum-drinking-age laws."
Some statehouses have considered bills lowering the limit since 1988 and a few – Kentucky, South Carolina and Wisconsin -- have targeted members of the military, according to the National Conference of State Legislatures. But none of them have succeeded.
U.S. lawmakers have also tried to lower the drinking age. Most recently, Rep. Jack Kingston, R-Ga., proposed a bill last year that would have allowed U.S. troops who are at least 18 to drink beer and wine on military bases. The bill died, but Kingston is planning to re-introduce it in the current session now that Republicans control the House, his spokesman told FoxNews.com.
But Gates, a former president of Texas A&M University, said he doesn't want to encourage drinking among the troops.
"One of the things we're seeing as a result of repeated tours is not just an increase in suicides but an increase in risky behaviors, particularly by young men. And so that would be a concern of mine," Gates said at a House committee hearing this month under questioning from Kingston.