Agriculture Secretary Offers to Rehire Ousted Civil Servant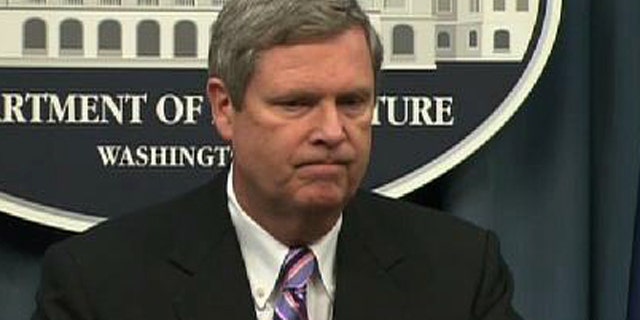 Agriculture Secretary Tom Vilsack said Wednesday he has offered to rehire the civil servant he forced to resign two days ago over her comments about race that were taken out of context in a brief video clip.
Vilsack said he offered Shirley Sherrod, who was the state director of rural development in Georgia, a unique new position at the agency but wouldn't go into details. Sherrod told The Associated Press she is considering the offer.
"I accept full responsibility with regret," Vilsack said at a news conference. "She's been put through hell. I could have and should have done a better job."
Vilsack said he extended his "profound apologies" to Sherrod and added that the experience has been a "teachable moment for me, a teachable moment for all of us."
Vilsack also emphasized that the White House applied no pressure to his decision to sack Sherrod.
The offer comes after White House spokesman Robert Gibbs apologized to Sherrod on Wednesday "on behalf of this entire administration."
Gibbs said a "disservice" and an "injustice" had been done to Sherrod.
"Members of this administration, members of the media, members of different political factions on both sides of this have all made determinations and judgments without a full set of facts," he said. "Without a doubt, Ms. Sherrod is owed an apology."
Though the video clip showed Sherrod telling a story about how she didn't give a white farmer her "full" help, she later said the incident happened 24 years ago and that the story was meant to show how she learned from her mistakes. The full video, released Tuesday night, appeared to bolster her account.
Vilsack initially stood by the decision to ask for Sherrod's resignation, but overnight he announced he was reviewing the incident. Though Sherrod said the White House wanted her out on Monday, Gibbs said to his knowledge the White House was not involved in that decision.
Subsequent news reports in which Sherrod explained the full context of her remarks -- later substantiated by the wife of the white farmer in an interview with FoxNews.com -- sparked growing calls for the administration and Vilsack to reconsider the ouster.
The extended video released by the NAACP on Tuesday night showed Sherrod explaining how she initially didn't help the farmer with "full force," but realized she was wrong and went on to help him save his farm.
Sherrod, who is black and was working at the time for a nonprofit group, said she learned that the plight of poverty goes beyond race.
"When I made that commitment I was making that commitment to black people and to black people only," she said in the video released Tuesday. "But you know, God will show you things. ... You realize that the struggle is really about poor people."
The video excerpt published Monday online by the website Biggovernment.com, which is run by Andrew Breitbart, focused on Sherrod's admission that she was reluctant to help the white farmer in part because so many black farmers were suffering.
The Monday excerpt excluded the end of Sherrod's story, seen Tuesday, in which she talks of helping save the white farmer's property from foreclosure.
"Working with him made me see that it's really about those who have versus those who don't," she said later in the video. "And they could be black, they could be white, they could be Hispanic -- it made me realize that I needed to help poor people."
NAACP CEO Benjamin Todd Jealous originally released a statement calling Sherrod's comments "shameful" and saying the group was "appalled by her actions." But the NAACP later said Tuesday it would conduct an "investigation" and review the full tape, which was shot for the NAACP by media company DCTV.
Late Tuesday, Jealous effectively retracted his earlier statement and blamed the media for the confusion.
"With regard to the initial media coverage of the resignation of USDA official Shirley Sherrod, we have come to the conclusion we were snookered by Fox News and Tea Party activist Andrew Breitbart into believing she had harmed white farmers because of racial bias," he said.
"Having reviewed the full tape, spoken to Ms. Sherrod, and most importantly heard the testimony of the white farmers mentioned in this story, we now believe the organization that edited the documents did so with the intention of deceiving millions of Americans."
FoxNews.com was among several media organizations that carried the story of the initial video released Monday.
It remains unclear who edited and released the shorter video.
Breitbart, who initially reported the story on Monday, said in an interview Tuesday with Fox News' Sean Hannity, that he received the video from "an individual in Georgia." He said he decided to post it on his website as an example of hypocrisy at the NAACP, which recently condemned racism within the conservative Tea Party movement.
Sherrod, in a TV interview Tuesday morning, said she lost her job because the Obama administration overreacted to the original story.
"They were not interested in hearing the truth. No one wanted to hear the truth," she said.
As for the white farmer Sherrod helped, his wife told FoxNews.com on Tuesday that there was no discrimination. She said the administration should not have forced out Sherrod. "She'll always be my friend," Eloise Spooner said.
She said the incident Sherrod was referring to happened more than two decades ago and that she and her husband Roger worked together closely to keep the farm out of foreclosure.
"I don't think they gave her a chance to tell really what happened," Spooner said. "I don't think they'll find anybody that can fill the job any better than she did. That's my opinion."
The Associated Press contributed to this report.