Agents shocked as cartel boss involved in torture death of DEA colleague slips away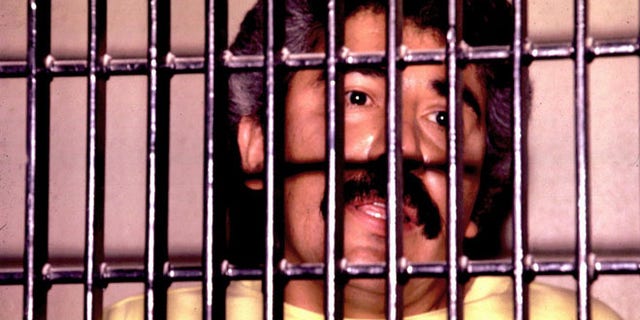 NEWYou can now listen to Fox News articles!
WASHINGTON – Mexican and U.S. authorities are scrambling to find a 60-year-old former drug lord -- who was behind the brutal killing of an American agent nearly two decades ago -- following his recent, and unexpected, release from a Mexican prison.
Rafael Caro Quintero walked out of Jalisco State prison shortly after midnight on Aug. 9 -- a free man on a legal technicality, a decision which drew international condemnation and which the White House warns could lead to the release of other drug criminals in Mexico.
Security guards were assigned to follow Quintero after his release, but the former cartel boss was able to shake them after only 10 minutes, a source familiar with the events told FoxNews.com.
As both governments now try to figure out a way to re-apprehend and detain Quintero, outrage continues to build in the U.S., with current and former federal drug agents vowing to seek justice. The turn of events already threatens to deeply damage ties between the U.S. and Mexico. Attorney General Eric Holder has contacted his Mexican counterparts about the release, the Justice Department confirmed to FoxNews.com this week.
The case of Quintero, for U.S. agents, is personal. Quintero spent the last 28 years locked up for the 1985 kidnapping and killing of American DEA agent Enrique "Kiki" Camarena. He was originally sentenced to spend 40 years behind bars.
Camarena was tortured before his execution, and the grisly details have not faded from the memories of his fellow former agents. Camarena was viciously beaten, with his tormenters reportedly using a screwdriver to drill a hole in his head; a doctor was employed to keep him alive and conscious during the interrogation. A detailed 1985 Miami Herald report on the kidnapping said Camarena suffered a broken jaw, a broken nose, broken cheekbones and a crushed windpipe.
Camarena's body was later discovered, along with that of his Mexican pilot, on a ranch outside Guadalajara.
"Twenty-eight years is not long enough for someone who has captured, tortured for three days and murdered someone," a member of The Association of Former Federal Narcotics Agents told FoxNews.com. "Forty years isn't enough. We are not going to let this drop. We are a band of brothers."
A Mexican court ordered Camarena's release after ruling he had been improperly tried in a federal court for state crimes. The decision and early-morning release of Quintero came as a surprise to U.S. authorities.
National Security Council spokeswoman Caitlin Hayden said in a statement earlier this month that another individual tied to Camarena's death could also be released. "We remain as committed today in seeing Quintero and others involved in this crime face justice in the United States as we were in the immediate aftermath of Kiki Camarena's murder and will work closely with the Mexican authorities on this," she said.
Quintero, a founding member of one of Mexico's largest and most dangerous drug cartels, was said to have been involved in ordering the hit against Camarena because he was angry over a raid on a 220-acre marijuana plantation in central Mexico that was ultimately seized by Mexican authorities with Camarena's assistance.
Camarena's murder and its handling by authorities sent U.S.-Mexico relations into a deep freeze. There's concern that what modest trust has been regained could be bruised by Quintero's release.
Vice President Biden is scheduled to visit Mexico next month to discuss economic opportunities but Quintero's release is likely to come up. Calls to Biden's office for comment were not returned.
James Kuykendall, Camarena's boss and resident agent in charge of the DEA's Guadalajara office during the 1980s, told the Los Angeles Times that Camarena's death was a game changer both in how the U.S. worked with Mexico on drug enforcement operations as well as how drug cartels operated.
"The decision (by traffickers) to kill a U.S. federal agent changed everything," Kuykendall said.
Federal officials in Mexico have appealed the release of Quintero. The U.S. Justice Department has also formally asked Mexico to re-arrest Quintero, and has sent a provisional arrest warrant for Quintero as a prelude to an extradition request, an official within the department said.
Legal experts say Quintero can't be extradited to the U.S. for the murder of Camarena because of a double jeopardy provision in the extradition treaty that prohibits turning anyone over on a charge that has already been heard in a trial.
If the U.S. is able to charge Quintero with additional crimes, they would have to fall within the statute of limitations in Mexico and the U.S. would have to promise Mexico that Quintero would not face the death penalty.
In case that doesn't work out, the U.S. is looking for other ways to hit Quintero.
In June, the Treasury Department added several of Quintero's associates and family members to their kingpin list, which allows them to impose sanctions against 18 people and 15 companies linked to Quintero.
The Treasury's actions prohibit Americans "from conducting financial or commercial transactions with these designees, and also freezes any assets they may have under U.S. jurisdiction."
"No amount of effort can clean their dirty money, paid for with their violence and by their victims, including DEA Special Agent Kiki Camarena," Gary Haff, acting chief of DEA's Financial Operations Section, said in a written statement. "DEA is committed to seeing that justice is done, and we will not rest until they and their global criminal networks have been put out of business, their assets have been seized, and their freedom has been taken from them."
The unspeakable violence and bloodshed that were the byproduct of Mexico's marijuana and cocaine cartels in the 1980s is back on the rise. Between 2006 and 2012, more than 70,000 people have died from drug-related fighting, a spokesperson from the Mexico's western state of Michoacan said. Since January 2013, 6,000 people have died.