AG pick Lynch may face grilling over seizing properties, experts say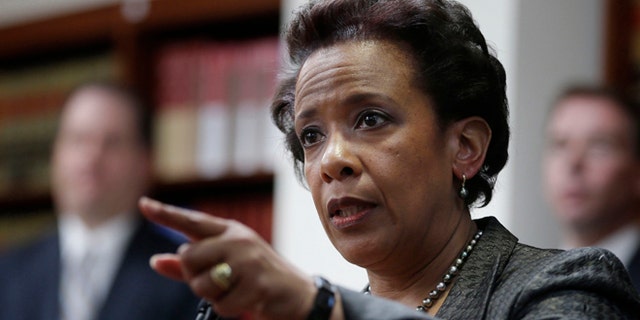 NEWYou can now listen to Fox News articles!
A boast by President Obama's pick to be the nation's top law enforcement official could come back to haunt her in confirmation hearings before the Senate, where some members object to prosecutors' rampant use of civil forfeiture, a controversial but legal process that can allow citizens' assets to be seized without due process.
U.S. Attorney for the Eastern District of New York Loretta Lynch, who Obama seeks to elevate to U.S. attorney general, replacing Eric Holder, announced in January that her office collected more than $904 million in criminal and civil actions in fiscal year 2013. While the policy generates funds used for other law enforcement efforts and offsets the burden on taxpayers, liberals and conservatives alike have questioned asset forfeiture as "an abuse of due process." Experts say Lynch will likely have to defend the practice she once touted.
"It's definitely a subject likely to come up and she'll be pressed on it," said Tim Lynch, director of Cato Institute's Project on Criminal Justice. "I don't know what she's going to say, but I would expect her — as someone who's going to assume leadership of the entire Justice Department — to come to the defense of these existing practices and I would be surprised if she struck a chord that's different from that. The Department of Justice likes things exactly the way they are, so I assume she's going to defend the status quo."
[pullquote]
Holder has said the Justice Department collected roughly $8.1 billion in civil and criminal actions in fiscal year 2013, or nearly three times the appropriated $2.76 billion budget for the 94 U.S. Attorney's offices and the main litigating divisions in that same period. And an investigative series by The Washington Post has found that the amount seized by civil asset forfeitures nationwide has more than doubled to $1.1 billion last year, from $508 million in 2008. Critics have highlighted several cases which they claim had dubious justification, and deprived unprosecuted citizens of money and property.
"What the average person needs to realize is that it's easy for the government to seize your property, but it's very difficult for an innocent person to get that property back," Tim Lynch told FoxNews.com. "It's an uphill battle. Abuses are quite common, but it's not always easy to identify the victims."
Tim Lynch said he expects the attorney general nominee to be peppered with questions regarding potential reform to the practice and on equitable sharing, in which the proceeds of liquidated seized assets are dispersed between state and federal authorities.
Lynch also will likely be confronted with a tale or two of someone caught on the wrong side of civil forfeiture, like motel owner Russell Caswell, whose Tewksbury, Mass., business — and the land it was on — was targeted by FBI agents because they suspected it was a den of drug-dealing and prostitution. Caswell, 70, decided to fight back, however, and a federal judge in Boston dismissed the forfeiture action against Motel Caswell, ruling that the government engaged in "gross exaggeration" of the evidence and did not have authority to seize the property.
"Civil asset forfeiture is a hot issue right now," said Andrew Kloster, a legal fellow at the Heritage Foundation, a Washington-based think tank. "It's very important and growing numbers of legislators are taking note of this issue. The Senate can and should ask questions about civil forfeiture, including what she would potentially do as attorney general and potential reforms."
Kloster said Loretta Lynch likely will be able to defend her efforts as actions within the law — and her use of civil forfeiture isn't likely to derail her confirmation.
"If she uses a tool in her toolkit, it's hard to blame her," Kloster told FoxNews.com.
Whatever the outcome of Lynch's confirmation hearing, Kloster said civil forfeiture reform will be one of the top priorities of the new Republican Senate.
"There's going to be a vote on it," he said. "The question is whether the administration, or, if she's confirmed, the future attorney genera, will perhaps preempt legislative reforms by issuing good reforms with her executive authority and she can certainly be asked if she plans on doing that."
If confirmed, the 55-year-old North Carolina native would become the first black woman to serve as U.S. attorney general, replacing Holder, the first black man to hold the position. President Obama announced Lynch's nomination this month, just after the midterm elections. Senate Majority Leader Harry Reid, D-Nev., has told reporters that White House officials have indicated Lynch's confirmation hearings could be handled with the new Congress in January.
Sen. Rand Paul, R-Ky., introduced a bill in July to reform current law on civil asset forfeiture, which allows law enforcement agencies to take property without charging or convicting property owners. Paul's legislation, if passed, would change federal law by requiring the government to provide clear, convincing evidence before forfeiting seized property. The bill also requires states to "abide by state law when forfeiting seized property," a move aimed at stopping forfeiture abuses within equitable sharing practices.
Days after Paul introduced the FAIR (Fifth Amendment Integrity Restoration) Act, Rep. Tim Walberg, R-Mich., introduced H.R. 5212, the Civil Asset Forfeiture Reform Act, which seeks to restore personal property rights under the Fifth Amendment.
"In a country founded on principles of due process and property rights, we should not be promoting a system where an individual's property may be seized without a finding of guilt," Walberg said in a statement. "Reform to our civil asset forfeiture laws is necessary to ensure the federal government can no longer profit from the unjust seizure of property."
Walberg said he introduced the bill in direct response to several stories he's heard involving property owners whose land has been improperly seized by federal authorities, like Terry Dehko, a longtime grocer whose bank accounts were seized by the IRS because they suspected him of money laundering. Charges were ultimately never filed, but Dehko had to prove that his money was not used in criminal enterprises, Walberg said.
"This legislation provides commonsense reforms to restore the balance of power away from the government and back to protecting individual rights and due process," Walberg's statement continued. "We cannot abide a system where citizens fear that law enforcement can seize, forfeit and profit from their property."