After Treaty, U.S. Confronts Threat of Terrorists Acquiring Nuke Materials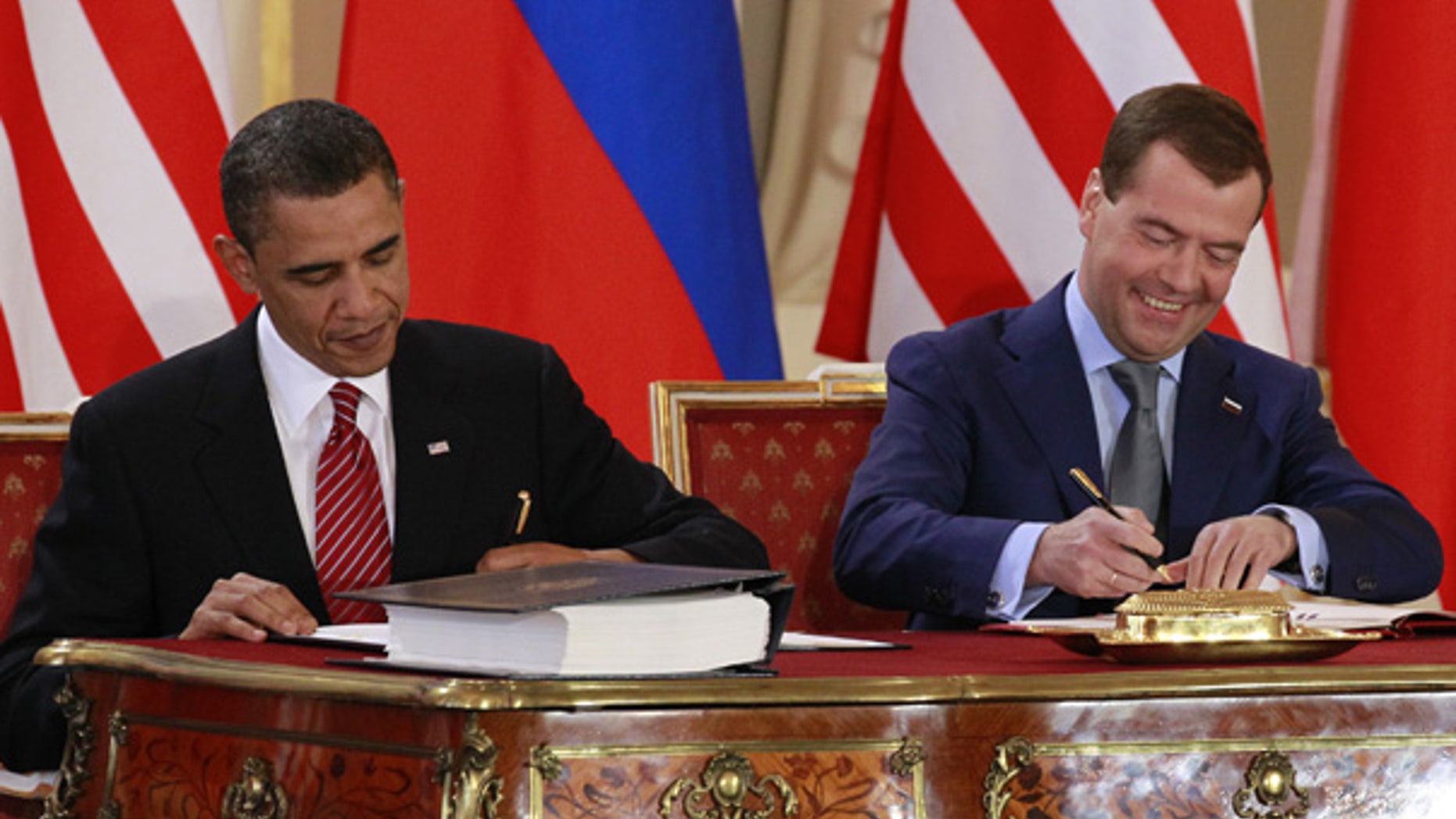 U.S. President Obama and Russian President Dmitry Medvedev on Thursday signed a landmark treaty that commits both nations to slashing their nuclear arsenals, but looming large is the challenge of stopping nuclear materials from falling into the hands of terror groups or rogue nations that aren't party to the treaty.
"I think it is a serious threat," said Kingston Reif, deputy director of non-proliferation at the Center for Arms Control and Non-Proliferation. "It's a low probability with a very high consequence. And because of that, we need to be doing all that we can to make it very difficult and next to impossible that terrorists can get their hands on materials that will allow them to wreak unparalleled destruction."
The country with perhaps the most nuclear ambition is Iran, which in the face of international pressures continues to assert that its uranium enrichment program is for peaceful purposes, not weapons. Six powers -- the U.S., Russia, Britain, France, Germany and now China -- are in talks in New York about a fourth set of United Nations sanctions to pressure Iran into compliance.
Next week, leaders from more than 40 countries will gather in Washington, D.C., to discuss improvements in securing nuclear materials.
"Draining the swamp" may be the only way to keep nukes out of the hands of terrorists, say proponents of eliminating all nuclear weapons. Former U.S. Ambassador Richard Burt, who negotiated the first Strategic Arms Reduction Treaty while serving President George H.W. Bush, noted that the new treaty only takes a "very small step toward further reductions."
"I think the importance of the treaty is broader in terms of putting the U.S.-Russian arms control process on track again, and it's been off track for nearly a decade," he said. "It's important because it could lead then to a much more profound set of agreements following this treaty."
Burt said the U.S. should not completely rid itself of its nuclear weapons because of the possibility of Iran getting its hands on nuclear weapons and sparking a nuclear arms race.
If Iran acquires nuclear weapons, he said, there's likely to be a "cascade effect" in which others in the region, like Egypt and Saudi Arabia, think they need a nuclear weapon.
"That would be show stopper," he said.
The pact between the U.S. and Russia commits the nations to slash the number of strategic nuclear warheads by one-third and more than halve the number of missiles, submarines and bombers carrying them.
The pact will shrink the nuclear warhead limit to 1,550 per country over seven years, about a third less than the 2,200 currently permitted.
That still leaves the two countries with enough nuclear firepower to ensure mutual destruction several times over, but the move sets a foundation for deeper reductions, which both sides are already pursuing.
The White House plans to lead calls for disarmament in May at the United Nations during an international conference on strengthening the Nuclear Nonproliferation Treaty.
The new pact is only part of the Obama administration's new nuclear strategy. It was signed only days after the White House announced a fundamental shift in policy on the use of nuclear weapons, calling the acquisition of atomic arms by terrorists or rogue states a worse menace than the Cold War threat of mutual annihilation.
At the treaty signing Thursday, Obama said nations that are in compliance with the Nuclear Non-Proliferation treaty and their non-proliferation obligations "will not be threatened by America's nuclear arsenal."
"Those nations that follow the rules will find greater security and opportunity," he said. "Those nations that refuse to meet their obligations will be isolated, and denied the opportunity that comes with international integration."
Ivan Olelirch, vice president of the strategic security program at the Federation of American Scientists, said reducing the nukes is the only way to reduce the threat, saying there have been cases with large quantities of uranium being traced back to Russia.
"Having these nuclear weapons provides a reservoir people can tap into," he said. "Making them fewer and secure not only helps us and Russia but the whole world."
The Associated Press contributed to this report.