Advocacy group highlights claims of Obama administration secrecy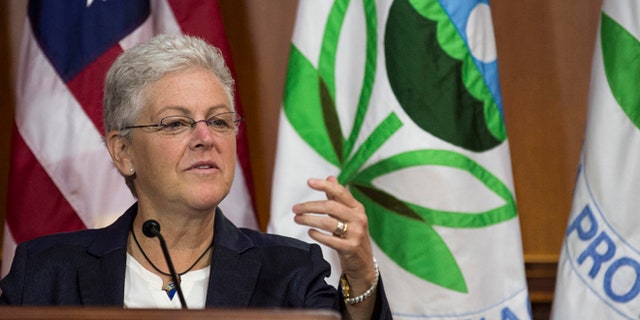 A small-business advocacy group has released a report citing a dozen examples it says support claims about the Obama administration's record of "secrecy and evasion," despite the president pledging to run the "most transparent administration in history."
The report, released by the Center for Regulatory Solutions, raises transparency concerns related to ObamaCare and focuses in large part on the Environmental Protection Agency, which is cited three times in the report.
"Obama has overseen a federal bureaucracy that is hostile to openness and public participation," said the group, part of the Center for Regulatory Solutions. "Examples of secrecy, evasion and downright obstruction abound."
The most recent EPA incident cited was the agency's June 2 announcement of a plan to cut carbon pollution from power plants.
News agencies said federal officials trying to help reporters understand the complicated, proposed plan could not be quoted during a briefing, despite the agency saying the briefing would be "on the record."
"The opaque process infuriated" reporters, said the authors of the six-page report.
The White House did not respond to a request for comment.
One of the other two issues related to the EPA was its release of a "Social Cost of Carbon" report without saying which federal agencies and officials helped create the new estimates and declining to give Congress scientific data on proposed new standards on ozone air quality, according to the report.
The largest issue appears to be the administration's handling of Freedom of Information Act requests, according to the report.
The administration last year cited "national security" to withhold information under the Act 8,496 times -- a 57 percent increase from a year earlier and more than double Obama's first year in office, The Associated Press reported.
The wire service report also found the administration was "more than ever" denying FOIA requests: 36 percent of requests made in 2013 were censored or fully denied. On 196,034 other occasions the government couldn't find records, the requesting party wouldn't pay to print copies or the government determined the request was "unreasonable or improper," the wire service found.
"I'm concerned the growing trend toward relying upon FOIA exemptions to withhold large swaths of government information is hindering the public's right to know," said Sen. Patrick Leahy, D-Vt., chairman of the Senate Judiciary Committee. "If you screw up in government, just mark it top secret."
On ObamaCare, the administration has "either refused or simply been unable to provide meaningful, accessible data that tracks spending on … health care exchanges, the group said.