Ads target Calif. Latinos not signed up for Obamacare who fear exposing undocumented relatives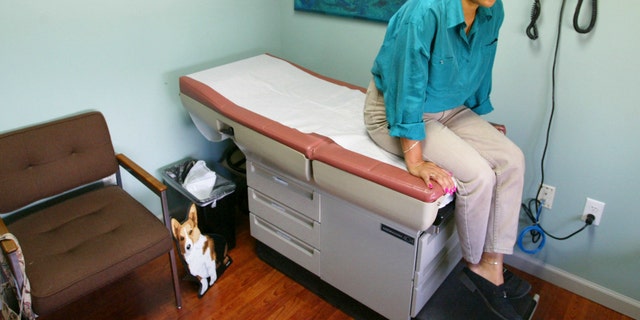 NEWYou can now listen to Fox News articles!
Some 600,000 Latinos in California legally do not have health insurance, even though many evidently qualify for subsidized coverage under the Affordable Care Act, according to the Los Angeles Times.
The number of uninsured Latinos is far more than Asians and whites in the Golden State without coverage who are eligible. The reason is fear that applying for the coverage will expose undocumented relatives and end up causing their deportation, the Times reported.
And so, state officials are turning to TV ads that for the first time explicitly reassure Latinos that whatever information they provide in their federal health coverage applications will remain confidential. One spot shows papers flying into a vault as a Latino man tells viewers their information is "confidential and private."
It is part of the California coverage exchange marking budget of $95 million, the newspaper said. The ads coincide with open enrollment for ACA opens on Saturday and runs through Feb. 15.
Undocumented immigrants are excluded from the health law. Legal immigrants and U.S. citizens who are eligible for it fear that information they provide to authorities about relatives who have no coverage will raise flags about their unlawful immigration status and put them at risk, the Times said.
No one can say for certain how many of the 600,000 uninsured Hispanics in the state are scared of betraying an undocumented relative.
The newspaper spoke to the Saldana family, which is comprised of two daughters in their 20s here legally but uninsured for fear that their parents, who are undocumented, will be deported. The Times also cited callers to radio shows and a Latina respondent to a consumer survey by the California HealthCare Foundation that believed that Obamacare could be a trick to identify immigrants in the country illegally.
"This is a very big deal in California," said Catherine Teare, senior program officer for health reform at the California HealthCare Foundation, in a quote in the Times. "It's really hard for Covered California or anybody to make those concerns go away."
In March, the Obama administration sought to reassure Latinos that immigration officials would not have access to information about legal status on applications for health coverage.
"Well, the main thing for people to know is that any information you get, you know, asked with respect to buying insurance, does not have anything to do with … the rules governing immigration," Obama said in an interview with Univision Deportes, a Spanish-language sports radio show. "And you know, you can qualify if you're a legal resident, if you are … legally present in the United States.
"You know, if you have a family where some people are citizens or legally here, and others are not documented, the immigration people will never get that information."
In March, The Hill quoted Adolf Falcon, senior vice president of the National Alliance for Hispanic Health, saying that Latinos did not trust the administration because of the record-breaking number of deportations under President Obama.
"It is a big concern of mixed status families — they hear [the president's] assurance, but because of the level of deportations that have happened, there's a lot of families that don't know whether they can trust that assurance," The Hill quoted Falcon as saying. "It creates an atmosphere of concern."
California officials say they feel pressure to resolve all the concerns in the Latino community in the short three-month window there is to apply for coverage.
"We have to address this issue of immigration status head on," said Peter Lee, executive director of Covered California. "We need trusted voices saying it's safe."
Slightly more than 3.4 million Californians have gained health coverage through either private insurance or Medi-Cal, the state's health plan for low-income residents.
Latinos make up 62 percent of California residents who still lack insurance, the Times said, citing a survey by the Kaiser Family Foundation.
The Times added that about half of the residents who lack insurance apparently are undocumented, disqualifying them from Obamacare and Medi-Cal.
"Among those who are eligible," the Times added, "37 percent said they were at least somewhat worried that signing up for health insurance would draw attention to their family members' immigration status."
Lilian Saldana and her family make do with free clinics, the Times said, but she wonders how the family would cope if either parent developed a serious illness.
"My family's being held back whether I apply for it or not," she said. "There's nothing I can do about it."
Follow us on twitter.com/foxnewslatino
Like us at facebook.com/foxnewslatino