ACLU backs down in face of Twitter's wrath for pic of white baby holding US flag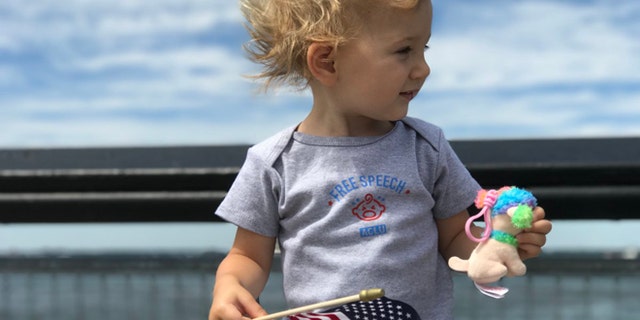 The ACLU got a big lesson in political correctness after posting a photo of a white baby holding an American flag to its Twitter page — and has backed off after social media trolls accused the free-speech group of promoting Nazis.
"This is the future that ACLU members want," the ACLU captioned a photo of a blonde baby wearing an ACLU "free speech" onesie and holding a small American flag.
That was all it took. A flurry of tweets from ACLU followers slammed the group, suggesting it was being racially insensitive and even likening the post to pro-Nazi commentary.
The ACLU tried to calm the waters.
"When your Twitter followers keep you in check and remind you that white supremacy is everywhere," the national ACLU account posted, adding a gif of Kermit the Frog over the text, "That's a very good point."
The group followed up with another tweet to clarify what it wants to promote is babies in ACLU onesies.
"PSA: The future we want is babies in ACLU onesies. For more cute ACLU babies, follow us on Instagram!" the tweet said, linking to its official Instagram page.
The group posted a similar photo earlier this month. The Instagram post showed two side-by-side photos of a brunette baby—one in a Women's March onesie and the other in the free-speech onesie.
"This is the future that ACLU members want. #babies #babiesofinstagram #babyfashion #aclu," the group posted.
It did not appear to receive the same criticism as the blonde baby.
The ACLU did not respond to Fox News' request for comment.
The ACLU has taken heat from the left for months, after the civil rights group expressed support for the First Amendment rights of conservative Milo Yiannopoulous and alt-right groups.
The ACLU announced last week that it would no longer defend groups that brought guns to demonstrations.