A poorly timed pivot to the economy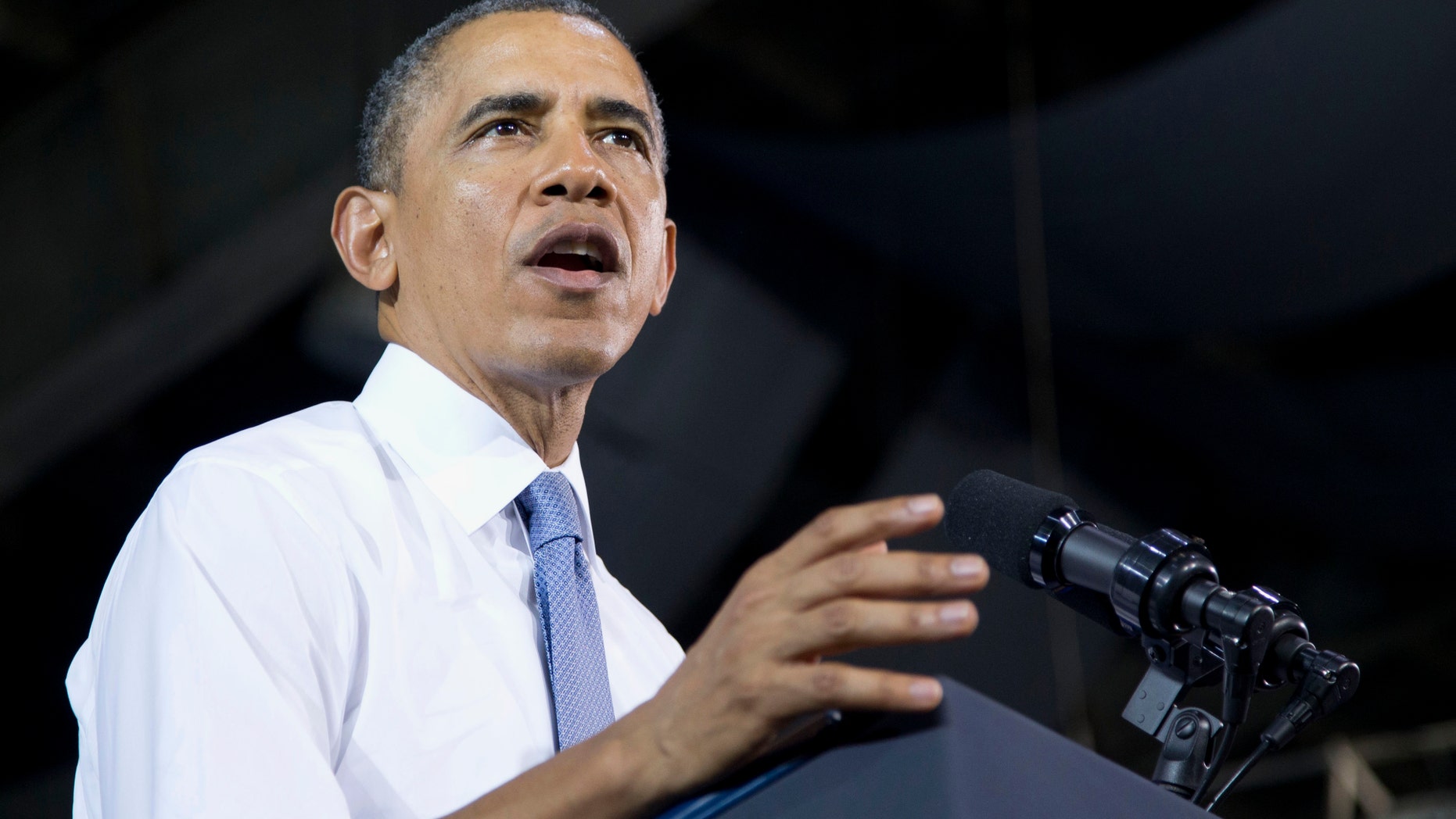 Want FOX News First in your inbox every day? Sign up here.
Buzz Cut:
• A poorly timed pivot to the economy
• Getting testy over Sebelius testimony
• First in Fox News First: America Rising launches Dem 'fail' site
• Dem donors defensive at Chicago conclave
• S'pee'chless
A POORLY TIMED PIVOT TO THE ECONOMY                                            
 Democrats have been claiming of late that ObamaCare would not be the main issue in this year's midterms – as the president said early this month: "the debate is over." Instead, Democrats have voiced various versions of the assertion made by Sen. Chuck Schumer, D-N.Y., as Democrats were announcing their "pivot" away from the beleaguered law. Schumer said that the focus of the fall elections would instead be "jobs, good paying jobs" and increasing wages. After today's numbers on the economy, Democrats may want to go ahead and pivot on back. The economy slowed dramatically in the first three months of the year, according to the Commerce Department, which said growth slowed to a tenth of a percent from January to March. That's the weakest performance since the end of 2012, and down from 2.6 percent growth in the last quarter of 2013. Democrats are blaming the savage winter weather of the quarter, but there are signs that the problems are deeper. Business spending on items such as equipment and other investments fell 5.5 percent, marking the biggest dip in almost five years, and exports dropped at a 7.6 percent pace—the steepest decline since the recession officially ended.
[Americans aren't seeing much more money in their paychecks this year. A separate report shows labor costs increased at their slowest pace in more than two years, with wages and salaries up only 1.6 percent in the last year.]
Boomerang - Democrats will surely say that their efforts to increase taxes and spending are all the more urgent given the bad news, and they will surely blame Republican intransigence for the continued economic anemia. It's a sure thing because that has been the message from Democrats for the past three years. But what do voters say? In the new WSJ/NBC News poll a sample of adults widely disapproved of the president's handling of the economy – 54 percent disapproving compared to 42 percent who said he was doing a good job. That's not the worst that it's ever been, but it's about the same as it was ahead of the 2010 midterm spanking for his party. To put a finer point on it, here's what National Journal's poll told us earlier this week: "Just 25 percent of all respondents said they believed [Obama's] agenda would increase opportunities for people like them. That's the smallest positive response the poll has recorded except for the two surveys last fall. In the new poll, a full 46 percent said they believed his actions would diminish their opportunities-essentially tying the 47 percent in each of last fall's polls as his worst showing on that measure. The remaining 23 percent said they did not think his actions would affect their opportunities."
[Chinese takeout - This comes as the Financial Times reports that the People's Republic of China is set to pass the U.S. this year as the world's leading economic power, several years sooner than the previous estimate of 2019. The reason: "With the IMF expecting China's economy to have grown 24 per cent between 2011 and 2014 while the US is expected to expand only 7.6 per cent, China is likely to overtake the US this year."]
Burger joint - Obama today will be pushing his call to increase the $7.25-per-hour federal minimum wage by 40 percent, a measure all but guaranteed to die in the Democrat-controlled Senate. While there is broad bipartisan support for some increase, Obama's is considered too steep for rural states with lower average incomes. Some Republicans have suggested that the president's bill is designed to fail and provide fodder for Democratic efforts to rev up base voters. But the need to increase incomes for lower paying jobs relates to what the NYT reported Monday: "Higher-wage industries — like accounting and legal work — shed 3.6 million positions during the recession and have added only 2.6 million positions during the recovery. But lower-wage industries lost two million jobs, then added 3.8 million." While Obama's message on income inequality may resonate with the Democratic base, it looks like a loser with midterm voters.
Bigger picture - The election is about the economy and it is about ObamaCare – as well as a dozen other topics – but the economy and ObamaCare are also interrelated. American anxiety about the economy no doubt stems in part from the belief that the law is harming the economy and will intensify damage as its implementation continues. Democrats have been trying hard to pivot, but may just be running themselves in circles.
GETTING TESTY OVER SEBELIUS TESTIMONY                                                  
After switching a hearing date to oblige outgoing Health Secretary Kathleen Sebelius from April 2 to May 7, now Senate aides tell the Daily Caller that the embattled Health boss may be ducking a final trip to the Hill altogether. "Sebelius is refusing to testify according to the two [Senate] aides, even though she is still the sitting secretary — remaining at the post until her successor, OMB Director Sylvia Mathews Burwell is confirmed." One aide told the Daily Caller, "It appears that Sec. Sebelius has unilaterally decided that she is no longer accountable to Congress." When asked about Sebelius' refusal, an HHS spokeswoman said in a statement, "Nothing is confirmed at this time, but we intend to find a mutually agreeable arrangement."
Obamacare web site fix: $121 million - Fox News: "The contractor hired to fix the ObamaCare exchange website announced Tuesday that it would cost $121 million to get the site ready for a second open enrollment period in 2015."
WITH YOUR SECOND CUP OF COFFEE...
Time Magazine examines a new study that suggests "Firstborn Girls are the Best at Life": "Firstborns are most likely to be 'ambitious' and 'accomplished' compared to their younger siblings. And firstborn girls turn out to be the most ambitious: they are 13 percent more likely to aspire to attend graduate school than firstborn boys. These statistics are true regardless of how many siblings you have and what gender combination they are."
Got a TIP from the RIGHT or LEFT? Email FoxNewsFirst@FOXNEWS.COM
POLL CHECK                                                                                                                
Real Clear Politics Averages
Obama Job Approval: Approve – 43.8 percent//Disapprove – 51.8 percent
Direction of Country: Right Direction – 28.4 percent//Wrong Track – 62.7 percent 
Generic Congressional Ballot:  Democrats – 42.4 percent// Republicans 41.6 percent
FIRST IN FOX NEWS FIRST: AMERICA RISING LAUNCHES DEM 'FAIL' SITE Conservative political action committee America Rising will launch today DemocratFails.com which aggregates what it calls "scandals, offensive comments, stupid gaffes, or cronyism" of members of the blue. The group, led by former Mitt Romney campaign manager Matt Rhoades, Republican National Committee spokesman Tim Miller and Republican oppo-research maven Joe Pounder, seeks to serve "as an organization on the right for which the sole purpose is to expose the truth about Democrats through video tracking, research, and communications." DemocratFails.com, for example, touts the recent blunder from North Carolina Democrat Verla Insko asking "How Many Women Get Prostate Cancer?" The website has a video as well as a link to the full story. Miller said in a statement, "DemocratFails.com will be a good bookmark for conservatives looking for information that lets us ensure Democrats are held accountable.  All the material is designed to make it easier to share with friends on Facebook, Twitter, and other social media outlets."
POWER PLAY: CAN GOP UNITE TO OUST BEGICH?                                             
 In just 90 seconds, Chris Stirewalt ventures north to Alaska. Republicans see Alaska's Democratic Sen. Mark Begich as one of the six seats needed to take the Senate this fall. Former Alaska Attorney General Dan Sullivan and Lt. Gov. Mead Treadwell are both vying to oust Begich, but failed 2010 GOP nominee Joe Miller might end up playing spoiler for the party again. Who will survive the August 26 primary to face Begich in November? Watch video here.
FRANKEN LOOKS WEAK IN LATEST POLL                                                              
 A new Suffolk University poll shows Sen. Al Franken, D-Minn., vulnerable in his bid for a second term. Franken is at 45 percent or below against any of the members of a large field of potential Republican rivals. President Obama's job approval rating is just 43 percent in the state he twice carried handily. His health law is unpopular, with only 41 of potential voters saying it's "generally a good thing."  Among the Republican Senate candidates in the state's mid-August primary, state Sen. Julianne Ortman is the frontrunner, but close behind is Minneapolis investment banker Mike McFadden.
WARREN HITS THE TRAIL TO HELP ENDANGERED DEM                               
 The Hill: "Oregon Sen. Jeff Merkley (D) is getting some big-name campaign help from Massachusetts Sen. Elizabeth Warren (D) in his reelection fight. The Merkley campaign announced Tuesday that Warren will appear at a fundraiser for the senator on May 28 at the Hilton hotel in downtown Portland."
REID PAC ON THE ATTACK IN NEW HAMPSHIRE                                               
 Daily Caller: "Harry Reid's Senate Majority PAC is running ads attacking New Hampshire Republican candidate Scott Brown for a vote he took on oil subsidies – but two vulnerable Democrats up for re-election this year voted the same way. The liberal super PAC's ad states: 'Scott Brown's carrying some big oil baggage. In Massachusetts, he voted to give companies big tax breaks. They make record profits. He collects over $400,000 in campaign contributions…Scott Brown — out for himself and big oil at our expense.'…According to data on OpenSecrets.org, [Sen. Mary Landrieu, D-La.,] has taken more than $1.3 million from the oil and gas industry. Likewise, [Sen. Mark Begich, D-Alaska,] has taken almost $350,000."
Brown responds - "Unfortunately, President Obama and his strongest allies, including Sen. Jeanne Shaheen, have stood in the way of Keystone getting the approval it needs to move forward. Sen. Shaheen has voted against Keystone four times, but it's never too late to do the right thing. I encourage Sen. Shaheen to join me in support of this important project. Just as labor and business have come together, I'm hoping Sen. Shaheen and I can bridge the political divide. Six years of delay are long enough. Five separate reviews have proven that we can build this pipeline in a safe way. The concerns of the environmental community have been addressed." – New Hampshire Senate hopeful Scott Brown in the New Hampshire Union Leader
DEM DONORS DEFENSIVE AT CHICAGO CONCLAVE 
The mega-rich liberals who gathered in Chicago this week to discuss their plans to exert greater control over the Democratic Party apparently did not like having their activities covered, even by Politico: "During a gathering here of major Democratic donors this week that has raised more than $30 million for liberal groups, questions about the party's split personality on the issue [of campaign spending] were dodged, rejected or answered with an array of rationalizations. That is, when they weren't met with recriminations or even gentle physical force…. Few donors or participants spoke to POLITICO on the record. Top Obama White House aide Valerie Jarrett, New York City Mayor Bill de Blasio and Kentucky Democratic Senate candidate Alison Lundergan Grimes all ignored questions about whether Democrats are hypocritical on big money as they walked between a bank of elevators in the lobby and a promenade leading to the rooms hosting the DA panels and speeches. Jarrett refused to make eye contact with a reporter asking such a question on Monday night, while de Blasio on Sunday night said, 'My friend, we're not doing media right now. We're happy to talk to you another time,' as a handler stepped between the quick-walking mayor and a reporter. When Grimes, following a closed-door meet-and-greet with major donors Tuesday, was asked about liberal efforts to vilify the Kochs and other major conservative donors, she said, 'I sure appreciate your time. You have to go through our communications department,' then stepped into an elevator and stood behind an aide. Communications staffers for de Blasio and Grimes did not respond to subsequent requests for comment."

Grimes sootied after seeking Steyer support - AP: "Democratic U.S. Senate candidate Alison Lundergan Grimes' meeting with California billionaire Tom Steyer has prompted the Kentucky Coal Association to warn her not to accept donations from him or his climate-protection group. Grimes and other candidates attended a meeting Tuesday in Chicago with Steyer and other major Democratic donors, according to her campaign. In a prepared statement, Kentucky Coal Association President Bill ["The Vest"] Bissett said anyone accepting donations form Steyer or his NextGen Climate Action group would 'identify you as being against the production and use of Kentucky coal.'"
NRSC: Red state Dems ineffective - The National Republican Senate Committee is pushing hard on Senate Majority Leader Harry Reid's slow walk on the popular Keystone Pipeline project, which is opposed by Democratic mega-donor Tom Steyer. NRSC is attacking Sen. Mark Begich, D-Alaska, for his inability toof action with the Keystone XL Pipeline. "Though Mark Begich supports the Obama Administration 97% of the time, just a few weeks ago he asked President Obama to approve Keystone, a request which fell on deaf ears," NRSC said in an email. "In other words, on the rare occasion (3% of the time) when Mark Begich disagrees with President Obama's policies, he isn't able to do anything at all." NRSC plans to launch similar attacks against Sen. Mary Landrieu, D-La., Sen. Kay Hagan, D-N.C., Sen. Mark Pryor, D-Ark., and Sen. Mark Warner, D-Va.
N.C. PRIMARY TIPPING FOR TILLIS?                                                                      
 Roll Call: "For several months, the Republican Senate primary in North Carolina has been a race for second place: state Speaker Thom Tillis, with his superior financial resources, is a shoo-in for first, while Dr. Greg Brannon and Pastor Mark Harris vied for second place to challenge Tillis in a runoff. But, one week before the primary, many local operatives now expect Tillis will reach the 40 percent threshold on Tuesday to avoid a runoff later this summer with the second-place finisher. The winner of the primary will face Sen. Kay Hagan, D-N.C., in one of the cycle's marquee competitive contests. For Tillis, the stakes to avoid a runoff are high because it would force him to spend another two months running against a Republican opponent — instead of Hagan. What's more, the state's General Assembly comes back into session on May 14, eight days after the primary. Tillis would have to balance his duties as speaker while still campaigning for the nomination."
Jeb jumping in - National Review: "Florida governor Jeb Bush will wade into the hotly contested Senate primary in North Carolina on Wednesday to back establishment favorite Thom Tillis, according to two sources familiar with the situation." North Carolina Gov. Pat McCrory threw support behind Tillis Tuesday.
PICK SIX                                                                                                                          
 The status quo will change dramatically in Washington if Republicans are able to gain an additional six Senate seats. Which six Democrat-held seats are the most likely GOP pickups? The current consensus among Fox News First readers: Arkansas, Montana, Louisiana, South Dakota, North Carolina and West Virginia.
Share your top six picks. Email them – just your top six, please – to FOXNEWSFIRST@FOXNEWS.COM or tweet @cstirewalt.
Q POLL: SCOTT TRAILS CRIST BY DOUBLE DIGITS                                              
A new Quinnipiac University poll shows Florida Republican Gov. Rick Scott remains behind former Gov. Charlie Crist, 48 to 38 percent, despite recent efforts to blast Crist in ObamaCare ads. At the beginning of the year, Scott trailed Crist 46 to 38 percent in Quinnipiac's survey. A recent Mason-Dixon poll showed Crist and Scott even at 42 percent.
DEM GOVS WRITE OFF NEVADA, NEW MEXICO                                                
 Real Clear Politics: "Democratic Governors Association Chairman Peter Shumlin, saying his organization's members are 'on offense,' predicted Tuesday morning that several Republican incumbents will be defeated this November. However, he also provided a bleak assessment of Democratic gubernatorial chances in several states -- including Texas.  'This is the referendum on the Tea Party governors that got elected four years ago,' asserted the Vermont governor, who spoke to reporters at a breakfast hosted by the centrist think tank Third Way. Shumlin listed Maine, Pennsylvania, and Florida as states where the DGA has 'very high hopes' of defeating Republicans. He added that Democrats have 'good shots' in Ohio, Michigan, and Wisconsin.  Shumlin also offered Georgia, South Carolina, Kansas, and Arizona as red states that the DGA is 'optimistic' about Democrats' chances in.  Though he predicted Democrat Jason Carter will be elected governor of Georgia this year, Shumlin was notably pessimistic about Texas turning blue in November…. Later, Shumlin conceded that he does not expect his party to win gubernatorial races in New Mexico or Nevada."
[The Hill's Shira Center lists nine kinds of Capitol Hill flacks, from "The My-Boss-Walks-on-Water Flack" to "The Uber-Aggressive Flack."]
S'PEE'CHLESS                                                                                                              
 Some politicians just ask for money, but Oregon congressional hopeful Art Robinson wants people to give more of themselves. Reuters reports that the long-shot Republican, who is making his third run to unseat Rep. Peter DeFazio, D-Ore., sent out thousands of mailings last week asking for volunteers to mail him urine samples. Robinson, a scientist an inventor, says he needs the urine to help him calibrate a machine that he says could one day detect cancer and other hereditary diseases. Robinson, hoping to collect a whopping 15,000 samples, stressed the collection doesn't relate to his bid to replace DeFazio.
AND NOW, A WORD FROM CHARLES…                                                           
 "…this exposes a cover up of a cover up. The fact that it was redacted when the documents were asked for, and only revealed by a court order is telling you this is a classic cover up of a cover up. And that is a serious offense." – Charles Krauthammer on "Special Report with Bret Baier."
Chris Stirewalt is digital politics editor for Fox News. Want FOX News First in your inbox every day? Sign up here.