A funky Friday for Democrats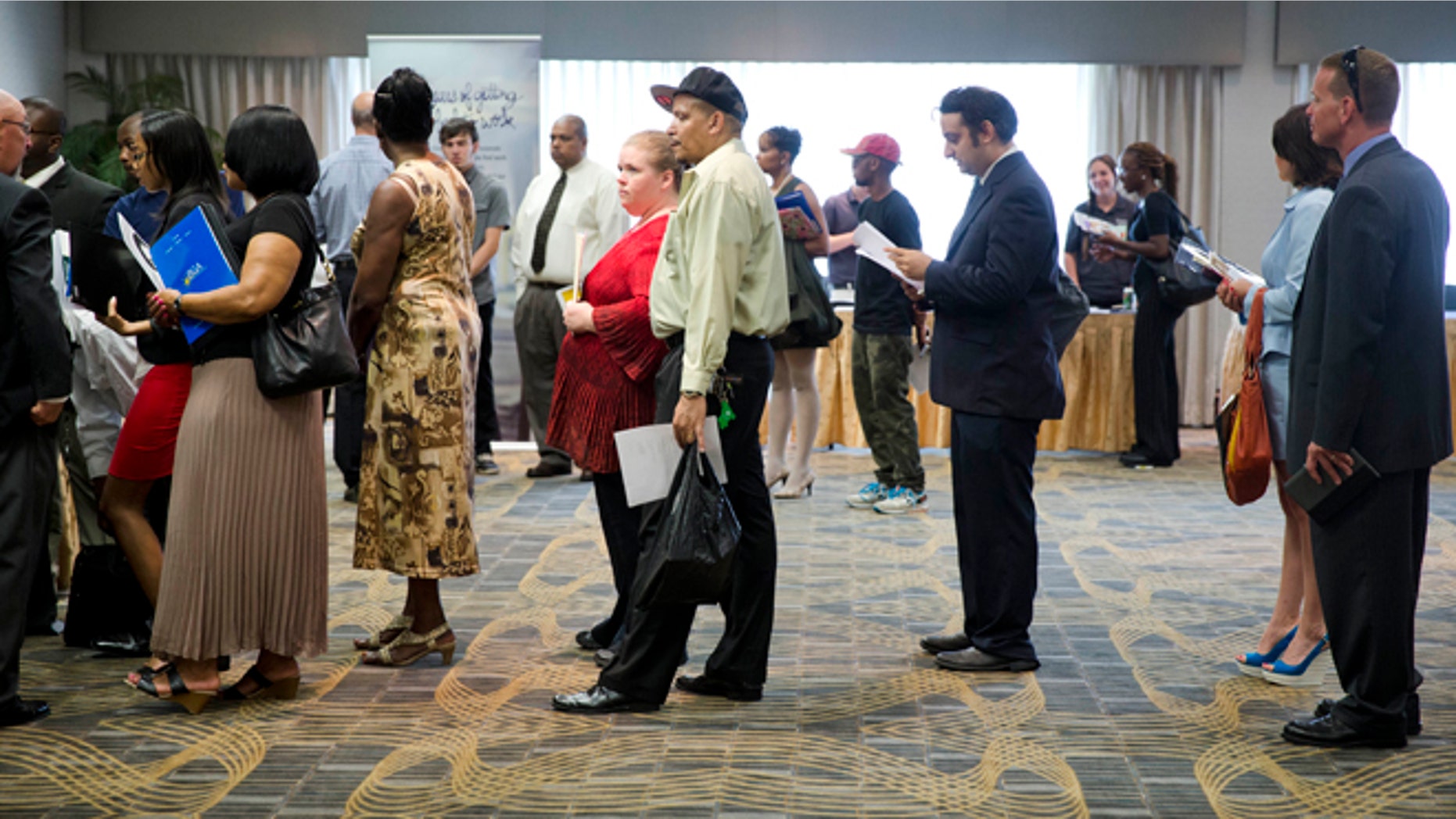 Want FOX News First in your inbox every day? Sign up here.
Buzz Cut:
• A funky Friday for Democrats
• Hillary: Climate change is America's top challenge
• I'm Bob Dole and you're not
• Power Play: Organizing for inaction
• All hail the salmon cannon
A FUNKY FRIDAY FOR DEMOCRATS 
Here's a thought experiment: If someone had told you a year ago that the jobs report out today would be miserable, that Americans would be feeling levels of anxiety on national security not seen in years and that the president's job approval rating would have skidded to 38 percent, how would you have forecast the elections two months away? What if you also knew that Democrats had committed a series of unforced errors, including a senator dropping his candidacy over plagiarism and a star recruit accidentally posting her whole campaign strategy online? What if you also knew that no Republican incumbents had been unseated in primaries? There are plenty of factors to consider, particularly Democratic spending advantages, but today provides a snapshot of a cycle that is tilting out of control for the majority party. Badly. Remember today the next time someone is trying to tell you that the atmosphere this year is anything other than brutal for Democrats.
OBAMACARE HACKED AND STACKED AGAINST DEMOCRATS
The emerging conventional wisdom is that voters are "kind of over" ObamaCare and that the midterm elections are about other things. But that's sort of like saying that people are over fire being hot: It may not be a surprise anymore but it still matters quite a lot, especially when it flares up. Just consider the news that, true to widespread and oft-repeated warnings, hackers breached the site for the program and that the incursion went undetected for six weeks. The problem is that it comes as a surprise to no one since the administration ignored its own security requirements and plowed ahead with the now infamous launch. President Obama's signature entitlement program has been helped by low expectations following its 2013 crash – ObamaCare: Not Dead Yet! – but every time Americans are reminded about the botched and bungled implementation, it further hardens opposition to the law. What really matters, though, is what's coming in the two months before the election.
Making the jump - Health costs are soaring. And companies are scrambling to offset increasing costs imposed by the employer mandate, which is scheduled to take effect in January for larger firms. How many workers will be fired, stripped of hours or dumped from company plans is being worked out in finance departments even as we speak. Next year, more employers will offer more high-deductible plans, meaning employees will need to shoulder a greater share of their medical costs before their plan picks up the bill. University of Southern California professor Paul Ginsberg was quoted in The New York Times this week, saying, "You can't sugarcoat this…This is a more challenging situation for consumers and it's a reflection of how difficult it is to afford health care." It may be true that the buzz about ObamaCare has slowed to a murmur, but the part where the law touches more and more voters in their lives is accelerating. And that's bad news for the party that celebrated the passage of the law as an achievement greater than any in two generations.
Still stings - David Drucker has the straight dope: "'It's not a magic bullet as a 'last 90 days message' in every race,' a Republican consultant with House and Senate clients said. 'But it deserves 95 percent of the credit for creating the favorable environment that we've been gifted.'"
e.g. - In its latest ad, the National Republican Senatorial Committee rails on Rep. Bruce Braley, D-Iowa, for his support of ObamaCare.  Des Moines, Iowa senior Darlene Blake appears in the ad saying, "Bruce Braley voted to cut $700 billion from Medicare to support ObamaCare. That's just not fair. We paid in, we paid for it, that should be there for us."

[Iowa Democratic Senate candidate Bruce Braley is continues to hit Republican Joni Ernst over her pro-life stance.]
A defensive weapon, too - After a barrage of attacks from Sen. Mark Pryor, D-Ark., over Social Security, Rep. Tom Cotton, R-Ark., is using ObamaCare to put Pryor on defense on entitlement issues. The spotfeatures Cotton's mother. Pryor responded to the response with an ad Thursday saying, "My opponent knows I did not cut Medicare benefits, I cut waste and protected benefits."
[Another Cotton spot attacks Pryor for opening the door for raising the retirement age. Cotton also hits the embattled Democrat for voting to give "illegal immigrants Social Security for work they did with forged identities."]
BENGHAZI BOMBSHELL: U.S. SECURITY TOLD TO STAND DOWN
Fox News: "A U.S. security team in Benghazi was held back from immediately responding to the attack on the American diplomatic mission on orders of the top CIA officer there, three of those involved told Fox News' Bret Baier. Their account gives a dramatic new turn to what the Obama administration and its allies would like to dismiss as an 'old story' – the September 11, 2012 Benghazi attacks that killed U.S. Ambassador Christopher Stevens and three other Americans. Speaking out publicly for the first time, the three were security operators at the secret CIA annex in Benghazi – in effect, the first-responders to any attack on the diplomatic compound… According to the security operators, they were delayed from responding to the attack by the top CIA officer in Benghazi, whom they refer to only as 'Bob'… Now, looking back, the security team said they believed that if they had not been delayed for nearly half an hour, or if the air support had come, things might have turned out differently."
[Watch Fox (or set your DVR): "13 hours at Benghazi: The Inside Story" airs Friday night at 10 p.m. ET, Saturday at 5 p.m. and 9 p.m. ET and Sunday at 9 p.m. ET]
Baier Tracks: A true exclusive… - "I have hosted 34 one-hour specials for the Fox News Documentary Unit in my 18 years at the network. Tonight's is by far the most compelling. To hear directly from the men who were on the ground and fighting the battle in Benghazi on Sept. 11, 2012 is powerful. The men are heroes and lost two of their team members, Tyrone Woods and Glen Doherty, in the fighting that night.  Hearing them talk about and relive those 13 hours is something worth watching for anyone who hopes to understand those fateful hours." – Bret Baier
WITH YOUR SECOND CUP OF COFFEE…
The balance of power in baseball has shifted from the batter's box to the pitcher's mound and left the big-league game in a serious hitting drought, with 20 percent fewer runs this season than in the middle of the previous decade. That, combined with the increasingly slow pace of the game has caused viewers to tune out. Conventional wisdom holds that the rampant cheating prior to 2006 set unreasonable standards for booming bats. But is it really a post-steroidal slump? While there's certainly much to be said about the emotional effects on fans of a scandal so vast, Derek Thompson identifies another culprit: technology. Starting in 2006, the league embraced strike-zone cameras to measure the performance of umpires at calling balls and strikes. Guess what happened? Umpires got stingier with hitters to qualify for bonuses and promotions. Thompson writes: "Swinging strikeouts are up 11 percent since 2008. Called strikeouts (on third strikes without a swing) are up 66 percent." And nobody ever came to a game to see the ump.
Got a TIP from the RIGHT or LEFT? Email FoxNewsFirst@FOXNEWS.COM
POLL CHECK
Real Clear Politics Averages
Obama Job Approval: Approve – 41.7 percent//Disapprove – 52.7 percent
Direction of Country: Right Direction – 25.4 percent//Wrong Track – 66.1 percent 
Generic Congressional Ballot:  Democrats – 42.5 percent// Republicans – 42 Percent
-- 60 days until Nov. 4 --
HILLARY: CLIMATE CHANGE IS AMERICA'S TOP CHALLENGE
National Journal: "The U.S. can become the 'clean energy superpower of the 21st Century,' Hillary Clinton said Thursday, urging businesses and the government to build up the renewable sector. 'Climate change is the most consequential, urgent, sweeping collection of challenges we face,' the former secretary of state and likely 2016 Democratic frontrunner said Thursday at Harry Reid's annual energy conference in Las Vegas. 'The threat is real and so is the opportunity … if we make the hard choices.' As expected, Clinton's keynote address at the National Clean Energy Summit didn't wade into much controversial territory. She offered support for President Obama's climate action plan and EPA rules that will regulate power plant emissions and didn't delve into too many specifics of what a Clinton energy agenda might look like."
JEB KEEPS DONORS ON THE HOOK
WSJ: "Republican strategists and fundraisers say [Former Gov. Jeb Bush's, R-Fla.] closest advisers have been quietly spreading the word that they should avoid committing to other possible presidential candidates until he decides on his own course after the November election…Jim Nicholson, a Bush supporter who served in President George W. Bush's cabinet, said: 'I think the chances are better than 50-50 that he runs, and that is based on some conversations I've had with members of the Bush family.' …The outreach from Mr. Bush's aides came amid speculation this summer that he was leaning against a run, due in part to reports that he was raising money for private-equity ventures when other potential candidates were visiting early-primary states…Mr. Bush is slated to headline a Sept. 23 event in Tampa that organizers hope will raise as much as $1 million for GOP Senate candidates Cory Gardner in Colorado, Joni Ernst in Iowa, Monica Wehby in Oregon, Tom Cotton in Arkansas and Dan Sullivan in Alaska. A Bush aide said the goal was $500,000."
FOX NEWS SUNDAY: ROMNEY'S READY FOR NOVEMBER
Former 2012 GOP presidential nominee Mitt Romney joins Chris Wallace to offer his take on the state of the Republican Party and its path to retake the upper chamber as the midterm election season heats up. "Fox News Sunday with Chris Wallace" airs at 2 p.m. and 6 p.m. ET on Fox News. Check local listings for air times in your area.
I KNOW BOB DOLE, AND YOU'RE NO BOB DOLE
Independent Greg Orman is running "as a moderate in the mold of Bob Dole" in his bid to knock off Dole's fellow Republican, Sen. Pat Roberts. This weekend, Kansans will get to see the real thing as the 91-year-old former senator campaigns across the state. Dole, famed for a vigor that belies his age, can be expected to have some choice words about his independent imitator. Dole certainly understands the urgency, telling Chief Congressional Correspondent Mike Emanuel: "It changes the race and underscores the need to raise more money for [Roberts]."
TEACHERS UNION DUMPS ON TILLIS
As North Carolina Republican Senate nominee Thom Tillis continues to tout giving teachers a seven percent raise, the nation's largest union of public school teachers is putting a half billion dollars toward an ad campaign attacking the Tar Heel State House Speaker over education spending.
POWER PLAY: ORGANIZING FOR INACTION
Despite his assurances that he would take executive action on immigration by the end of August, President Obama's delay on sweeping action to legalize illegal immigrations is being viewed as a nod to vulnerable Senate Democrats that could face blowback at the ballot box. Watch "Power Play with Chris Stirewalt" to see what political pros Chuck Rocha and Lauren Zelt know. (Hint: Quite a lot.)
LANDRIEU GETTING SERVED 
New Orleans Times-Picayune: "…Sen. Mary Landrieu [D-La.] has been issued a subpoena for Friday's Baton Rouge court hearing over her Louisiana residency, though the Senator has not seen it yet. 'We have not yet received any kind of request, and we expect the court to quickly dismiss this tired claim,' said Fabien Levy, Landrieu's communications director, of the case. Since the subpoena had not reached the Senator yet on Thursday evening, it is unlikely that Landrieu will have to appear in court Friday."
BLUEGRASS AIR BATTLE
Senate Minority Leader Mitch McConnell has launched an ad knocking President Obama's handling of terrorism and ObamaCare while tying Democrat Alison Lundergan Grimes to those positions. In Grimes' latest ad, she rips McConnell's attendance record on key Senate committees.
WEILAND WHACKS ROUNDS OVER GREEN CARDS
Argus [S.D.] Leader: "Democratic U.S. Senate candidate Rick Weiland… launched an ad attacking Republican opponent Mike Rounds for his role overseeing South Dakota's EB-5 program. 'When Mike Rounds ran the EB-5 program, U.S. residency cards were for sale to the highest bidder, putting millions into the pockets of the governor's hired cronies, while South Dakota taxpayers took a massive hit,' the narrator says, after a scene in which an auctioneer auctions off a green card. 'Rick Weiland believes citizenship shouldn't be for sale, and neither should a seat in the U.S. Senate.'''
DEMS GEAR UP MEDISCARE ATTACKS IN GRANITE STATE
The Democratic Senatorial Campaign Committee is hitting the airwaves in New Hampshire attacking Republican Scott Brown over positions he took as a Massachusetts senator.  From the ad: "Scott Brown would turn his back on New Hampshire seniors. While representing Massachusetts, Scott Brown supported cuts to Medicare and Social Security."
Poll: Close contest in New Hampshire - N.H. Journal: "A poll completed for the pro-Republican super PAC American Crossroads [by leading GOP firm Public Opinion Strategies] has Sen. Jeanne Shaheen [D-N.H.] with a 3 percentage point lead over Republican former Sen. Scott Brown in a potential general election matchup in New Hampshire… Shaheen leads Brown 44 to 41 percent with Libertarian Gardner Goldsmith supported by 9 percent, while 6 percent are undecided…"
PICK SIX:  BULLISH PICKS FROM THE PROS
While many Democrats are fairly bullish on holding onto Sen. Kay Hagan's, N.C., seat, Democratic strategist Chuck Rocha is more cautious. However, Republican strategist Lauren Zelt isn't afraid to take a chance and go all in on the GOP's prospects in the Granite State. Watch "Power Play with Chris Stirewalt" to get their take on other pivotal races.
[The GOP hopes to flip six seats from red to blue to win back control of the Senate from Democrats this fall. Fox News First readers think the most likely states to switch are: Arkansas (13.7%), Montana (12.6%), West Virginia (11.8%), Louisiana (11.5%), South Dakota (10.4%) and North Carolina (9.5%).]
Shifting momentum in Michigan? - Reader Libby Child of Grand Rapids, Mich., argues her state should be in play because, "The polls currently are 'within a margin of error' between [Terri Lynn Land] (R) and [Rep. Gary Peters] (D).  Terri has come from lagging in the polls all summer to be a contender now."
Share your top six picks. Email them – just your top six, please – to FOXNEWSFIRST@FOXNEWS.COM or tweet @cstirewalt.
'#mediabuzz': Midterm Madness - This week Howard Kurtz welcomes The Hill's editor-in-chief, Bob Cusack, and national editor of the Cook Political Report, Amy Walter, to consider the political landscape leading up to November, in a new segment called "Midterm Media Madness." Watch "#mediabuzz" Sunday at 11 a.m. ET, with a second airing at 5 p.m.
GOOD CAMPAIGNING TAKES DISCIPLINE
Fox News: "Democratic Delaware Gov. Jack Markell is blaming a 'random' link mishap after a photo was tweeted from his official Twitter account showing a woman in bondage gear. Markell's team quickly scrubbed the tweet, which was supposed to promote the governor's new initiative for disadvantaged students…"
ALL HAIL THE SALMON CANNON
Time: "A company called Whooshh Innovations (yes, that's their real name) has invented the Salmon Cannon (yes, that's it's real name). Despite its ominous moniker, the device actually carries the fish very gently to their destination: A tube is used to suck up fish from the water and slide them at 22 miles per hour to their destination, where they return to the water unscathed. This weekend, the device will be employed at the Columbia River in Washington."
AND NOW, A WORD FROM CHARLES…
"For God's sake, ISIS calls itself the Islamic State, and yet we are so politically correct, we don't want to use the word 'Islamic,' lest to be a slur on a great religion." – Charles Krauthammer, on "Special Report with Bret Baier."
Chris Stirewalt is digital politics editor for Fox News.  Want FOX News First in your inbox every day? Sign up here.